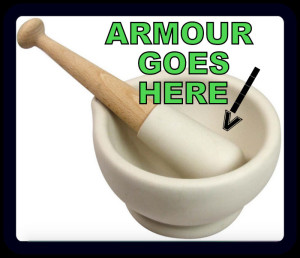 This was written in 2010, but can apply when a pharmaceutical changes a tablet, such as has happened again to Armour in 2015.
***********************
In case you are missing comments on my previous posts, there is a potential solution to the problems encountered with both the reformulated Armour by Forest Labs, and the reformulated Naturethroid by RLC.
Namely, by either crushing your tablet with a mortar and pestle, or chewing it up in little pieces, patients are starting to report far better symptom relief!! i.e., this process is probably breaking down the ridiculous coatings and cellulose and allowing your body better access to the desiccated thyroid within.
And if you just can't stomach the pulverized pill method, add a touch of honey to the powder, and lick it all up.
Let us know how it works for you!
Want to see the newest Question & Answer page on STTM? Go here.
PREVIOUS BLOG POSTS:
To read my Editorial Response, go here (or if you are reading this on the blog, right below)
To read my informal survey on the new Armour, go here.
To read UK Sheila Turner's Guest post on those who criticize self-treatment, go here.
10 reasons thyroid patients are frustrated, angry and sick, here.
Important notes: All the information on this website is copyrighted. STTM is an information-only site based on what many patients worldwide have reported in their treatment and wisdom over the years. This is not to be taken as personal medical advice, nor to replace a relationship with your doctor. By reading this information-only website, you take full responsibility for what you choose to do with this website's information or outcomes. See the Disclaimer and Terms of Use.