Thyroid Medications for hypothyroidism (NDT, T3, etc)
Welcome to the ULTIMATE PAGE of thyroid medications to choose from for hypothyroidism whether a non-autoimmune cause or Hashimoto's.
TO CHECK MOST ANY MEDICATION FOR GLUTEN CONTENT (you want the starch not to be wheat derived). The following could come from a wheat source, too: dextrins, maltodextrin, dextri-maltose, dextrates: https://pillbox.nlm.nih.gov/pillimage/search.php
1) Natural desiccated thyroid (NDT) products in BLUE. They contain T4, T3, T2, T1 and calcitonin. The porcine thyroid powder is stated to meet the guidelines of the US Pharmacopeia. A grain of most NDT's = 60 mg. They use the "synthetic" names for T3 and T4, "levothyroxine" for the T4, and "liothyronine" for the T3…but they are NOT synthetic products. If you have any questions about any brand, be sure and call the pharmaceutical.
2) Over-the counter (OTC) brands in GREEN These do not list the amount of T4 and T3 in their products so as not to be seen as prescription. It's important to watch carefully one's free T3 and free T4 and get optimal.
3) T3-only brands in PINK below. Some are gluten free. Others, we are not sure yet. Check the ingredients list. Patients have reported that adding T3 to T4 is the way to go. Be sure and read information from any company that makes T3, then ask the company or pharmaceutical any questions.
COPYRIGHT

WARNING

:

though some of the contents for each medication or supplement was from their websites, this page as a whole comes u

nder the DMCA or Digital Millennium Copyright Act, meaning this page is protected under copyright law. That means you are NO

T

welcome to copy this entire page, or sections, without asking for permission from Stop the Thyroid Madness LLC.
*********************
NATURAL DESICCATED THYROID (usually pig for prescription; bovine for over-the-counter)
Currently, quite a large body of patients are reporting doing quite well on Armour as long as they understand what it means to be optimal. The lab RT3 should also be checked, as if it is moving up, that can make one feel more hypo. Fillers could be a problem for a few, so you can always call Activas and ask about the fillers.
ARMOUR It's made by Activas Pharmaceuticals / used to be made by just Forest labs (still says so even though it's bought out), and was always quite popular by patients, especially because it could be placed under the tongue, and had a slight sweet taste. When Activas bought out Forest from 2015 onwards, the price tripled, and an awful lot of patients, who had done well on it for years, reported problems. At the present time, though, patients report doing well on it. It now has no sweet taste, seems harder.
Strengths: 1/4, 1/2, 1, 1 1/2, 2, 3, 4 and 5 grain tablets. The 3 and 5 grain tabs are scored., One grain is 60 mg and contains .038 mg (or 38 mcg) of T4 and 9 mcg of T3, plus unmeasured amounts of T2, T1 and calcitonin. The latter three are not removed, as rumor occasionally states. Each tablet contains:
Porcine Thyroid Powder, U.S. Pharmacopeia

Dextrose, Anhydrous (anhydrous means any water has been removed and makes the tablet more stable)

Microcrystalline Cellulose, NF

Sodium Starch Glycolate, NF

Calcium Stearate NF (stabilizer and lubricant)

Opadry White (Titanium dioxide used as whitening agent, but also contains trace amounts of PEG (polyethylene glycol), Polysorbate 80, and Hydroxypropyl Methycellulose. See below.) Armour Thyroid does not contain gluten or lactose. Neither does Westhroid-P.

NP THYROID, aka just called "ACELLA" by many patients, came out around 2010, and had always received good reviews via patient comments. Active ingredients are listed as 38 mcg levothyroxine (T4) and 9 mcg liothyronine (T3) per one grain (60 mg), though like all desiccated thyroid, has all five hormones.
But reports started coming in by some patients in Summer of 2019, and especially by Fall of 2019, that it had changed. Reports were that hypothyroid symptoms came back, that lab results had gone downhill, that it now smelled like "cat pee". Patients also reported moving to other thyroid meds. 2020 saw a coating, though the smell persisted, say some patients. 2020 finally saw a recall pertaining to the tablets being superpotent, but that didn't fit what patients were reporting from the Fall of 2019.
NP has been reported working for some currently.
15 mg (1/4 grain) – "327
30 mg (1/2 grain) — "329"
60 mg (1 grain) — "330"
90 mg (1 1/2 grain) — "331"
120 mg (2 grain) — "328″
Other Ingredients include:
Calcium Stearate
Dextrose
Mineral oil (pharmaceutical grade and teeny tiny amount)
Maltodextrin (in older versions of Acella; newer versions may have this removed),
http://www.AcellaPharma.com plus NPThyroid.com
RECALLS
1) (RECALLED) NATURETHROID by RLC Labs (formerly Western Research Labs) See Westhroid-P below. RLC stopped production of Naturethroid and WP in 2017, stated it was due to updating their machinery. When it started to come back in 2018, numerous patients in groups stated that the "new" Naturethroid caused their symptoms to come back with a vengeance, and when labs were shown by these patients, those proved it to be a problem. Patients began to not recommend it.
In 2020, a recall finally occurred due to sub-potency–the latter description fitting what a body of frustrated patients had been reporting since 2018 in groups.
2019 list of ingredients (which are the same as before):
Colloidal Silicon Dioxide (from mined ore: natural desiccant to protect from moisture and humidity)

Dicalcium Phosphate (from mined ore, holds tablet together)

Lactose Monohydrate (traceable amount as part of desiccated thyroid powder USP)

Magnesium Stearate (from a vegetable source like palm oil; lubricating agent for tablet compress)

Microcrystalline Cellulose (synthetic fiber base to provide volume & bulk: also binds thyroid hormones, sadly)

Croscarmellose Sodium (aids in disintegration in stomach and sadly, even more cellulose!)

Stearic Acid (from vegetable source—typically palm oil; holds ingredients together)

Opadry II 85F19316 Clear

Porcine Thyroid Powder, U.S. Pharmacopeia (USP)
One grain is 65 mg (actually 64.8) and contains .038 mg (or 38 mcg) of T4 and 9 mcg of T3, plus unmeasured amounts of T2, T1 and calcitonin. Strengths: 1/4, 1/2, 3/4, 1 grain, 1 1/4, 1 1/2, 1 3/4, 2 grains, 2 1/4, 2 1/2, 3, 4, and 5 grains. Before Naturethroid was reformulated in early 2010, it was stated to contain all the above, but the Opadry was listed as simply Opadry White (Titanium dioxide used as whitening agent, but also contains trace amounts of PEG (polyethylene glycol), Polysorbate 80, and Hydroxypropyl Methycellulose.) It also used to contain Sodium Starch Glycolate (synthetic and aids in disintegration in stomach), Carnauba Wax (sealed tablet) and Polyethylene Glycol (PEG) (clear coating)
Note: As compared to Naturethroid before the 2010 change, the typical smell of desiccated thyroid is now less intense. The tablets are now stamped with RLC on one side, and N over 1 on the other, whereas before you'd see just NT1 or a reference to the fact that Time Caps Labs (TCL) used to make Naturethroid for RLC Labs. Calcium filler has moved up from 16 mg to 17 mg. RLC states the old contained Magnesium, Potassium, and Sodium (each at less than 1 mg), whereas in the new, potassium is now removed.
2) (RECALLED) WP Thyroid  Also made by RLC Labs (see Naturethroid below). Stated to contain natural desiccated thyroid (porcine) plus only three fillers (they advertise that there are only two, but inserts in bottles are showing the third—Lactose): inulin (from chicory root), medium chain triglycerides aka MCT from coconut, and Lactose Monohydrate. NOTE that the latter three are miniscule. Strengths: 1/4, 1/2, 3/4, 1 grain, 1 1/2, 2. One grain equals 65 mg total, which is composed of 38 mcg T4 and 9 mcg T3—the others (T2, T1 and calcitonin) aren't measured, but are there. RLC states it's gluten free. http://wpthyroid.com/
Also directly from the insert "INACTIVE INGREDIENTS: Inulin, Medium Chain Triglycerides, Lactose Monohydrate*
*Present in traceable amount as part of Thyroid USP (diluent)"
Like Naturethroid, WP became unavailable in 2018, then was reported being back in early 2019. But sadly, patients who got back on it also report it was now problematic. WP is also part of the 2020 recall due to sub-potency.
UNAVAILABLE PRESCRIPTION NDTs
WESTMINSTER **new** as of late 2017…but Westminster had a recall of all their NDT in August/September 2018 due to using a Chinese manufacturer that wasn't practicing Good Manufacturing Practices. No one was harmed by using Westminster. It was a precaution.
Westminster Pharmaceuticals, LLC in Florida, USA, a small pharmaceutical which was filed as an foreign LLC in 2014 and has a connection to India. They supply tablets as 15 mg (1/4 grain), 30 mg (1/2 grain), 60 mg (grain), 90 mg (1 1/2 grain) and 120 mg (2 grain). One grain has 38mcg of T4 and 9mcg of T3, so you can use that to figure out the different sizes. Tablets are light tan with WP on one side, not be confused with WP Thyroid by RLC Labs. As of 2018, they primarily ship to Walgreen in the US, but are trying to expand that to others. Ingredients include:
desiccated porcine thyroid

microcrystalline cellulose

hypromellose

magnesium stearate.
Like all NDT's, you will only see mention of T4 and T3 on the label, but they are porcine desiccated thyroid tablets and do contain all five thyroid hormones. The label says "once a day" but thyroid patients know it's better to take NDT twice a day, like morning and early afternoon, since the T3 has a short half-life.
National Drug Codes (NDC#):. Because they consider this a generic, and since it's fairly new, there are codes that your doctor may need to ensure you aren't getting a generic T4 from your pharmacy, since there is no precise name for the Westminster version of NDT other than the maker name. The first number (69367) tells you that these meds are from Westminster. The other numbers are used to designate dosages as listed below:
120mg = 69367-15804
90mg = 69367- 15704
60mg = 69367 -15604
30mg = 69367- 15504
15mg = 69367- 15904
THE NEXT ARE OVER THE COUNTER, called NATURAL THYROID SUPPLEMENTS & ORDERED OFF THE INTERNET:
THYROID-S (non-prescription: 300% increase in price in late 2018 onward; became unavailable by 2019. Will it return?) is from Sriprasit Pharma Co., Ltd. in Thailand (sister company of Sriprasit Dispensary R.O.P.) Advertising states that Sriprasit Pharma is "a leading importer of pharmaceutical products, and has been a GMP and ISO 9002-certified manufacturer of pharmaceutical products." Patients report they are quite pleased with this product. Sriprasit states Thyroid-s is gluten-free, but a patient has reported classic gluten digestive symptoms with it. To see a photo of the tablet, go here. Tablets are light brown, round, coated. The ingredients, according to Pongsak Songpaisan of Sriprasit are:
Thyroid extract USP

Lactose (a milk sugar and is a filler)

PVP K90 (Polyvinylpyrolidone; water soluble coating/binder; no known hazard)

Avicel (microcrystalline cellulose; holds product together)

Aerosil (silicic acid powder; help disperse the ingredients)

Sodium starch glycolate (helps dissolute/disintegrate the pill)

Magnesium stearate (filling agent)

Eudragit (a common sustain-released coating)

Methocel (a water soluble cellulose – helps bind pill)

Talcum (a filler)

Ponceau 4r lake (red additive-aluminum)

Tartrazine lake (yellow additive-aluminum)

Brilliant blue FCF lake (blue additive-aluminum)

Sunset yellow FCF (yellow additive)

Titanium dioxide (white)

PEG 6000 (water soluble polymer; binder)

Dimethicone solution (Thanks to Ruth-Ann for obtaining the ingredients list above; descriptions added)
On 8-2009, received an email from a US Doctor who received the following list after emailing Sriprasit:
Fillers used: Corn starch, actose, Avicel (microcrystalline cellulose; MCC); Binders used: PVP K-90 (Polyvinylpyrrolidone); Preservatives used: Methyl paraben, Propyl paraben; Content in one tablet (60 mg thyroid extract): approximately 38 mcg Levothyroxine (T4) and 9 mcg Liothyronine (T3); Source of extract: Porcine
Patient states: The Thyroid-S tablets are brown with a hard coating, they do not dissolve well as is, but can be chewed. They have a papaya like taste similar to "Thiroyd" below. They are ordered over the internet.
THIROYD (This has been unavailable mostly lately ) Yes, that's how they spelled it, non-prescription–as of march 2019, it's stated prices are going UP. Also, it's been heard that the maker, Greater Pharma Ltd., a leading Thai Pharmaceutical Manufacturer, is now ceasing to make it. An email to a patient by Greater Pharma states that "thiroyd" at one grain contains T3 at 8.31 microgram; T4 at 35 microgram, which is 0.013% and 0.058% respectively. Thyroid patient Samantha states: The Thiroyd tablets are white and have a sweet taste almost like papaya or a similar fruit. They dissolve very well sublingually and seem to have a very good potency. Entire paper insert with info is written in English: Greater Pharma Manufacturing Co. Ltd , 55/2 Phutthamonthon, Nakhon, Pathom. LikeThyroid-S, this is ordered over the net.
Another thyroid patient, Daniella, was told by the makers of Thiroyd that is free of aluminum, which is good news if you are avoiding excesses of aluminum for any reason.
As of 5-2013, here are potential fillers as sent to me by a patient in Guam: Lactose, Tapioca Starch, Sodium Starch Glycolate, PVP K-30, PVP K-90, Isopropyl Alcohol, Colloidal Silicon Dioxide, Magnesium Stearate.
To see a photo of the Thiroyd tablet (and two others), go here. They are ordered over the internet.
NUTRI-MEDS BOVINE, a non-prescription brand of natural desiccated thyroid which was around even when Janie Bowthorpe started this patient-to-patient movement. As of 2018, porcine versions are not available as they used to be. This undated letter explains the loss of porcine, and keeping the bovine as a good product.
Lyophilized Bovine Thyroid Tissue
Gelatin from free range sources,
L-Leucine
L-Lysine
Silica
NO sugar, starch, salt, wheat, corn, yeast, dairy or soy derivatives.
THYROGOLD, called a "dietary supplement" to meet FDA rules, though patients report it working very well. Was created by the now-deceased John C. Lowe, and his wife currently sells it. Comes in 150 mg and 300 mg tablets. The mgs is NOT equivalent to the same mgs in prescription NDT tablets. i.e. 150 mg may be "similar in effect" to 1 1/4 grains, but that's a subjective opinion by some. The thyroid powder in the tablets are from New Zealand pasture-fed cows, plus there is 25 mg of Coleus forskohlii, which is said to promote thyroid function. It is a popular OTC product because of effect, who created it, and it's length of time on the market. BUT, 2019 to the present has seen some ineffective batches causing a return of hypo.
*More information on the use of BOVINE for religious reasons here.

NOTE: a lot of complaints on Thyrogold began at the beginning of 2020, as if the source of powder was bad. Supplies ran out by late 2020. By early 2021, it's predicted to come out March 2021, but not sure.
THYROVANZ, relatively new to the OTC world, is said to be "natural whole food supplement", and made from "100% pasture fed New Zealand prime beef". They state it does not contain, gluten, soy, eggs, sugar or dairy, but its fillers are gelatin (the capsules and from a bovine source), Long Rice Flour (filler and non-allergenic, they state), Vegetable (Magnesium) Stearate (sourced from palm oil which is non-hydrogenated, non-GMO, and used to "to ensure encapsulation machinery functions correctly"), and silica (to ensure dosages are accurate).. Made by Provanz Nutrition Ltd. Since they, like other non-prescription NDT makers, do not measure the T4 and T3 in their product, we can make no guarantees and have not seen enough lab work to verify anything.
Patients rarely see their free T4 and free T3 optimal on Thyrovanz. We're not sure why. And many on Thyrovanz have too high levels of RT3. Bottom line, just keep track of labs on any OTC you choose. 🙂
T.R.: stopped being manufactured (as of 2019)
MORE DESICCATED THYROID PRODUCTS
AUSTRALIA's compounded thyroid: Desiccated thyroid in Australia is mostly done through compounding pharmacies and is usually called "thyroid extract". A patient asked Australian Custom Pharmaceuticals, Australia's largest compounding-only pharmacy, about their ingredients. It was stated that the only ingredients put in the capsules are the active ingredient (thyroid extract) and microcrystalline cellulose as the filler. But note: not everyone does well with cellulose fillers, so just in case, might be a good idea to ask for a different filler. Examples: rice base, turmeric, ginger, even vitamin C powder. Make sure you can tolerate what you ask for.
At ACP, 60mg (equivalent to 1 grain) contains 33.4mcg T4 and 8.37mcg of T3. However , together T4 and T3 may potentiate each other giving a therapeutic effect equivalent of 25mcg of T3 and 100mcg of T4 per 60mg. The thyroid extract in porcine derived, and it is bought from an overseas supplier. Australian Custom Pharmaceuticals Ph. 1300 853 620 Fax. 02 8536 4155 (Thanks to Juanita for providing this information)
CANADA'S "THYROID" aka ERFA, formerly by Pfizer and is now by Erfa. Note: beginning around May 2014 and continuing to today, many patients have reported Erfa was now causing a return of hypothyroid symptoms. Erfa denies a change. Click here.
Tablets come in 30, 60 and 125 mg tablets. They contain:
Dried Thyroid
Magnesium Stearate
Cornstarch
Talc
Sugar (tiny amounts of both sucrose and lactose)
Erfa's Canadian Thyroid has slightly different ratios than the USP ratios of US brands:
30 mg tablet embossed �ECI 30�, has 18 mcg. of T4; 4 mcg. of T3 (as compared to 19/4.5 in US brands) Equivalent to the US one-half grain.
60 mg tablet embossed �ECI 60�, has 35 mcg. of T4 and 8 mcg. of T3 (as compared to 38/9 in US brands) Equivalent to the US one grain.
125 mg tablet embossed �ECI 125�, 73 mcg. of T4; 17 mcg. of T3 (as compared to 76/18 in US brands) Equivalent to the US two grains. http://www.erfa-sa.com/thyroid_en.htm, plus they have a question & answer forum: http://erfa-sa.erfa.net/
DENMARK'S THYREOïDUM for NETHERLANDS from Biofac in Kastrup, Denmark. Imported into the Netherlands from BUFA/Fargo, importers of pharmaceutical products.
½ grain = 29 mg (12.7 mcg T4 and 4.5 mcg T3)
1 grain = 57 mg (25.3 mcg T4 and 9 mcg T3)
2 grain = 114 mg (50.6 mcg T4 and 18 mcg T3)
Some websites state the T4/T3 ratio can vary from 2.3: 1 to 3.8: 1 depending on the lot. Meets standards of US Pharmacopoeia. Contains Microcrystalline cellulose as a filler. Also may contain lactose, sodium, chloride, starch, sucrose or glucose. (Thanks to thyroid patient Julia of the Netherlands for alerting me of this desiccated thyroid!)
DENMARK'S COMPOUNDED: The Thyroid in Denmark is made as a compound Thyroid, and is made at this pharmacy: Glostrup apotek. Contact person: Kristian Østergaard Nielsen, Phone number: (??)-43960020; mail: 109KN@apoteket.dk
60 mg Thyroid from Glostrup pharmacy contain: 9.15 mkg T3 and 36,3 mkg T4. Filler: lactose, potato starch, gelatine, magnesiumstearat og talcum. Glostrup pharmacy have Thyroid in 60mg and 125 mg.
(Thanks to thyroid patient Lone for this information)
GERMANY'S THYREOGLAND from Munchen (Munich), Kloesterl Apoteke, Waltherstrasse, 80337 Muenchen. Phone: 089 54343211. Requires prescription.
1 grain Armour=100 mcg levothyroxine=40 mcg Thyreogland. Clear gelatin capsules with loose powder inside. May have magnesium searate as a filler. The 25 mcg tablet specifies "25 mcg T4 and circa 6 mcg T3" on the label. Thanks to thyroid patient Amy for the above information.
Anna sent me this: the Kloesterl Apotheke (pharmacy) Munich Tel: 0049 (0)89 / 54 34 32 11 offers 4 different strengths: 25 mcgr T4+5.9 mcgr T3; 50 mcgr T4+11.8 mcgr T3; 75 mcgr T4+17.8 mcgr T3 ; 100 mcgr T4+23.7 mcgr T3. The 75 mcgr one is nearly exactly the equivalent of 2 grains of armour. Also they add the amino acid tyrosine in the capsules as a filler. She advises all Germans to phone them and get the leaflet. It's more or less the only information about natural thyroid treatment available in Germany that one can take to a doctor.
Also available in Germany: compounded pork thyroid, aka Schilddruesen-Extrakt, in different grains. Obtained from pharmacy Receptura, Altenhoeferallee 3, 60438 Frankfurt am Main, Germany. Phone: +49-69/92 880 300 E-Mail: order@receptura.com (not for shipment to USA or Canada) Fax: +49 (0)69-92880 333 PC-Fax: +49 (0)69-92880 25 460 e-mail: viola.stratmann@receptura.de (thanks to Debby for extra info)
NEW ZEALAND'S Whole Thyroid, which is compounded desiccated thyroid by Pharmaceutical Compounding New Zealand (PCNZ). Phone: 09-442-1727 Fax: 09-442-5851 Email: info@pharmaceutical.co.nz Website: http://www.pharmaceutical.co.nz/
T3 MEDICATIONS (synthetic, also called Liothyronine Sodium)—a star is in front of those that are stated to be gluten-free; others may not be. Be sure and read any information from the pharmaceutical that makes any brand, and ask them any questions you have about what you read or heard about T3.
CYTOMEL by Phizer
calcium sulfate
gelatin
starch (from corn)
stearic acid
sucrose
talc
Phizer states they add no gluten-containing products, but can't confirm cross contamination. Formula has been the same since 2005.
* LIOTHYRONINE SODIUM (Generic) by Libertas Pharma — formerly by Mayne Pharma, formerly Paddock/Perrigo) 5 mcg and 25 mcg and they have 220 on one side of the tablets, and the 5 or 25 on the other side (do they still?). The 25 mcg has a score line. They state no gluten, no corn. But some wonder if the fillers are from corn. Need more experiences from patients who have Celiac or gluten sensitivity on this one
calcium sulfate
microcrystalline cellulose
hypromellose
talc
colloidal silicon dioxide
LIOTHYRONINE SODIUM (Generic) by Sigma Pharm, 5 mcg, 25 mcg and 50 mcg. Has an 18 on one side, a greek E on the other.
Calcium Sulfate Dihydrate
Starch (corn-derived)
Gelatin
Magnesium Stearate
Mannitol
LIOTHYRONINE SODIUM by Sun Pharma in India It was obtained from Costco. Sun Pharma makes their meds primarily for India and the United States. Comes in 5 mcg, 25 mcg and 50 mcg. Inactive ingredients consist of corn starch, croscarmellose sodium, gelatin type B, magnesium stearate, mannitol (a sugar alcohol), and microcrystalline cellulose.
LIOTHYRONINE SODIUM by Teva Pharmaceutials USA Comes in 5mcg, 25mcg and 50mcg. They are white in color, have TV embossed on one side, and are scored on the other side, which makes cutting them in half easier.
LIOTHYRONINE SODIUM by Uni Pharma in Greece They are 25ug tablets. Nothing written on tabs. A slightly rounded off white kind of magnolia colour.
Lactose
Monohydrate
Sodium Starch Glycolate
Magnesium Stearate
Egg Yellow Lake
Talc Purified
Gelatine
Starch Maize
Silicon Dioxide Colloidal
LIOTHYRONINE SODIUM by Greenstone, a Phizer company .
Inactive ingredients: calcium sulfate, corn starch, gelatin, stearic acid, sucrose and talc
KPI is on the tablets. They are round, white to off-white, and available as follows:
5 mcg: debossed with KPI 15 on one side and 115 on the other side, or similar.
25 mcg: scored on one side and debossed with KPI and 116 on the other side
50 mcg: scored on one side and debossed with KPI and 117 on the other side
TIROMEL from Turkey and said to be made by Abdi Ibrahim. 25 mcg tablets. Ingredients stated as following:
Lactose
Polivinil pirolidone (mineral origin binder)
Magnesium stearate
Starch (unknown source)
TERTROXIN by Aspen (also Glaxo) which comes in 20 mcg tabs, and contains
acacia (used as a binder)
magnesium stearate
starch-maize
sodium chloride
lactose
LIOTHYRONINE SODIUM by ZYDUS PHARMACEUTICALS
The pill is hard, but is slightly sweet. List of the inactive ingredients.
Calcium sulfate dihydrate
Corn Starch
Gelatin
Stearic Acid
Sucrose
Talc
TRIOSTAT is an injection version of synthetic T3 (1), where each ml contains 10 mcg of liothyronine, as well as
alcohol, 6.8% by volume
anhydrous citric acid, 0.175 mg
ammonia, 2.19 mg, as ammonium hydroxide
"CYNOMEL" LIOTHYRONINE SODIUM by SANOFI-AVENTIS This a french pharmaceutical, now known as simply Sanofi as of 2011. 0.025 tabs.
May contain gluten—need more specific ingredient list
CYNOMEL, a Mexican version of T3 only
Corn Starch
Calcium Sulfate Dehydrate
Sugar glass
Talc
Sterate acid powder
Gelatin
Ethyl alcohol
Purified water
LIOTIR, a liquid form of Liothyronine and is taken in drops. Said to contain alcohol. (Patients have expressed fear of accuracy if it's just based on drops.)
OTHER BRANDS OF KNOWN T3 (though more info needed in ingredients):
Berlin-Chemie Trijodthyr (headquartered in Florence, Italy, though a German subsidiary of the Menarini group)
Henning Berlin — Thyrotardin N
Leo Tijodthyr
Merrell Dow- Cynomel of France
Nycomed AB Liothyronin (contains Lactose Anhydrous)
Tijodthyronin (available in Austria)
Robinson Ro-Thyronine
Sanabo Trijod
Linomel (Argentina)
UnipharmaT3 (Israel)
*****************************************
THREE DEFUNCT DESICCATED THYROID MEDS or T3, i.e NOT AROUND ANY LONGER:
DIOTROXIN, by Aspen Pharmacare Ltd of South Africa, a combination of T4 thyroxine sodium at 90 mcg and T3 liothyronine sodium at 10 mcg. Discontinued in May of 2016
GENERIC NATURAL THYROID (which includes one called Qualitest) by TIME-CAPS LABS (as of 2009, this one appears to have been discontinued). It contained thyroid powder, microcrystalline cellulose, Dicalcium phosphate, Colloidal silicon dioxide, Sodium starch glycolate, Steric acid, Magnesium stearate, Hydroxypropyl methylcellulose, and �other ingredients� (which we did not know). It was unpopular due to being weaker. Another generic maker was called URL, or United Research Labs, which is a sister company to Mutual Pharmaceutical. As of 8-07, it's reported by a patient that Qualitest had the same smell as Armour, which is different than the lack of smell it had before. As of 2009, it may have also been discontinued. In 2009, an active generic still around by Major Pharmaceuticals, simply called Thyroid, or generic Thyroid, 31778 Enterprise Drive; Livonia, MI. 48150
THYROLAR: Thyrolar (liotrix), combination of synthetic T4 (levothyroxine sodium) and synthetic T3 (L-triiodothyronine), has not been available since 2009 with no explanation from Forest Labs. It had a ratio of four parts T4 to one part T3. No T2, T1 or calcitonin. The tablets needed to be kept refrigerated. Patients who've tried both Thyrolar and desiccated thyroid report the latter gives them far better results.
ITALY's "CINETIC" dried thyroid (Sadly, this ceased being produced in 2011), produced by Teofarma srl — Pavia, Italy, contained: Dried Thyroid, Dextrate, dicalcium phosphate, microcrystalline cellulose, magnesium stearate, talc, sandarac resin, gum arabic, gelatin, saccharin, titanium dioxide, indigotine (E132), PVP, white beeswax. Active ingredients: 75 mg dried thyroid (equal to 25.5 mcg T4 and 7.5 mcg T3); organic iodine 0.150 mg in thyroid combination). Tablets were coated. 75 mg with 50 tablets in blister pack. Package insert recommended 1-2 tablets, 3 times a day (though that may end up being different according to your needs). They also recommended to swallow pills with water, without chewing and without dissolving. To be stored not above 77F/25C (Thanks to Beatrice for translating and sending the above information!)
LIOTHYRONINE SODIUM (T3 Generic) by Mylan Pharmaceuticals. Has ML on side; 11 on the other. This was announced by the FDA as stopping production by 2018–a company decision.
*****************************
Want to order your own labwork to later show your doctor?? We have recommended labwork with several lab facilities, plus two on the top with STTM created labwork!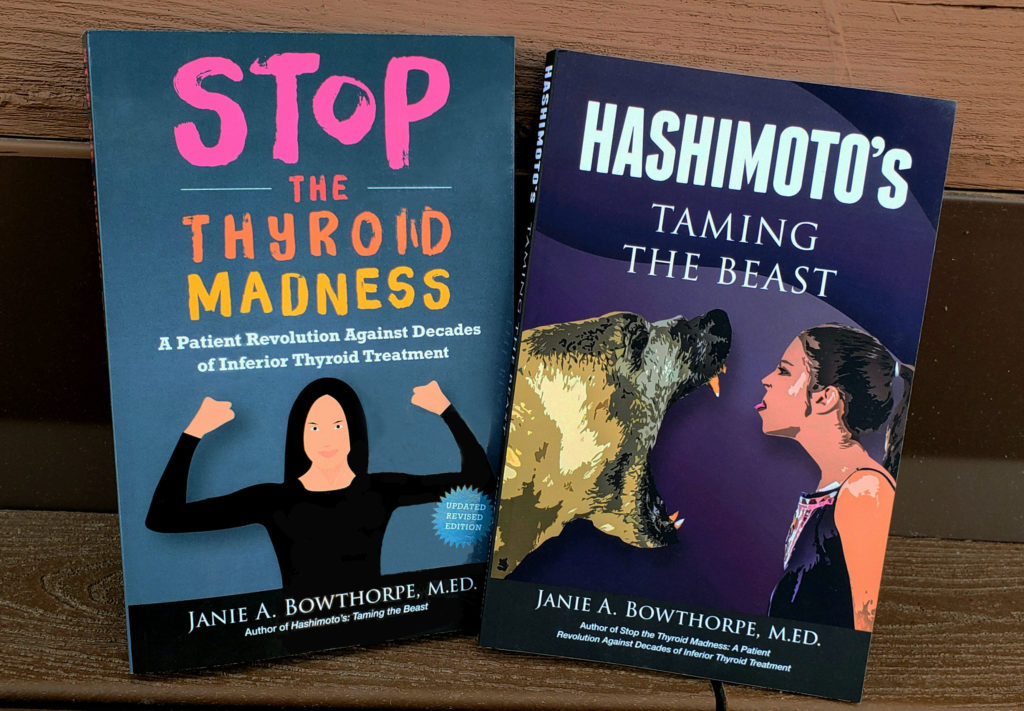 It's VERY important that we become informed to get well and counter the poor information that too many doctors have. That's why Janie Bowthorpe wrote these patient-to-patient books to help you be informed! See more here.
SOME INGREDIENT EXPLANATIONS:
Microcrystalline Cellulose

synthetically derived fiber base (similar to plant-derived). It is typically utilized as a filler in a tablet (to provide volume and bulk).

Dicalcium Phosphate

derived from a mined ore. It is typically utilized as a binder in a tablet (to hold all the ingredients during compression).

Colloidal Silicon Dioxide

derived from a mined ore. Typically utilized as a natural desiccant in a tablet (to provide barrier from moisture and humidity).

Sodium Starch Glycolate

Synthetically derived starch molecule (similar to potato starch). It is typically utilized as a disintegrating agent in a tablet (to aid in proper disintegration of the tablet in the stomach).

Magnesium Stearate

Derived from a vegetable source (typically palm oil). It is typically utilized as a lubricating agent in a tablet (to aid in proper compression of the tablet).

Hydroxypropyl Methylcellulose

Derived from a plant cellulose base (typically cotton blend or wood pulp). It is typically utilized as a granulating agent in a tablet (to provide bulk and density to the tablet for proper compression) as well as part of a clear coating solution (with PEG).

Polysorbate 80

An inactive water soluable emulsifying agent which blends the ingredients of mixtures and prevents separating.

Stearic Acid

Derived from a vegetable source (typically palm oil). It is typically utilized as a binder in a tablet ( to hold all the ingredients during compression).

Carnauba Wax

Derived from the pores of the leaves of the Brazilian wax palm tree. It is utilized in the final stage in tablet coating (to provide a complete seal).

Polyethylene Glycol (PEG)

Synthetically derived, water-soluble, waxy solid. It is utilized with Hydroxypropyl Methylcellulose as part of the clear coating solution.

Lactose Monohydrate

Present in traceable amount as part of Thyroid USP (diluent)
(1) http://www.drugs.com/pro/triostat.html
Important note: STTM is an information-only site based on what many patients worldwide have reported in their treatment and wisdom over the years. This is not to be taken as personal medical advice, nor to replace a relationship with your doctor. By reading this information-only website, you take full responsibility for what you choose to do with this website's information or outcomes. See the Disclaimer and Terms of Use.