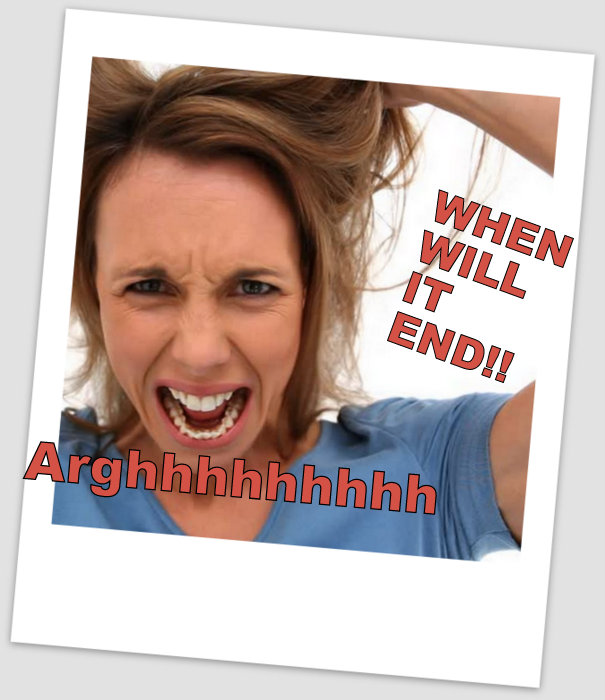 Updated in 2015:
It's a continuing travesty, and you see it in patient groups.
i.e. many patients still find themselves sick and disabled, stumbling miserably from one uninformed doctor to another…in spite of the wonders of natural desiccated thyroid, the testimony of changed lives, the education of patients thanks to the STTM website & book, and a small but growing body of wise doctors who seem to be "getting it",
So what's the problem?? It lays with our doctors and the entire medical profession.

Heavy-handed control over your medication:

You go to pick up your prescription, and find your medication has been lowered by your doctor without your agreement or knowledge, as happened to Terry here (scroll down to find her post).

Ignorance about adrenal insufficiency and treatment:

You clearly have an adrenal problem, and one doctor dismisses its existence, another doctor poo-poos the saliva test, another doctor tells you cortisol supplementation is dangerous, another doctor thrusts all his herbal supplements at you, another doctor thinks that 5 or 10 mg cortisol is enough…and on and on and on.

Thinking that falling in the range is optimal:

If a lab result within those numerical boundaries, which are based on a set of people a laboratory picked to come up with the range, says I'm normal, WHY do I still have issues??

Dismissing you:

You are wise thanks to reading, researching and living in your own body, yet your doctor calls you a problematic patient on your charts, dismisses you, or gets angry.

RT3 huh?

You have strong suspicions that your Reverse T3 is too high thanks to low cortisol or low iron or Lyme or undiagnosed gluten issues, etc, yet this doctor refuses to test you, that doctor says an RT3 excess is rare.

Look at me! Look at me!

You make an appointment with that great doc who has a fabulous website/book and who shouts that he uses desiccated thyroid with a big smile…yet some or all of the above and below occurs with him/her or his "trained" associates.

Continued worship of the TSH lab test:

Too many doctors still think the TSH lab test is from God Almighty. So when you finally start to feel well on desiccated thyroid with a TSH at zero or below…WHAM…you must lower your meds because you are somehow "hyper" in spite of no symptoms to match whatsoever and improvement in our bone density and heart health.

Pharmaceutical addicts:

You mention your lingering hypothyroid symptoms, and you are bandaided with anti-depressants, anti-anxietal meds, statins, BP pills, pain tablets, acid reflux pills, calcium for your thinning bones…instead of understanding from your doctor that these are ALL side effects of poor thyroid treatment.

The country you live in:

The desperation of UK thyroid patients is deep thanks to a thyroid association and a College of Physicians which tightens the screws if a doctor dares to prescribe a life changing medication with T3 in it. Or just as frustrating, having a government which forbids desiccated thyroid to arrive to you in the mail, or like Denmark, refuses to dispense it.

Reformulations and Big Pharma apathy:

In 2009, then Forest Labs turned one of the most popular and effective desiccated thyroid brand, Armour, into a pill with too much cellulose and too little sucrose, causing a massive return of symptoms in many. RLC also reformulated their Naturethroid to some degree, and though some patients still do well on it, others did not anymore. Erfa made some kind of change in 2014 which they denied, yet certain patients all over the world reported new problems they had never had before. You are left wondering WHAT is going to happen next!!
And there are more reasons you might want to bring up in the Comments part of this post.
So you see, it's no wonder so MANY patients feel forced to self-treat, yet they are also condemned for doing so.
All-in-all, we still have a way to go, baby, and especially with the doctors we try so hard to get help from…but can't.
P.S. Are you brave? Walk into your doctor's office with the STTM shirt. And here's how to find a potentially better doc.

Important notes: All the information on this website is copyrighted. STTM is an information-only site based on what many patients worldwide have reported in their treatment and wisdom over the years. This is not to be taken as personal medical advice, nor to replace a relationship with your doctor. By reading this information-only website, you take full responsibility for what you choose to do with this website's information or outcomes. See the Disclaimer and Terms of Use.