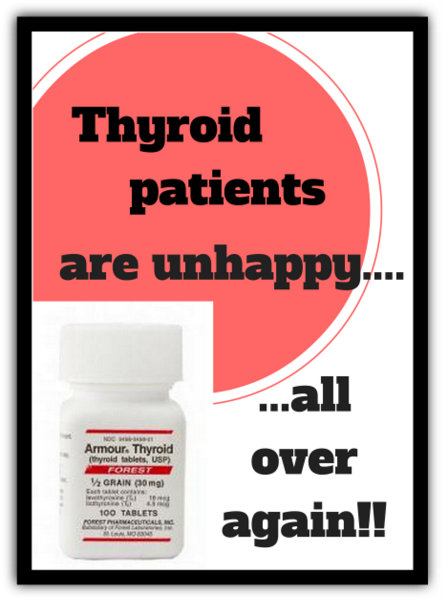 On July 1st, 2014, the pharmaceutical Actavis completed the acquisition of Forest Laboratories, the makers of Armour which is the oldest desiccated thyroid product on the market today. They then changed their name to Allergan.
And the poop hit the fan
By early 2015 and onward, more and more patients were reporting being quite unhappy with Armour. The price has risen substantially and often, and patients were also reporting a return of hypothyroid symptoms. It's not all patients, but a substantial amount.
And this is not the first time we've been unhappy about Armour!
First, in 2007, patients were reporting that the two grain size tablet seemed to not be working at all. Then in 2008, patients had to endure seeing Armour disappear on the shelves. When they finally returned by 2009, all heck broke loose. Hypothyroid symptoms were returning with a vengeance. Turns out they "reformulated" it, increasing the cellulose and decreasing the sucrose. Not only could we not do it sublingually anymore–a method we preferred and which did in fact work—it also was causing a return of our hypothyroid symptoms in the worst way. We had to move to other brands. By 2012, the tablets were now softer, and complaints were down. But here we are in 2015 with a new pharmaceutical maker…and complaints have risen all over again.
The price has risen!
In September 2015, I sought out patient feedback in a few groups from those who had been on Armour before the July 1st, 2014 final acquisition, but were still on it in 2015. The first exasperation was about price. Here are some of the comments I got when I asked about a price change:
$20 before/$78 now. (forced to change insurance from my low copay to a high deductible plan)
Last year was paying £52 pounds x100 now paying £74.00
With co-pay, from $5 to $25-30 now
Over $20 increase for 90 mcg, 30 pills
With co-pay, $20 for 90 day supply in February 2015, $25 for 30 day supply in August 2015.
Last year cost $7-9, getting refill now-$33
$5 up to $24
Went up to $55 for a month's dose of 120s (with insurance)
Went up about $15 dollars
Since last year, went from $5.80 to $10.80 to $12.80 and now $18.60.
For 180 tablets, from $22 to $160
I paid $47.30 before. When I ordered last week, its $71.91, same quantity and mcg.
$20 increase in cost.
$10 to $32
From 43.00 to 63.00
Tripled
From $25 to $60
My armour started off at $23/mo, in July 2014 and it just started climbing every month. In November 2014 it was $47/mo. Naturethroid is $39 for 90 days.
$29 to $44 for 30 of the 90mg.
Went from about $20/month to $92/month.
$6 in 2007/$30 now
From $15 to $55 per month (with insurance)
From 70.00 to 118.00
3-month supply 57.00 a year ago to 85.00 now out of my own pocket at Costco!
Went up $20
Went up $30
Up $25
There were more answers, but you get the drift. Note that the differences in cost represent different insurance coverages and different amounts. But it's clear: Activas/Allergan substantially raised the price! Patients are NOT pleased.
The change in the pill itself
Though a small minority felt the pill hadn't changed, and a couple said it was softer, 80% said it was definitely harder–exactly what went on in 2008.
One gal stated: "Not as uniform. Some softer than others; some harder to dissolve ; some seem to contain more filler". That makes one wonder if her bottle had a mix of the 2014 and 2015 pills. Another gal stated: "Harder, different taste, smell and texture. Breaks clean."
Most who responded either tried an increase or moved to a different brand
The answers broke out like this:
A very small percentage have stayed with the same amount as 2014 and feel they are doing fine
Another very small percentage raised and are doing fine.
A larger percentage are still on the same amount as 2014, or have tried a raise, but state they are not doing well and/or their labs are now wonky.
A large percentage have or are moving over to a different brand.
Symptoms reported as returning
For those who noticed their symptoms of hypothyroidism have returned since Activas bought out Forest, some are described as follows:
I now get tireder
Feels like symptoms are slowly returning…fatigue and intolerance to heat/cold particularly
Severe itching on sides of bridge of nose, hair falling out has worsened, feet have severely dried out-tops and bottoms, more unexplained weight gain 80%
My hair has started falling out all over again. Very unhappy.
Feel worse, more tired, but could be because of new baby
Have felt worse. It seems less effective.
Felt worse. Free T3 and free T4 plummeted.
My TSH has climbed!
Fluctuations
Problems and raising didn't help.
Labs changed quite a bit.
Eye sight problems, loss of energy sooner in day; dr will not increase dosage..
My weight has gone up since January. Not happy.
I now have depression that I didn't have before.
My weight has been creeping up and I have no changed my diet.
I don't feel as well.
More tired. Have to nap now.
Comments by patients
I started on it for the first time in my life Feb. 2014. By May I had lost 20#. By Jan. I gained my weight back and wondered what in the world is going on.

Started on

Armour

in March of 2014 but was also being treated for breast cancer so my results were probably a little skewed. Now on a higher dose and feeling better but not happy about the tremendous price hike!
Just got back from Endo. My labs are awful. Have been on same dose of

Armour

for a year. Even increase it a tad. T3 and T4 dropped. TSH went from 0.53 to 2.9. No wonder I feel like crap. She switched me to Naturethroid.

I've been on Armour for 3 years after my thyroid was removed and have done well until April or May of 2015. My hair started falling out, my body ached, I've put on weight, I started feeling depression and I'm more fatigued. I have no doubt that changes in the negative have been made to Armour and I'm ticked. I am changing brands.

I have felt fine all this time, but I'm not happy with the swift price increase.
Bottom line is up to you
It's a fact that Armour has gone up substantially since 2014's acquisition of Forest by Actavis/Allergan. And it's a fact that many other brands are much cheaper. So that would be up to each individual as to what they want to pay–more for Armour, less for other brands. The Options page on STTM lists all your brands.
As far as problems on the current Armour, it does appear that for too many, hypothyroid symptoms have returned and/or labs are now off. So even though there are definitely some that still remain happy, you will have to decide.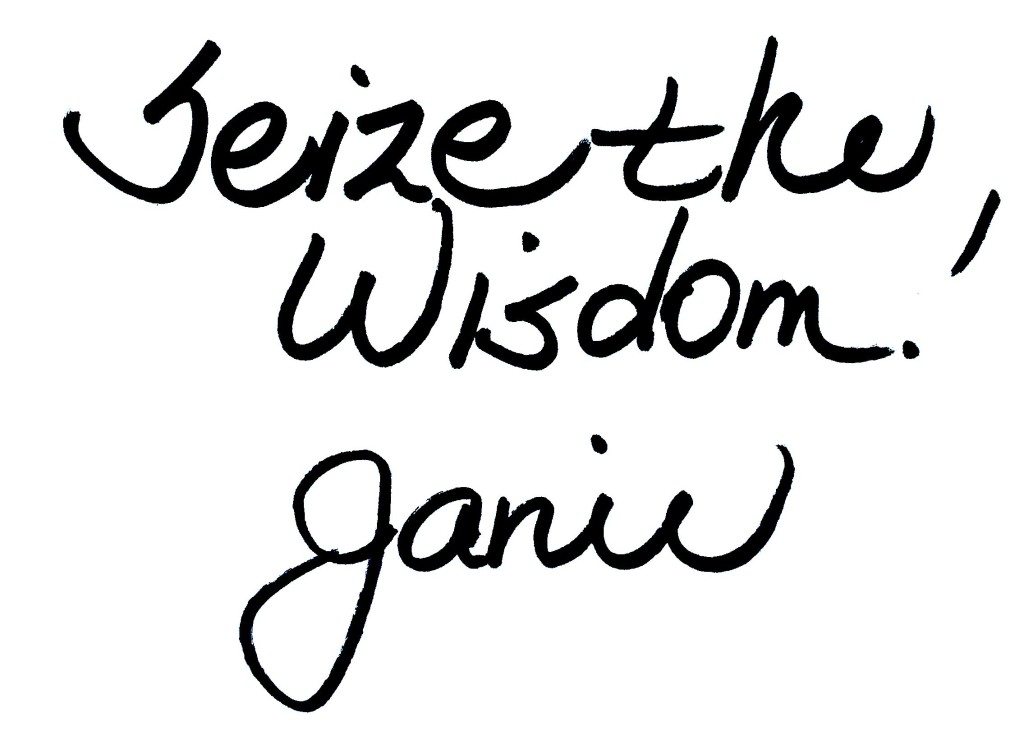 ** You can read how Janie felt about Armour in 2009 here.
** Join the STTM Faceback page for daily information and humor.
** Want to receive these blog posts by email? Sign up below.
** Have you read the STTM II book? All chapters written by doctors from their unique perspectives. The patient-to-patient revised STTM book here. Hashimoto's: Taming the Beast is also available!
Important note: STTM is an information-only site based on what many patients worldwide have reported in their treatment and wisdom over the years. This is not to be taken as personal medical advice, nor to replace a relationship with your doctor. By reading this information-only website, you take full responsibility for what you choose to do with this website's information or outcomes. See the Disclaimer and Terms of Use.