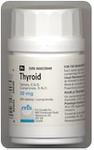 NOTE: when this blog post was written in 2009, it was good news to mention the Canadian brand of NDT, made by the company called Erfa. But sadly beginning in 2014, it seemed to change in a negative way, as reported by numerous patients, even if some still used it. Complaints about symptoms returning fell on deaf ears. There have also been shortages.
Unfortunately, patients who want to switch to desiccated thyroid from T4-only meds like Synthroid et al, or those already on desiccated thyroid who want to fill their next prescription, are going to find it difficult. There are widespread shortages in desiccated thyroid like Armour, Naturethroid and Westhroid. (see my posts below).
But there's good news, and it comes in the form of "Thyroid" by Erfa.
Erfa's "Thyroid" is an excellent natural desiccated thyroid product according to the experience of patients who use it. It contains:
Dried Thyroid
Mag­ne­sium Stearate
Corns­tarch
Talc
Sugar
**Note the "sugar". Patients also report they are able to do this brand of medication sublingually! That is good news.
The Erfa website states you can obtain their desiccated thyroid medication outside of Canada via a special access program and follow their steps:
For patients outside Canada and the US:
1. Get a prescription from your local doctor (mention hypothyroidism on it).
2. Your doctor should fill in this
simple document
(not required for the UK)
3. Fax or e-mail us the documents at 1-514-931-7330 or
info@ERFA.net
For patients in the US:
1. get a valid prescription of Thyroid from your local doctor
2. your doctor has to fill FDA form 1572 (e-mail us a request at info@ERFA.net
3. Fax or e-mail us the documents at 1-514-931-7330 or info@ERFA.net
Thank you Erfa from Stop the Thyroid Madness and thyroid patients all over the world who KNOW what a superior treatment desiccated thyroid really is!
*Want to be informed of this informative posts? Curious what's on Janie's mind? Use the Notifications on the left at the bottom of the links.
Important notes: All the information on this website is copyrighted. STTM is an information-only site based on what many patients worldwide have reported in their treatment and wisdom over the years. This is not to be taken as personal medical advice, nor to replace a relationship with your doctor. By reading this information-only website, you take full responsibility for what you choose to do with this website's information or outcomes. See the Disclaimer and Terms of Use.