Where to talk to other patients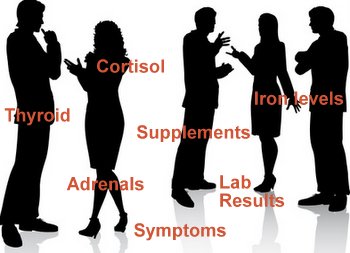 Dear Thyroid friends, there are no groups out there run by STTM. These below are created by and/or run by patients. Many of these groups, though not all, are mentioned here because they seem to go by patient experiences and wisdom rather than simply strong opinions of the owners. Others may be into opinion, but patients report good information, so I include them for you to decide.  
DISCLAIMER: By using any patient discussion groups listed here, you are agreeing that there are no guarantees from STTM and it's at your own risk with you taking full responsibility for that fact. STTM takes no responsibility for decisions you make by using them. Work with your doctor's guidance–groups are NOT supposed to replace that. The list below is not in any order. You just need to find the one that you like the best…for YOU! 
Another option to the free groups below: Janie Bowthorpe does paid, one-on-one coaching calls where she shares information as to what patients have learned over the years as compared to what you share. You can read about those coaching calls here. 
A. Facebook FTPO (For Thyroid Patients only) closed Discussion groups 
READ ME: These are patient-led groups that stay pretty strictly to reported patient experiences and wisdom as seen on STTM. (You will see Janie's name as an admin–she is not. It's just there show that these groups like to be connected to STTM info.) THEIR RULES ARE STRICT–please learn them. Disclaimer above applies and you agree to that if you use these patient-led groups.    
The volunteer leadership states that approval only comes if they can see EITHER your friends list or your wall posts–this is their way to avoid spammers in the groups. You can close them up after approval.
B. Internet discussion groups (non-Facebook, run by patients, for patients)
C. More Potential Groups run by patients, not STTM, for you to explore (discussion or information): 
D: These pages, not discussion groups, are connected to STTM
 ************
And a recommendation for consultation on website design:
LAB WORK packages designed specifically for readers of Stop the Thyroid Madness with good prices–STTM Thyroid and Adrenal Lab Packages