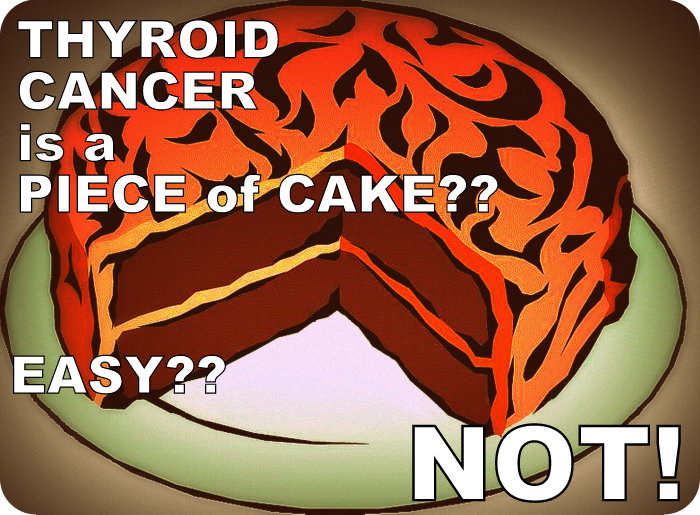 "May your choices reflect your hopes, not your fears." ~ Nelson Mandela
It's not uncommon when perusing the internet to see the word "easy" associated with "thyroid cancer", or described as "the best kind of cancer to get"… as if of all cancers, this one is somehow less difficult, less arduous, a walk in the park or a piece of cake cancer.
Nor is it uncommon for thyroid cancer patients to be told something in a similar vein by their doctors. And of course, many of those doctors will use the "one little pill" pronouncement about the treatment afterwards. Easy-peasy, lemon squeezy!!
So where is the truth? Do you have reason to be nervous about your surgery? About your cancer? Is it that easy? What will your life be like after surgery?
One side of the story
Many thyroid cancer patients do report that all went well in many ways. They caught it early enough. It didn't spread to their lymph nodes. Some didn't even have to use pain medications after their surgery. If some did, it was short-lived. Others moved over to Tylenol after going home. Or ice packs. Drains were removed smoothly. Recovery went smoothly. Energy returned in several weeks. And they report that the cancer remained gone.
But here's the other side of the story which completely dispels the myth that thyroid cancer is easy or the "best" cancer to get.
1) No matter where the cancer is, the emotional reaction is the same.
Many a thyroid cancer patient will tell you about their fears, depression, aloneness or anxiety when they were told. Or the denial, anguish, anger and stress they feel. Or the numbness. Or the fears of it returning. Or the unknown.
2) No surgery is fun, and that includes thyroid removal
Who wants to endure the pre-op or the aftereffects of surgery. No matter if some do better than others, it's not fun to be in a hospital, be put to sleep, the waking up, the drains, the recovery, the discomfort, the time away, and the cost.
3) Many thyroid cancer patients have to endure RAI treatment after surgery and the side effects
RAI stands for Radioactive Iodine Ablation, also called I-131, given in either in liquid or capsule form. Since the thyroid easily absorbs iodine, and the radiation is strong, it serves to destroy any remaining tissue or cells that might still have thyroid cancer in them.
And side effects are far from pleasant and can include isolation, stomach problems, heart palps, neck tenderness, all over achiness, changes in taste, salivary inflammation and parotitis, facial or neck redness or "sunburns", peeling skin, fatigue, fogginess, nausea, dry eyes, irregular period or other reported problems.
Then comes the reported risks that can come later in life due to having RAI, which include "bladder, breast, central nervous system, colon and rectum, digestive tract, stomach, pancreas, kidney (and renal pelvis), lung, or melanoma of skin". Keep in mind this is about "risk" rather than a definite outcome, but it's not fun to consider.
You can read of one patient's opinion and experience with RAI titled Why have million of patients been treated with RAI?
4) The fear of recurrence always lingers!
Life-long monitoring is a sure bet when one has had thyroid cancer. The itchy reminder that it "could" come back never goes away when one has to have neck examinations, certain thyroid blood tests or neck ultrasounds.
5) The "one little pill" mantra of easiness is foolhardy
That one little pill is a reference to T4-only, aka thyroxine or levothyroxine, also commonly known as Synthroid or other brand names. And reported patient experiences for all too many reveal continual problems, sooner or later. Equally as silly, that one little pill leads to the use of many other pills to treat the symptoms of continued hypothyroidism that many report finding themselves with while on the T4-only, one little pill. Those include statins, anti-depressants, anti-anxiety or pain meds, to name a few.
The conclusion?
You are not alone. Thyroid patients know that thyroid cancer is not as "easy" as they make it sound, nor is it the "better" cancer! We are with you! Join the group below for camaraderie, wisdom and support!
This page was brilliantly updated July, 2015 to reflect even better information. Enjoy!
**************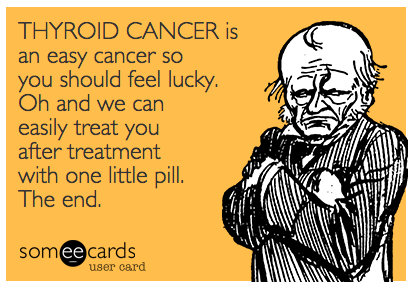 Important note: STTM is an information-only site based on what many patients worldwide have reported in their treatment and wisdom over the years. This is not to be taken as personal medical advice, nor to replace a relationship with your doctor. By reading this information-only website, you take full responsibility for what you choose to do with this website's information or outcomes. See the Disclaimer and Terms of Use.