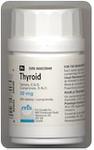 On my August 26th blog post below, I reported good information about US patients being able to use their doctor's prescription to order the Canadian version of natural desiccated thyroid called simply "Thyroid" by Erfa.
And here's more:
In each Erfa 30 mg tablet embossed "ECI 30", there is 18 mcg. of T4 and 4 mcg. of T3;
In each Erfa 60 mg tablet embossed "ECI 60", there is 35 mcg. of T4 and 8 mcg. of T3;
In each Erfa 125 mg tablet embossed "ECI 125", there is 73 mcg. of T4 and 17 mcg. of T3.
Erfa's very friendly and helpful Medical Director, Henri Knafo, MD, states that they follow the USP (United States Pharmacopoeia) specifications. But I do see some slight differences. The USP specifications ratio for one grain that we are used to in the US is 38 mcg. T4 and 9 mcg T3, i.e 38/9. The above ratio is 35/8.
Likewise, US patients are used to 2 grains of 120 mgs having 76 mcg of T4 and 18 mcg of T3, i.e. 76/18. In Erfa's medication of 125 mg, you will get a ratio of 73/17. I don't know if this will make much of a difference but want you to be aware as you work to adjust Erfa's desiccated thyroid to the treatment you were used to.
Knapo happily states that most all "Thyroid" is making it across the border to the states without issue. You will need your doctor's prescription. And by the way, Erfa's Thyroid is manufactured in Belgium, plus they have a huge supply of desiccated powder.
Erfa is also working with IDIS to get Thyroid to others. You can read about them here.
Need a doctor to work with who will provide a prescription for your needed desiccated thyroid? There are a growing body of good doctors out there. We also have a good list of Canadian pharmacies you can consider using during the current shortages.
I have also received word from a gal that the FDA document 1572, a federal form that FDA requires for over-the-border movement, has not always been used, and Erfa's medication is arriving fine. i.e. the FDA may be tolerating it.
*Want to be infor­med of this infor­ma­tive posts? Curious what's on Janie's mind? Use the Noti­fi­ca­tions on the left at the bot­tom of the links.
Important notes: All the information on this website is copyrighted. STTM is an information-only site based on what many patients worldwide have reported in their treatment and wisdom over the years. This is not to be taken as personal medical advice, nor to replace a relationship with your doctor. By reading this information-only website, you take full responsibility for what you choose to do with this website's information or outcomes. See the Disclaimer and Terms of Use.