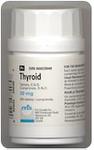 Just had a good conversation with Dr. Henri Knafo, the Director of Medical Affairs at Erfa Canada, Inc.
On my post below from yesterday, you will see hopeful information on getting this excellent Canadian desiccated thyroid. And below is more information you have been asking for as patients who know the efficacy of desiccated thyroid.
Erfa's "Thyroid" comes in three strengths: 30 mg, 60 mg, and 125 mg. Amounts you can order, and costs, are as follows:
30mg 500 tablets $52.00 US; 100 tablets $18.00 US
60mg 500 tablets $70.00 US; 100 tablets $39.00 US
125mg 500 tablets $100.00 US; 100 tablets $ 50.00 US
Erfa will charge a 10$ handling fee (for first time users) and shipping is around $20 US. Knafo states the prices are equivalent to Armour.
Erfa's Thyroid has been in production for 30 years and they have 5000 Canadian patients on it.
Erfa's Thyroid is approved by Health Canada (their equivalent to FDA). Erfa spoke to the FDA, and in order for their desiccated thyroid to cross the US border, you have to fill out and sign the FDA patient study form which is mentioned below.
Erfa's Thyroid is made in Europe with the raw materials, and they bought an excess of it. So there will be no problem getting it and they expect no shortages the rest of the year.
One canadian pharmacy you can use (and is not associated with Erfa) is the Canada Pharmacy Online.
Important notes: All the information on this website is copyrighted. STTM is an information-only site based on what many patients worldwide have reported in their treatment and wisdom over the years. This is not to be taken as personal medical advice, nor to replace a relationship with your doctor. By reading this information-only website, you take full responsibility for what you choose to do with this website's information or outcomes. See the Disclaimer and Terms of Use.