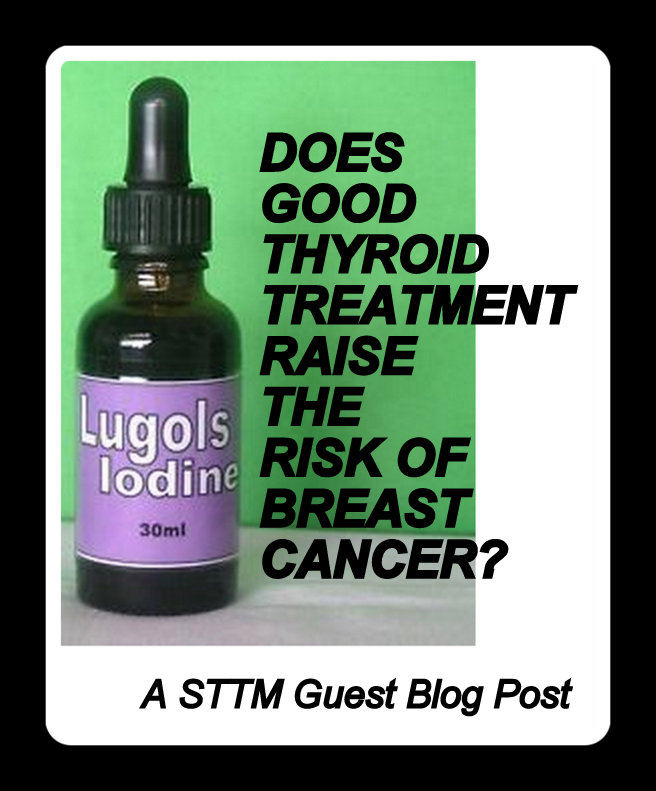 The following Guest Blog post is from Dr. Malcolm Maclean of the UK. It's a timely topic as there has been sporadic mention on the internet of a connection between even the best of thyroid treatments and certain potential risks! He feels the risk between a good thyroid treatment and an increased risk of breast cancer may be very real, and he suggests what you need to do about it.
**********
For some people who experience symptoms of hypothyroidism, achieving a diagnosis of "Hypothyroidism" from a practitioner may be difficult. Even for those who are so diagnosed, the standard Thyroid Hormone for treatment tends to be Thyroxine, also known as T4-only (Trade names: Synthroid/Eltroxin).
For others, Natural Desiccated Thyroid (NDT) tablets are necessary to achieve any improvement and for others T3 may be the treatment of choice, with or without NDT.
However, the point of this text is not to dwell on such difficulties, which can include:
** Is adrenal function adequate for initiation of thyroid hormone replacement?
** Is the iron level right?
** Have the levels of estradiol and progesterone been rectified? …and so on.
Rather, this blog article picks up at the point where thyroid hormone replacement therapy is in place and the patient has started to feel better.
In other words, if you are feeling great with your thyroid treatment, does that mean everything is alright?? Maybe not when it comes to breast cancer risk and some other conditions.
It has to be said that although many people do feel better once diagnosed properly and treated appropriately with Natural Desiccated Thyroid, there are the prima facie puzzling reports of an association between "thyroid treatment and breast cancer risk" (as well as the risk of other cancers, lupus and of diabetes which have been associated with those who are taking thyroid hormone replacement) .[1-6]
Indeed the risk of breast cancer has been stated to be doubled in this situation and trebled for women in this situation who have not given birth.
The hazards of breast cancer is counter-intuitive. A person may say: "I feel so much better now that my symptoms of hypothyroidism have been improved, so why should I face the hazard of greater risk of breast cancer?"
A possible answer is that estrogen dominance, (a common predisposing factor in the development of hypothyroidism for some) down-regulates the IODINE PUMP, the active transport system of iodine. And this effect with down-regulation of the iodine bump has been produced experimentally, as well.[5]
It seems that whatever thyroid hormone preparation used, in the situation of this estrogen effect (i.e. estrogen dominance), thyroid treatment is liable to conceal a continuing hazard of Iodine-deficiency-induced breast cancer. This is because:
a) The cause of the original Iodine Pump down-regulation (estrogen effect) has not been addressed.
b) The thyroid hormone replacement used in therapy is liable to down regulate the Iodine pump further.
Apart from estrogen, the following agents are also said to down-regulate the Iodine Pump:
T3
T4
Perchlorate
Interferon
Interleukin [5,7]
This line of thought supports the mainstream view that, in thyroid hormone replacement, the TSH level should remain in the middle of the normal range. However that dosage does not always relieve symptoms. There's a paradox and a therapeutic difficulty! What might/can be done to address that therapeutic difficulty?
The question is: in the situation of Estrogen Dominance, treated by thyroid hormone replacement, does Iodine supplementation overcome this hazard? (Together with the "Companion Nutrients" as advocated by the "Iodine Research" group). [8] .
The evidence suggests that the answer is "Yes". The implication is that most females who are being treated with thyroid hormone replacement should be on the "Iodine Protocol" to overcome the cancer hazard, caused by impaired Iodine absorption.
Unfortunately, the standard test for Iodine status in the human body (the urine iodine test) tells us nothing about the state of Iodine absorption and therefore the true state of the body's Iodine status. Saliva Iodine level (after Iodine loading, 50 mg) appears to be a more reliable test of the body's true Iodine status. [9]

It is also appears that exposure to Fluoride, by depressing Iodine uptake, potentiates the cancer risk here.
Unfortunately, when Thyroid Hormone Replacement is used in the treatment of symptoms of hypothyroidism, iodine supplementation is not always used together with the "Companion Nutrients". The evidence suggests that this supplementation of iodine should be in place to lower your risk of breast cancer, even if you are feeling great on your thyroid treatment.
*****************
1. Turken O, Narin Y, Demirbas S, Onde ME, Sayan O, Kandemir EG, Yalaci M, Ozturk A: Breast cancer in association with thyroid disorders.
Breast Cancer Res 2003, 5:R110-R113. PubMed Abstract | BioMed Central Full Text
2. Eur Thyroid J. 2013 Jun;2(2):83-92. doi: 10.1159/000351249. Epub 2013 May 28.
3. http://www.ncbi.nlm.nih.gov/pmc/articles/PMC3765368/
4. https://stopthethyroidmadness.com/2013/08/12/t4-only-lung-cancer/
6.

http://www.icjpir.com/sites/default/files/articles/ICJPIR%20-%2014-104%20Atta%20Abbas.pdf
7. Daniel H.Y. Shen,1 Richard T. Kloos,2,3 Ernest L. Mazzaferri,2 and Sissy M. Jhiang1,2 Sodium Iodide Symporter in Health and Disease THYROID Volume 11, Number 5, 2001 Mary Ann Liebert, Inc
8. http://iodineresearch.com/supplementation.html
9. http://optimox.com/pics/Iodine/opt_Research_I.shtml
To read more on iodine plus groups you can discuss this in, go to the Iodine page on STTM.
About Dr. Maclean: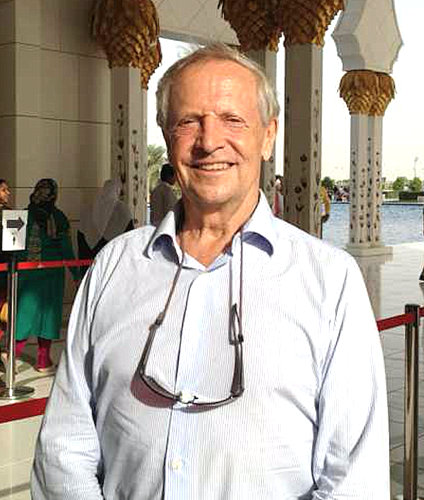 The following text was kindly provided by Dr Malcolm Maclean, a Scottish doctor, who himself was diagnosed as having symptoms of hypothyroidism in his mid-fifties. He writes:
"Hypothyroidism evidently runs in my family. Looking back on my school days, I now realize that my mum had a royal flush of symptoms of hypothyroidism. Despite consulting an eminent specialist, the diagnosis was not made and she ended up with a diagnosis of "Narcolepsy" (Episodic sleepiness, not otherwise specified) and, as treatment, a prescription of long-acting amphetamine (Durophet).
It is clear that even in the 1950s there was a bias against proper diagnosis and treatment of hypothyroidism.
My own diagnosis of hypothyroidism was not made until I started falling asleep at my desk in the mid afternoon. Starting Natural Desiccated Thyroid treatment, and I had the wonderful experience of mental fog lifting, which many, similarly affected and treated, will recognize.
As a medical advisor to the UK charity: Thyroid Patient Advocacy, I press (With others) for better diagnosis and treatment of symptoms of hypothyroidism as well as better education of doctors. The present unsatisfactory state of medical education concerning endocrinology, cannot last much longer, seeing that many patients now know more endocrinology than their doctors.
My particular interest lies in the management of those who make an incomplete recovery, having embarked on thyroid hormone replacement therapy and the attached text attests to that.
Important notes: All the information on this website is copyrighted. STTM is an information-only site based on what many patients worldwide have reported in their treatment and wisdom over the years. This is not to be taken as personal medical advice, nor to replace a relationship with your doctor. By reading this information-only website, you take full responsibility for what you choose to do with this website's information or outcomes. See the Disclaimer and Terms of Use.