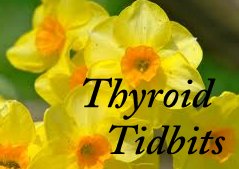 On the heals of the bat-guano Thyroid Tidbits just a few days ago, here are more for your reading pleasure and enlightenment:
Well, well, well…Endocrinology underscores what we already know!
In a March 2013 article titled "Subclinical hypothyroidism predicts cardiovascular mortality in NHANES", it states "Subclinical hypothyroidism is a strong independent predictor of cardiovascular mortality in a healthy population at baseline, a national study indicated."
A good realization about hypothyroid and heart health, but we have to wonder if they really understand what "subclinical hypothyroidism" is, because we, as informed thyroid patients, know it's NOT waiting until the pituitary hormone TSH rises to 3 or 5 or above, since MANY of us are hypo years before the TSH rises high enough to reveal it…and some report NEVER having a raised TSH even though their symptoms scream hypothyroid for years!
And do they yet understand that thyroxine is NOT going to make that much of a difference in our heart health…as exactly happened to my Synthroid-treated mother?? *See*https://stopthethyroidmadness.com/healthy-heart-with-t3/
B12 Dots may be a better treatment for some!
Thyroid patient Marilyn emailed me the following interesting information:
I had a B12 level of 189 five years ago. In the beginning, I tried the mega-doses of B12, but they did nothing for me, and I had to take the monthly shots. My thyroid specialist recommended B12 Dots (found in health food stores or organic sections of stores). Put under your tongue, they are absorbed into the blood stream directly. One a day and I am back to normal. No more shots and no more big pills to take. I use the 500 mcg dot, but I know they also make a 5000 mcg dot.
And by the way, an important discovery patients made years ago: mid-range B12 is not adequate. They needed to get to the upper quarter of the range to fully rid themselves of B12-related symptoms.
Costco has it ALL WRONG!
From thyroid patient Florence who emailed me:
I received The Costco Connection magazine in the mail for April 2013. There is an article on underactive Thyroid that refers to the TSH as the "gold standard" and states if someone continues to have symptoms on T4 medication when the TSH is within the desired range then the amount of medication isn't the problem. Please contact The Costco Connection magazine and let them know why the information the author received from an Endocrinologist at the Diabetes Center at Mercy Medical Center (Baltimore) is incorrect. 1-800-955-2292
Chronic Fatigue Syndrome: the world-is-flat syndrome
Have you ever been told you have CFS, ME (Myalgic Encephalopathy), or CFIDS? Because It's past time to lay this out on the table, because Chronic Fatigue Syndrome just may be one more bungling diagnosis by our medical community for more than twenty years! So it's time to have an open mind, carefully considering history and facts.
Yes, there are always exceptions to everything, but overall, there are strong clues as to what most cases of CFS spring from—a hypothyroid state. https://stopthethyroidmadness.com/chronic-fatigue-syndrome
2013 study: direct evidence about the efficacy of Vitamin D!
This newest study, just reported in Science News, is said to provide direct evidence that optimizing your vitamin D levels plays a large role in improving your immune system, besides lowering your risk for a host of diseases! That is good news for thyroid patients, especially Hashimotos patients, who are always working to optimize their poor levels due to low stomach acid.
It states that the "vitamin D status of healthy adults significantly impacts genes involved with a number of biologic pathways associated with cancer, cardiovascular disease (CVD), infectious diseases and autoimmune diseases."
Why you need to go to bed when your body says NOW!
Dr. Lam has always stated that we need to go to bed by 10 pm. Why? He explains that "This is because our adrenal glands kick in for a "second wind" to keep us going from 11 pm to 1 am. This puts tremendous stress on the adrenals."
And we now have proof by patient reported experiences as to how important going to bed at the right time is! One gal with adrenal fatigue and low cortisol, and who was working with the T3CM, stated she went on vacation with her family. The vacation was to an area that had no TV, and definitely no stress. And the family just went to bed by 10 pm-ish…and they all slept well. Lo and behold, she stated she did SO much better with the T3CM, getting far better results.
The message was clear: going to bed at a reasonable time can do wonders for your adrenals.
Important notes: All the information on this website is copyrighted. STTM is an information-only site based on what many patients worldwide have reported in their treatment and wisdom over the years. This is not to be taken as personal medical advice, nor to replace a relationship with your doctor. By reading this information-only website, you take full responsibility for what you choose to do with this website's information or outcomes. See the Disclaimer and Terms of Use.