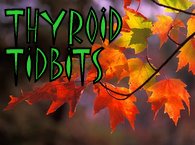 A GOOD REPORT ON THIS OVER-THE-COUNTER THYROID SUPPORT
A gal recently used the Contact Me form on STTM to ask if I'd ever compiled patient experiences on ThyroGold–a nonprescription, over the counter, desiccated thyroid formulated by Dr. John C. Lowe and made from the thyroids of New Zealand cows who are pasture-fed. I said no–haven't heard yet from anyone on it long enough.
But just thirty minutes later, here comes an email from a gal who has been on it four months, feels very good with many noted improvements. She is so thankful, and stated STTM gave her the confidence to feel she could work with ThyroGold. And lo and behold, her TSH-worshipping, Synthroid-prescribing doctor is watching her progress, and pleased.
COCONUT OIL AND ALZHEIMERS
Many a thyroid patient have heard of the benefits of coconut oil, especially as a food product which can stimulate your metabolism.
But a Dr. Mary Newport discovered in 2008 that just 4 teaspoons a day of virgin coconut oil just might have the right ingredients–medium-chain triglycerides which produces ketones by the live–to stop the onset or even reverse some of the damage caused by Alzheimer's. She witnessed this in her own husband. You should read her story here, and more on the Coconut Ketones website here. Since my mother, and her father, both got Alzheimers by the time they were eighty, this especially interests me!
In fact, coconut oil just night have the same successful results with Parkinson's disease, Huntington's disease, multiple sclerosis and amyotrophic lateral sclerosis (ALS or Lou Gehrig's disease), drug-resistant epilepsy, brittle type I diabetes, and type II (insulin-resistant) diabetes. WHOA!!
Says Dr. Newport:
Our cells can use ketone bodies as an alternative fuel when glucose is not available. Brain cells, specifically neurons, are very limited, more limited than other cells, in what kinds of fuel they can use to function and to stay alive. Normally, they require glucose (sugar), but they can also use ketone bodies. Humans do not normally have ketone bodies circulating and available to the brain unless they have been starving for a couple of days or longer, or are consuming a ketogenic (very low carbohydrate) diet, such as Atkins. In Alzheimer's disease, the neurons in certain areas of the brain are unable to take in glucose due to insulin resistance and slowly die off, a process that appears to happen one or more decades before the symptoms become apparent. If these cells had access to ketone bodies, they could potentially stay alive and continue to function.
P.S. Did you see the "one or more decades before symptoms become apparent"? That means we need to be on coconut oil daily NOW,
ARE ENDOCRINOLOGISTS FROM ANOTHER PLANET?
A patient on STTM's Facebook page recently reported that since her HMO would only allow her to see an Endocrinologist, off she went to the appointment.
And what does her new Endo tell her? Ready? That her TSH was fine, low T3 & T4 meant nothing, and there is NO evidence that Adrenal Fatigue is real (in spite of the fact that when she tries to raise her Armour, her heart goes wacky–a sure sign of low cortisol). She concluded that there is "nothing like being lectured on things when you know more than they do." She felt forced to keep her mouth shut by his reactions if she did try to teach him something, and just resigned to "agreeing with everything he said and left".
And her summary of that Endo escapade? "My dose of Armour is right, makes no difference I'm fatigued, had to quit my job, leg swelling so bad I can hardly get around. None of that mattered. ONLY the TSH test."
And unfortunately, her comment about knowing more than the doctor is very, very common now thanks to STTM and patient groups. All we can hope for are those doctors who are humble and open-minded to what we now KNOW to be true!
TWO OF THE MOST IMPORTANT CHAPTERS IN THE STTM BOOK
Chapters 3 and 11
REMEMBER ME MENTIONING THE GAL WHO PUT THE STTM BUMPER STICKER ON HER HUSBAND'S CAR?
Well, he got followed into the Barber Shop this time by a male nurse! So now, he wants something to hand out to these folks who keep approaching him. haha. So she has made copies of the STTM FLYERS and he'll have them in the car from now on. This is reaching people…one by one!
Important notes: All the information on this website is copyrighted. STTM is an information-only site based on what many patients worldwide have reported in their treatment and wisdom over the years. This is not to be taken as personal medical advice, nor to replace a relationship with your doctor. By reading this information-only website, you take full responsibility for what you choose to do with this website's information or outcomes. See the Disclaimer and Terms of Use.