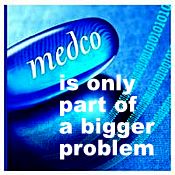 I have been watching with interest the past week about the justified ire of patients being expressed all over patient groups in the internet. And in case you've been too busy with school starting or end-of-summer activities, it involves one of the nation's largest mail order pharmacies as well as the largest Pharmacy Benefits Manager (PBM): Medco.
In a statement you can read right on their website, they state:
1) there is a "nationwide shortage of porcine-derived desiccated thyroid"
2) they are "uncertain about continued availability."
3) "ask your doctor if a synthetic thyroid medication, such as levothyroxine is right for you."
In Medco's direct message to doctors, they state;
1) desiccated thyroid does not have the U.S. Food and Drug Administration (FDA) Federal Drug approval"
2) the FDA "may remove any remaining unapproved products from the market."
3) the shortage is due to this "uncertainty".
4) "the American Association of Clinical Endocrinologist recommends levothyroxine over desicccated thyroid, liotrix, combination of thyroid hormone, or triiodothyronine (T3) for the treatment of hypothyroidism."
Clarification on their statements
If you are just now finding out about this, do note the following:
1) There is not a nationwide shortage of all desiccated thyroid. There is a shortage of Armour because of its 2009 reformulation. (See my blog posts below about problems with the newly formulated Armour.)
2) Naturethroid by RLC Labs continues to be available. They are working hard to keep up. See my post on Naturethroid.
3) Desiccated thyroid was around long before the establishment of the FDA, so they are grandfathered in and still work with the FDA guidelines.
4) There has been no statements by the FDA that they are removing desiccated thyroid.
An even more important revelation in this entire Medco scandal
There is actually an underlying message in the entire Medco fiasco that you should find even MORE disturbing: the continued promotion of T4, aka levothroxine, as an adequate treatment of hypothyroidism. And this is not just a faux pas of Medco, it continues to be the ignorant opinion of far too many doctors, medical schools and medical boards. All you have to do is look at what has happened in the UK with the Royal College of Physicians to see the idiocy abounding.
Over 100 years ago, desiccated thyroid was found to be an excellent treatment for hypothyroidism. I give precise details about the first use of desiccated thyroid in Chapter 2 in the Stop the Thyroid Madness book. It worked!
But in the early 1960's, the tide turned thanks to a batch of desiccated thyroid that turned out not to be what it said it was. This is documented in the 1970 Pharmacological Basis of Therapeutics. And pharmaceuticals, especially Knoll Pharmaceuticals who first tableted levothyroxine aka Synthroid in 1955, jumped to promote T4-only as a "new and modern medication". (See page 41 and 42 in the STTM book). And doctors and medical schools fell for it hook, line and sinker.
And to this day, levothyroxine continues to be purported as an acceptable and logical treatment choice for hypothyroidism. But patients all over the world beg to differ. T4 medications like Synthroid, Levoxyl, Eltroxin, Oroxine and others simply leave all patients with their own unique amount and degree of lingering hypothyroid symptoms, no matter how high you raise it.
I also find it hugely disturbing to refer to AACE (American Association of Clinical Endocrinologists) as if they are the grand poopah of knowing what's right for thyroid patients. They are NOT. Millions of thyroid patients who have switched to desiccated thyroid, T3, or a combo of T4 and T3 will tell them hands-down that they have gotten FAR better results, and most especially with desiccated thyroid like the "old" Armour, and now Naturethroid.
Visiting numerous thyroid patient groups will reveal how patients feel about Endocrinologists they have visited throughout the years. Their experiences are far from flattering. In other words, with a few exceptions, thyroid patients are NOT impressed with Endo's.
Medco's statements are definitely a concern for patients and range from presumptous to unfactual. But those statements only represent a far wider problem around the world in the medical community. Clinical presentation and wisdom has been thrown out the window by doctors. So patients have to continue spreading the word about the far superior treatment of desiccated thyroid, and their problematic experience with T4.
Want to be informed of these posts so YOU can be informed? Curious what's on Janie's mind? Use the Notifications on the left at the bottom of the links.
***50% off sale!! All STTM t-shirts are now on sale. I love sales. Not only do they help support this site, they are a great way to spread the word. Go here. Did you know that Laughing Grape Publishing will send a STTM book directly to your doctor?

Important notes: All the information on this website is copyrighted. STTM is an information-only site based on what many patients worldwide have reported in their treatment and wisdom over the years. This is not to be taken as personal medical advice, nor to replace a relationship with your doctor. By reading this information-only website, you take full responsibility for what you choose to do with this website's information or outcomes. See the Disclaimer and Terms of Use.