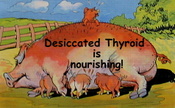 Just when you think we're full of great information for better thyroid care, there's still more to learn and find out. Below is information that you might find interesting on STTM.
ADRENALS: For those who discovered via the 24 adrenal saliva test that they needed cortisol support, we have come to realize that some can't do the ramping up schedule from a small amount to a larger amount without having problems from the feedback loop.
Instead, many simply need to "start" on the higher amount, which would range from 20-30 mg. You can read about that on the How to Treat page, and you'll note that not one morning amount goes higher than 10 mgs. With the exception of men, higher than 10 mg seems to suppress the ACTH and adrenals too much.
A NEW LOOK: To make the STTM home page more understandable to newcomers, the home page has broken down the information better into separate pages, and also has a new interesting way of using it.
LISTEN TO THIS INFORMATION: STTM has short audio clips you can listen to, or send someone else to, to help understand what this is all about.
STORIES OF OTHERS: Individual real-life stories continue to come in, proving over and over that this revolution for far better care really does work.
FEEDBACK and MORE FEEDBACK: I get emails daily about lives changed thanks to this patient revolution. It's wonderful to see people finding out WHY they have depression, less stamina than others, rising cholesterol and blood pressure, hair loss plus other lingering symptoms of hypothyroidism left untreated because of the lousy TSH, or undertreated because of the equally-lousy T4-only treatment like Synthroid. I can't begin to post them all, but STTM does contain a sampling of this feedback.
DESICCATED THYROID BRANDS: Wow, the list is growing for desiccated thyroid brands around the world! We now have listings for Denmark, Germany, Italy and New Zealand, as well as more detailed information on compounded thyroid in Australia. Thanks to all who contributed.
KEEPING UP WITH ADDITIONS TO STTM: In case you didn't know, there's a page meant to inform you of what's added to STTM. I may neglect to list a few additions occasionally, but think I'm pretty close to getting most of them up there.
MEDICAL RESEARCH TO PROVE WHAT WE ALREADY KNOW: Did you know that STTM has a page which compiles research and studies which prove what we as patients already know? It's not loaded with research yet, but it's growing. And if you have found more to contribute to that page, use the Contact Me form.
SITE MAP: And bottom line, you can always go to the Site Map, or review the information more compactly in the book, which patients are taking into their doctors offices.
*Want to be informed of these blog posts? Curious what's on Janie's mind? Use the Notifications on the left at the bottom of the links.
*Stop the Thyroid Madness T-shirts are now 50% off! I like sales, don't you? And by wearing these shirts, you'll never know what seed you put in the mind of someone walking past you who's still on Synthroid or any other T4 meds, and doesn't know WHY they have depression, rising cholesterol, easy weight gain, the need for naps, etc. You"ll also find humorous bumper stickers which definitely spread the word.
Important notes: All the information on this website is copyrighted. STTM is an information-only site based on what many patients worldwide have reported in their treatment and wisdom over the years. This is not to be taken as personal medical advice, nor to replace a relationship with your doctor. By reading this information-only website, you take full responsibility for what you choose to do with this website's information or outcomes. See the Disclaimer and Terms of Use.