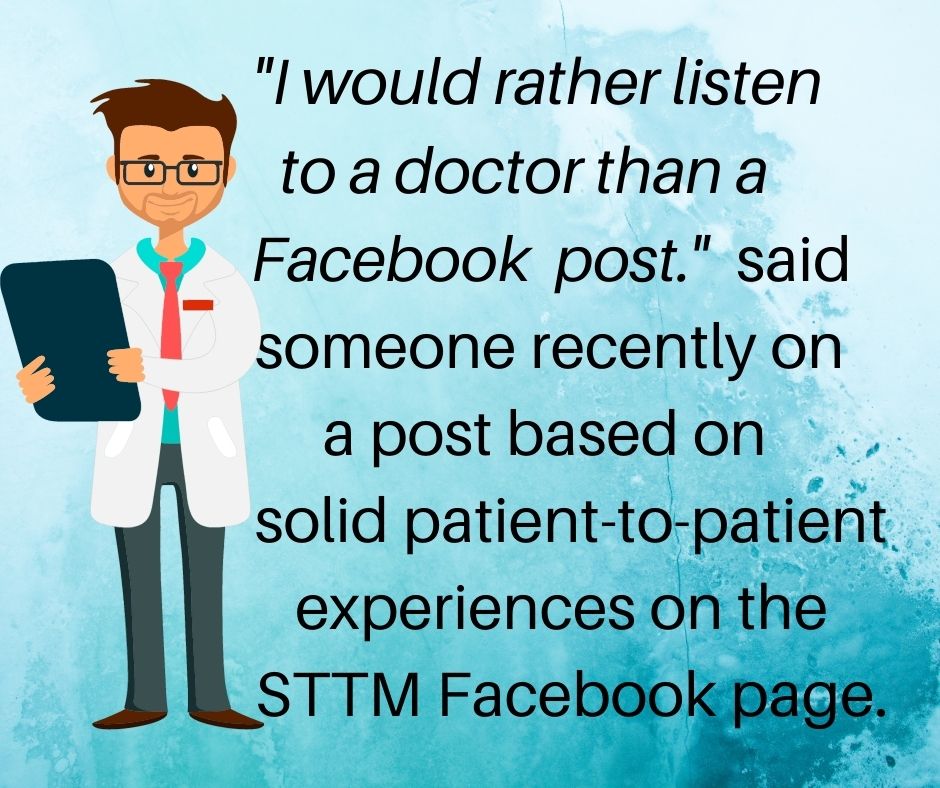 Stop the Thyroid Madness has an excellent and active Facebook page. Daily posts reflect what we as informed thyroid patients have experienced and observed again and again.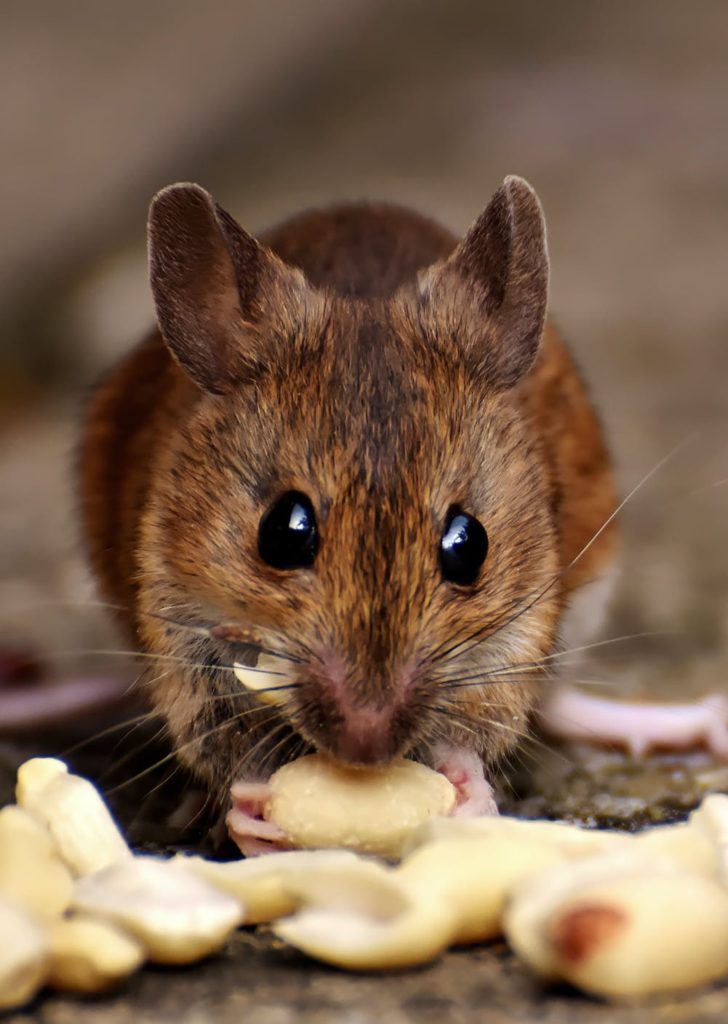 And this statement in the graphic was made by someone on an important post. That post spoke about years of patient experiences on one particular subject which repeatedly counters what some doctors state.

And on one side, we agree about some social media posts!! There can be some pretty nutty information from some groups on Facebook or elsewhere. That poor information can come from members or the group's owner or admins.
And as far as doctors, there can definitely be some who give brilliant information to us in their offices, or via a virtual appointment.
For example, my husband had to have his bladder removed last month. He was exposed to Agent Orange decades ago, and that toxin eventually wreaked havoc on him. That's why I haven't posted much here in months–it's been hell for him with all his problems. And it's been time-consuming for me as a caretaker, besides the grief from worrying I was going to lose him. And we have gotten good information from his surgeon as to how the surgery would be performed (before it was performed), and how long it would take him to recover.
But when it comes to thyroid disease and issues related, we as patients have sadly and repeatedly found too many doctors to be SORELY and BROADLY misinformed. It's the very reason I created the patient-to-patient, Stop the Thyroid Madness movement nearly two decades ago.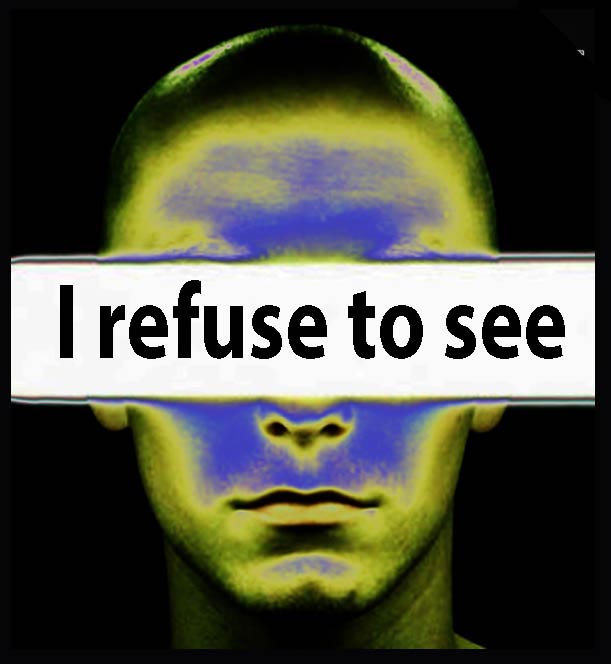 And even to this day, too many doctors still keep us sick. They pointedly REFUSE to see, to learn from their patients.
So to those of you who might share the same sentiment as what was shown in the graphic, here's information you badly need to be open about. Each point below starts with what doctors commonly believe or state, followed by what that statement or belief has done to millions of us as thyroid patients.

1) "The TSH lab test is the best way to monitor you." To the contrary, doctors who go by the TSH and its erroneous "normal range" have been keeping us sick for decades, whether for diagnosis or treatment. Here's solid information as to why.
2) "Synthroid or Levothyroxine, by themselves, are the gold standard of hypothyroid treatment, no matter the cause." To the contrary, these are simply one of five thyroid hormones–T4. It's a storage hormone meant to convert to T3, the life-changing hormone. But as we have experienced for decades, being on nothing but T4 has caused the vast majority of us problems. Here's solid information on that.
3) "Let's only do one of two thyroid antibodies to see if you have Hashimoto's disease". Guess what? One antibody they choose can be perfectly normal, and the other they don't choose can be high. So you lose the important diagnosis. Here's solid patient information.
4) When it comes to your Hashimoto's disease, let's just wait and do nothing to let it run its course. As stated similarly in the patient-to-patient book Hashimoto's: Taming the Beast, that's akin to letting a dog chew your leg off, but by bit.
5) "You should ONLY take thyroid meds on an empty stomach." To the contrary, nearly two decades of reported experiences have shown that many thyroid patients still do well even with fruit, or veggies, or grains (if not gluten intolerant) in the stomach. Even taking meds with coffee and cream has seen patients report not being a problem if they are consistent, and watch their free T3 and free T4, and adjust as needed. The main things we avoid in the stomach at the same time are iron supplements, calcium, high fiber, etc, which can bind "some" of the thyroid hormones. Even soy mixed in with thyroid hormones at the same time can negatively affect absorption.
6) "T3 is dangerous as you get older." We have definitely and repeatedly blasted that out of the water. There are groups for those who are older thyroid patients, and they report soaring on T3, just as younger people do. Sure, they may need to start low and raise low. But they do wonderfully. And guess what–heart and bones NEED T3. And T3 has repeatedly improved bone density, improved heart health, in patients!
7) "Your low TSH with T3 in your treatment will cause bone loss and heart disease. Thus we need to lower your meds." That has been the most egregious and false belief by doctors ever, and has made us see a return of our hypothyroid symptoms. For one, it's Grave's disease and its resultant low TSH which causes bone loss and heart disease. Our low TSH is just a normal result of having T3 in our treatment and has NEVER caused bone loss or heart problems.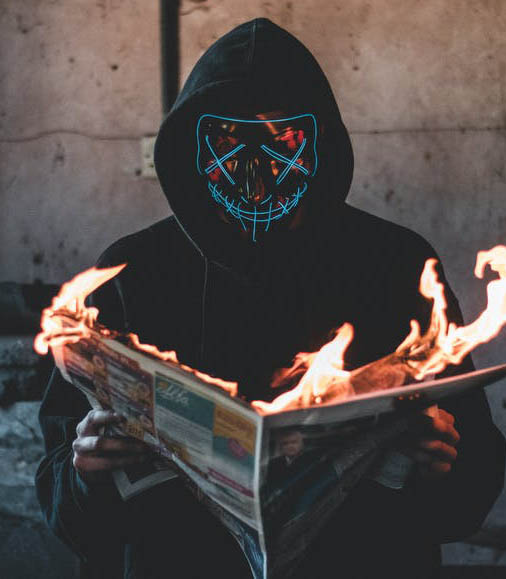 I could go on and on about how too many of our doctors can be in the dark ages about thyroid treatment and cause us immense problems. It's worldwide.
So do know that in the area of thyroid disease, you can be making a huge mistake thinking you need to listen solely to a doctor without also listening to nearly 20 years of reported patient experiences, observations and wisdom in getting well. The latter is what this website and the books are about. And…it…has…changed…lives.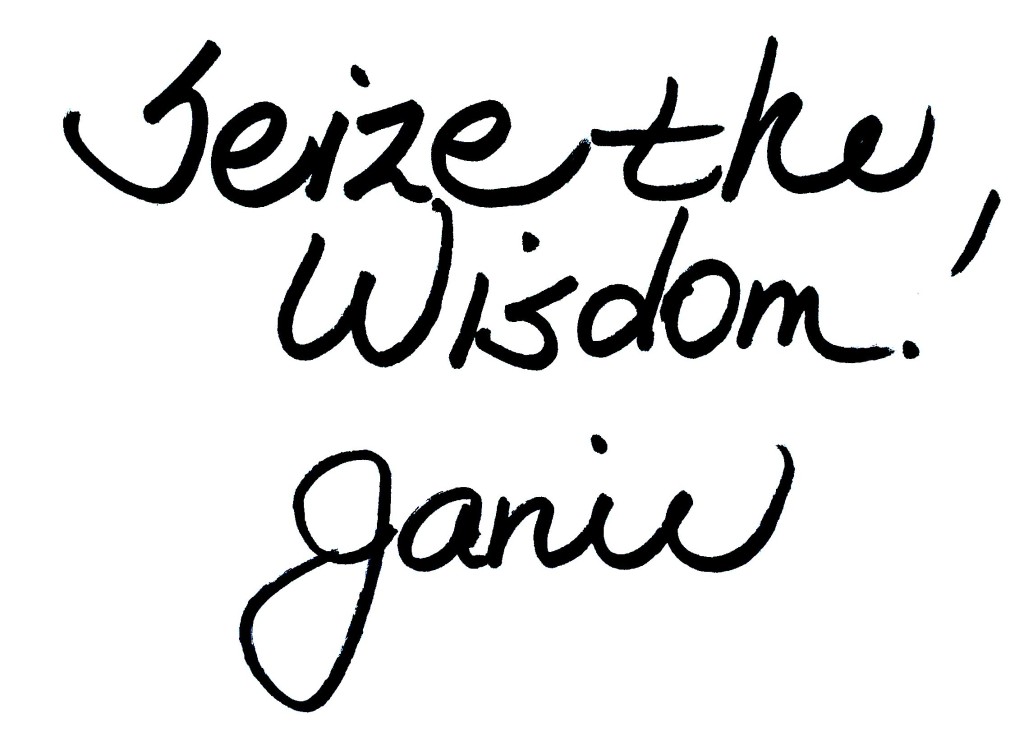 P.S. If you are reading this because you signed up for email notifications, DO NOT REPLY TO THE EMAIL. It will go nowhere for people to read and respond to. Instead, clicking on the title of the post, or going here, is where you comment.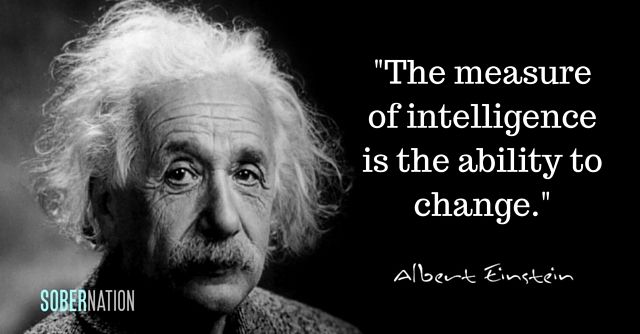 Important notes: All the information on this website is copyrighted. STTM is an information-only site based on what many patients worldwide have reported in their treatment and wisdom over the years. This is not to be taken as personal medical advice, nor to replace a relationship with your doctor. By reading this information-only website, you take full responsibility for what you choose to do with this website's information or outcomes. See the Disclaimer and Terms of Use.