A healthy thyroid makes five hormones, of which T3 is the most powerful. T4 is the storage hormone, meant to convert to the life giving T3.
But sadly, there are a variety of reasons why conversion of T4 to T3 my be inhibited, and which especially makes being on Synthroid or any other T4-only medication a risky choice in the treatment of hypothyroidism.
Even if you finally found the right treatment for you (which is adding direct T3 (the active hormone) to that T4 (a storage hormone)…or moving over to Natural Desiccated Thyroid…it's important to learn the following reasons why you may not be converting that T4 to T3 in the most optimal way.
1) GETTING OLDER: Just as getting older can influence even the production of thyroid hormones, it can affect your ability to convert the storage hormone T4 to the active hormone T3! i.e. deiodination decreases. www.hormones.gr/205/article/thyroid-hormones-and-aging.html
2) EXCESS GOITROGEN FOODS EATEN DAILY (broccolli, soy, etc) CAN GET YOU INTO TROUBLE! www.stopthethyroidmadness.com/goitrogens
3) GOING THROUGH HIGH STRESS DAY AFTER DAY RAISES CORTISOL, WHICH IN TURN INHIBITS CONVERSION of T4 to T3! www.stopthethyroidmadness.com/ps/
4) CERTAIN SUPPLEMENTS OR FOODS NEED TO BE TAKEN AWAY FROM YOUR THYROID MEDS Calcium, iron and estrogen are examples. Though this talks about levothyroxine (which patients are moving away from all over the world), the information is solid: www.peoplespharmacy.com/2010/08/26/taking-thyroid-medicine-properly/
5) NUTRIENTS ARE NEEDED TO HELP CONVERT T4 to T3!! Are you low in Selenium? If so, it negatively affects the conversion of T4 to T3! So do low levels of zinc, B12, B6 and more. http://www.naturalthyroidchoices.com/ThyroidNutrients.html And why do we, as thyroid patients, find ourselves with low nutrient levels?? Besides having Celiac, here's the most common reason for all: www.stopthethyroidmadness.com/stomach-acid
6) CHEMOTHERAPY and RADIATION CAN NEGATIVELY AFFECT YOUR T3 LEVELS: http://www.ncbi.nlm.nih.gov/pubmed/9204611
7) THOSE WHO FIND THEMSELVES WITH HIGH LEVELS OF HEAVY METALS DUE TO MTHFR CAN ALSO SEE THYROID HORMONE PROBLEMS! www.stopthethyroidmadness.com/mthfr
8) MORE THAN MODERATE EXERCISE CAN DECREASE CONVERSION OF T4 to T3! www.ncbi.nlm.nih.gov/pubmed/18539729
9) LOW IRON IS A KNOWN INHIBITOR OF T4 to T3! Just as low thyroid can cause low levels of iron due to low stomach acid, conversely, that low iron can inhibit conversion of T4 to T3!! www.stopthethyroidmadness.com/ferritin
10) CHRONIC INFLAMMATION IS NOT YOUR FRIEND WHEN IT COMES TO CONVERSION OF T4 to the ACTIVE T3! Just as undiagnosed or undertreated hypothyroidism can cause inflammation, the latter in turn can negatively effect conversion! www.stopthethyroidmadness.com/inflammation
11) LIVER HEALTH IS KEY TO GOOD CONVERSION of T4 to T3! Since your liver is the main component in conversion, any kind of liver stress (fatty liver disease, hepatitis, heavy metals and more) will see reduced conversion to T3. http://www.ncbi.nlm.nih.gov/pmc/articles/PMC301912/
12) ESPECIALLY IN MEN, LOW TESTOSTERONE MAY INHIBIT CONVERSION! And like the two incidences about, undertreated or untreated hypothyroidism can lower testosterone, and low testosterone can further inhibit production of T4 to T3. http://www.allthingsmale.com/community/threads/interesting-testosterone-d1-increase-and-gh-increase-t4-to-t3-conversion.17213/
NOTE: you will sometimes see Diabetes listed as an inhibitor of T4 to T3, yet studies are not conclusive and some see higher T3 with diabetes, not lower.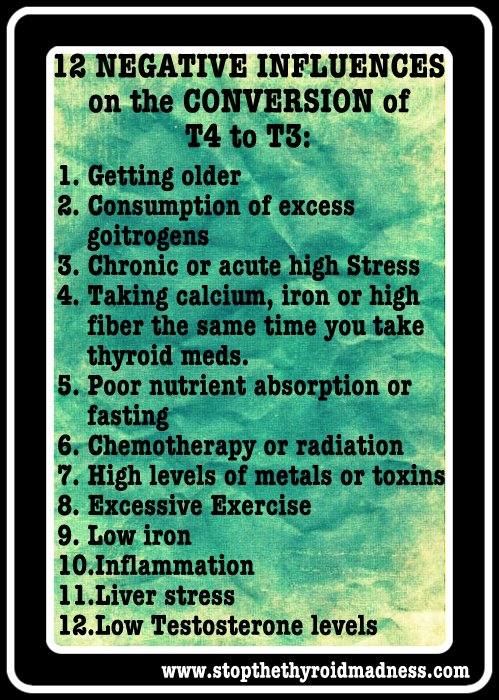 ****************

Have you liked thepatient-to-patient FACEBOOK STTM THYROID PAGE? You'll get excellent information and inspiration daily based on patient experiences and wisdom worldwide!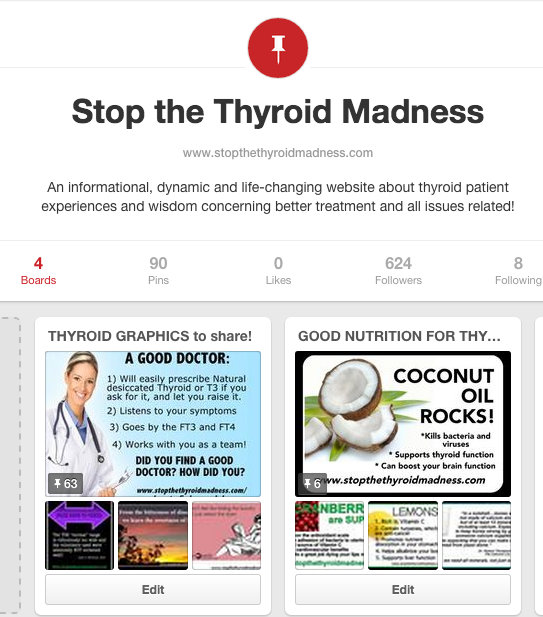 CHECK OUT STTM's PINTEREST!
www.pinterest.com/therealSTTM/ Lots of graphics you can repin or post on your Facebook page to help your friends and family!
Important notes: All the information on this website is copyrighted. STTM is an information-only site based on what many patients worldwide have reported in their treatment and wisdom over the years. This is not to be taken as personal medical advice, nor to replace a relationship with your doctor. By reading this information-only website, you take full responsibility for what you choose to do with this website's information or outcomes. See the Disclaimer and Terms of Use.