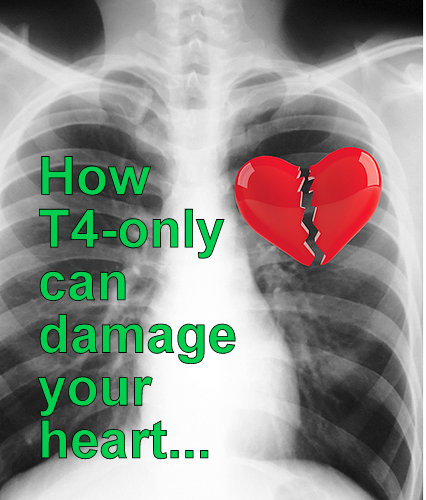 When my mother was in her 60's, she had to have a heart procedure. It was scary. And at the time, I found it all very odd. There is no reported history in any of my ancestors of heart problems! Where did this anomaly come from?
It was only years later than I knew: her 30 odd years of T4-only use, which in her case was Synthroid. Not only did being on T4-only cause a daily need to nap, she was also totally dependent on antidepressants (which in turn made her emotionally flat) and she always had a weight problem. And, it caused high cholesterol and heart issues!
Today, patients realize that connection between their T4-use and heart-related problems. Here is what thyroid patient Carla sent me as one of many examples of a relationship between heart problems and being either hypothyroid or on a poor treatment with T4:
I had been on Synthroid for 12 1/2 years when I began to see certain problems coming along and getting worse. For one, my heartrate seemed to be rising. There were even times I literally felt like it was going to jump out of chest. Then there were chest pains. I just knew I was going to be one of those female heart attack statistics. I went to my family doctor, an Endocrinologist and a cardiologist. Hated driving in traffic to get to the cardiologist. But I got a fancy diagnosis of Supraventricular tachycardia (SVT) and worried myself to death. Beta blockers were on the menu.
Fast forward, I found Stop the Thyroid Madness and then the FTPO forums, and convinced my doctor to start me on Natural Desiccated Thyroid and let me raise it to find the right amount for me. She was super worried about my heart in using NDT. I wasn't because I had read how others had safely used it, and I followed my raises carefully. And I was right. My heartrate became normal! Normal!! I luckily didn't have adrenal fatigue.
I think back about all those years on Synthroid and realized that I had been seeing other problems almost from the beginning! I had depression. I had low iron. Minerals low. And I had doctors who dismissed me. And of course, I was a TSH disaster. TSH was normal; I was not. Year after year. Then I progress into heart problems? The makers of T4-only should be ashamed.
And there are plenty of studies underscoring a connection between being hypothyroidism and heart issues:
This abstract of the study underscores honestly that "restoration of normal thyroid function most often reverses the abnormal cardiovascular hemodynamics." Cardiovascular involvement in General Medical Conditions: Thyroid Disease and the Heart
This study outright admits that "Long-term levothyroxine treatment in young adults with congenital hypothyroidism is associated with impaired diastolic function and exercise capacity and increased intima-media thickness" Long-Term Cardiovascular Effects of Levothyroxine Therapy in Young Adults with Congenital Hypothyroidism from The Journal Clinical Endocrinolgy Metabolism,
This study states that "subclinical hypothyroidism is associated with impaired left ventricular diastolic function at rest, systolic dysfunction on effort, and enhanced risk for atherosclerosis and myocardial infarction." Whoa. And continued hypothyroidism is what all-too-many thyroid patients report from being on T4-only Effects of Subclinical Thyroid Dysfunction on the Heart from Annals of Internal Medicine
This one has always blown us away. It's called Low-T3 Syndrome; A Strong Prognostic Predictor of Death in Patients With Heart Disease and underscores why the thyroid hormone T3 is so very important for one's heart. Natural Desiccated Thyroid, just like a healthy thyroid, provides direct T3!
And there are many, many, many more studies showing the connection between heart problems and hypothyroidism. And eventually, we might see these studies catch up even better about the connection between T4-only and heart problems. The body is not meant to live for one of five thyroid hormones alone.
********
Do you have a success story to share about how having T3 in your treatment reversed your heart problems. Use the STTM Contact form to let Janie know you want to send YOUR story and we'll include it here!
********
* Read more about T3 and your heart health!
* Did you know that those who had their thyroid removed due to cancer CAN be on NDT?
* Have reactivated Epstein Barr Virus? Janie has an ebook you can order to read about it.
* Want to be notified on these blog posts? Sign up on the bottom right of home page!
* OOPS!! Erfa Thyroid NDT has caused a return of hypo symptoms in many patients!! Something is very wrong!
Important notes: All the information on this website is copyrighted. STTM is an information-only site based on what many patients worldwide have reported in their treatment and wisdom over the years. This is not to be taken as personal medical advice, nor to replace a relationship with your doctor. By reading this information-only website, you take full responsibility for what you choose to do with this website's information or outcomes. See the Disclaimer and Terms of Use.