Not again.
It appears that one more time, a manufacturer of what was once a very good natural desiccated thyroid product has ruined it.
In 2009, thyroid patients whose lives had changed in major and positive ways thanks to Armour, a brand of natural desiccated thyroid (NDT) made by Forest Labs, saw their hypothyroidism come right back. Why? Forest, in all their wisdom, decided to raise the cellulose, lower the sucrose, and make Armour a much harder tablet. And somehow in all that change, patients reported all their hypothyroid symptoms now returning. It was a disaster.
As a result of the above, thyroid patients moved to other natural desiccated thyroid products, and Erfa of Canada was one. And oh did patients love it. It was made like the old Armour, and we could also do it sublingually–a method many of us like. Erfa calls their NDT product simply "Thyroid" and it has always come in sizes of 30 mg, 60 mg and 125 mg.
Fast forward to 2014, and patients who have been doing wonderfully on Erfa are now reporting a major return of their hypothyroid symptoms!
And what's the scuttlebutt we hear from Dr. Henri Knafo, the Medical Director for Erfa Canada?? That they changed the facility from which the tablets were made but not the ingredients. Really??
This is particularly disturbing for European patients whose lives have changed in positive ways thank to NDT, and know the inherent problems with T4-only.
All too many European doctors and their esteemed medical organizations are clueless about the efficacy of Natural Desiccated Thyroid and turn their backs on prescribing it. Like too many American and Canadian doctors, they worship the ground that T4-only medications unfortunately walk on, and fail to see the widespread problems that thyroid patients have on T4-only. So patients suffer. But luckily, thyroid patients in Europe had been pleased about being able to find Erfa in a few places and thus, see their lives change in major positive ways.
But that has now changed for European Thyroid Patients thanks to this latest egregious change in Erfa's Thyroid, and the situation is horrific for patients once again, just as it was in 2009 when Forest changed Armour.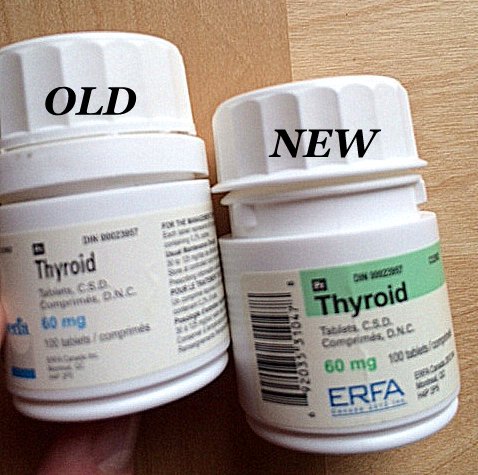 What can you do??
If you were once doing wonderfully on Erfa, and now see a return of your symptoms, email Erfa's Medical Direction here: henri.knafo@eci2012.net Spell out how you were BEFORE the change, and what is going on SINCE the change. And email him multiple times, if necessary. Make it clear. Make it often.
Post here what has happened to you on the "reformulated" Erfa. This is a widely read blog post and website for informed thyroid patients as well as doctors.
In the meantime, if you need to move over to another brand…or if you CAN change over where you live….here are your options for better thyroid treatment.
PLEASE POST THE LOT NUMBERS of the bottles of which your symptoms returned!
***********************
UPDATE May 12, 2014: A gal from Sweden heard from Erfa today, and they are admitting there have apparently been a bad batch or batches. I'll keep you updated.
UPDATE May 15, 2014: Dr. Knafo has posted the following:
Dear all,
As you know we are currently investigating all the complaints that I received and I would like to ask for your help in order to complete the investigation.
1. Do you have a lot number and exp date written on the bottle of Thyroid ? If so please give it to us.
2. Can you tell us what strength(s) you bough (30, 60 or 125mg) ?
3. Also please mention what pharmacy you bought the product from.
Once this information is received we can go forward with the investigation. Please feel free to email me if you have other questions
Dr Henri Knafo, MD, M.Sc, B.Sc
Email : Henri.knafo@eci2012.net
***********************
* Watch for daily informative postings on the STTM Facebook page.
* Have you signed up to receive notifications of STTM's blog post?? Go to the bottom right of the home page on STTM and sign up!
* Need to talk to other patients? Talk to Others page. You'll also see many other great groups who don't bash other groups (I hope), care about patient experiences and wisdom over "opinion", and can be friendly.
* Do you have the STTM books?? You HAVE to be informed to get well.
* Learn why Synthroid or other T4-only meds by themselves are not the way to go in your thyroid treatment.
Important note: STTM is an information-only site based on what many patients worldwide have reported in their treatment and wisdom over the years. This is not to be taken as personal medical advice, nor to replace a relationship with your doctor. By reading this information-only website, you take full responsibility for what you choose to do with this website's information or outcomes. See the Disclaimer and Terms of Use.