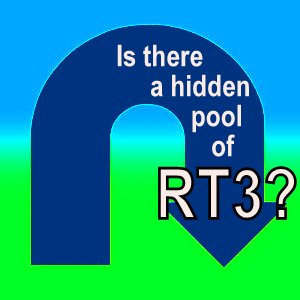 Please note this is a HYPOTHESIS, based on limited information, from 2014, and not to be taken as gospel.
Everyone makes Reverse T3 (RT3)–an inactive thyroid hormone. It's a way to clear out excess T4 when your body isn't needing that extra storage hormone. i.e. instead of the T4 converting to the active T3, your body (and specifically your liver), will convert it to RT3. If someone without a thyroid problem gets the flu, up goes the RT3 to conserve energy. If someone has a bodily injury, up goes the RT3 to conserve energy.
And thyroid patients seem to see their RT3 go up in the presence of low iron or a cortisol issue.
But if you think about it, why doesn't it go down faster when we decrease our T4? T4 has a half life of one week, yet it can take 8 – 14 weeks for RT3 to go down. Hmmmmmm…
Thyroid patient Sebastian from Germany sent me this information about Reverse RT3 that I find fascinating. What do you think?
*******************
I'm studying biology and chemistry and have Hashimoto's Thyroiditis with high RT3. I just wanted to inform you about an interesting idea/hypothesis I have found.
There seems to be a "hidden pool" of RT3 in the human body. This RT3 pool can increase in size while enough T4 is available, and then secrete RT3 in times where the body needs it but hasn't got enough T4 to produce it via deodination (the removal of an iodine molecule).
"It is concluded that a hidden pool of RT3 production exists in vivo in man."
"It would appear that hypertrophy of this hidden pool of rT3 production occurs in high T4 states […]"
Source: LoPresti et al., "Does a hidden pool of reverse triiodothyronine (rT3) production contribute to total thyroxine (T4) disposal in high T4 states in man.", J Clin Endocrinol Metab. 1990 May;70(5):1479-84. http://www.ncbi.nlm.nih.gov/pubmed/2335581
I have made observations regarding my own thyroid blood tests and the blood tests of other patients that seem to support this hypothesis. I have been on T3-only for 6 weeks now, started with an RT3 of 330 pg/mL at approx. day 0, and now have measured a RT3 of 685 pg/mL (twice as much!), even though my TSH is low, FT4 has fallen rapidly to 0.5 ng/dL, and no T4 medication has been taken for full 6 weeks.
Another patient I know has also made interesting correlations between FT4 and RT3. He isn't on T3-only, but observed a time-delayed (!) correlation between both values – which could be interpreted as an indicator for the presence of an RT3 storage pool in the body, that grows when enough T4 is available, and sets RT3 free in times when there is less T4 available.
I also found studies which found that RT3 has a 1000 times less feedback on the TSH than T3 has, and 100 times less than T4. This could explain any differences between TSH and symptoms, as the "RT3-system" seems to be almost completely isolated from the thyrotropic regulation system (the latter is that which directly influences the secretory activity of the thyroid gland). RT3 can obviously rise and fall without having (almost) any effect on the TSH.
Source: Cettour-Rose et al.: "Inhibition of pituitary type 2 deiodinase by reverse triiodothyronine does not alter thyroxine-induced inhibition of thyrotropin secretion in hypothyroid rats", European Journal of Endocrinology (2005) 153 429?434.
In combination, this could explain why the clearing process of RT3 takes approx. 8-14 weeks, although T4 has a plasma half-time of only 8 days, and rT3 only 4.5 hours!
The intracellular T3 receptors aren't "clogged", and then suddenly become free after that period of time has elapsed. Instead, RT3 is a competitive inhibitor of T3, meaning it constantly goes in and out of the T3 receptor. You probably know that already.
Patients report feeling well with T3 only dosages of approx. 80-120 µg T3 per day. According to Celi et al., 2010, this would be equal to 240-360 µg of T4. I always wondered why they don't end up feeling hyper.
This all makes sense now under the assumption that a hidden RT3 storage pool exists somewhere in the body. Although there is no new T4 being produced or taken in, and although the remaining T4 and RT3 have both decayed rapidly after one starts with the T3 only method, there is still alot of RT3 being set free by the storage pool all the time. This storage pool might be big enough to last for several weeks to months. Since RT3 is the competitive inhibitor of T3, this might be why patients are able to tolerate (and even need) so very large amounts of T3.
Then, after the storage pool has been emptied, the remaining RT3 rapidly decays because of its short half-time and no new RT3 can be produced because no T4 is available in the body. Therefore, RT3 concentrations within blood and cells drop. Thus, the competitive inhibition gets a lot weaker at that point, and patients start feeling hyper because the same amount of thyroid hormones (T3) is now significantly increased in its effect, since it can stay much longer in the T3 receptors without being competitively inhibited (kicked out of the receptors) by RT3.
This process of totally emptying the RT3 storage might occur very quickly, therefore the drop in RT3 concentrations is very suddenly, all of which might happen within several days. And this is why patients then get hyper and have to reduce their dosage to half or less of what they've taken previously over the 8-14 weeks.
"Clogged receptors" don't make sense because RT3 is a competitive inhibitor, capable of traveling in and out of the T3 receptor all the time.
"Clearance" occurring after 8-14 weeks, although both educt (T4) and product (RT3) have significantly (!) shorter lifetimes, doesn't make sense either. Neither does a totally defective TSH lab test, because in principle, it worked fine for all the patient's lifetime before they got their thyroid disease; and because significant correlations between TSH and FT3 and FT4 can be observed.
This all makes sense to me now, based on two assumptions:
1. While T3 and T4 have a strong negative feedback effect on TSH secretion, RT3's effect on the TSH secretion is minimal, being about a thousand times smaller in effect than that of T3, and about a hundred times smaller in effect than that of T4….as described in the study of Cettour-Rose et al., 2005, mentioned above.
2. The body has a large, previously unknown storage for RT3. This storage can grow while enough T4 is available, and the storage's content can be set free when needed. As described in the study of LoPresti et al., 1990, mentioned above.
I hope you can use this information for further research. Thanks for reading.
******
* Think Natural Desiccated Thyroid makes you worse? See correctible reasons.
* Are you correcting everything you should be? See what your ducks in a row should be.
* STTM has an active Facebook page! Come on over for tips and information!
* The STTM book comes in English, Spanish, German and Swedish…so far. 🙂
* Did you know you can order your OWN labwork?? Yup.
Important note: STTM is an information-only site based on what many patients worldwide have reported in their treatment and wisdom over the years. This is not to be taken as personal medical advice, nor to replace a relationship with your doctor. By reading this information-only website, you take full responsibility for what you choose to do with this website's information or outcomes. See the Disclaimer and Terms of Use.