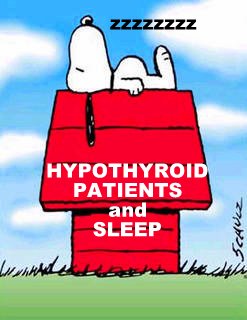 (This page has been updated for the present day and time! Enjoy!)
Have trouble sleeping? Here are three scenarios you might identify with, the causes, and the solutions.
1) INSOMNIA or WAKING UP FREQUENTLY SOON AFTER YOU FALL ASLEEP
This is an extremely common problem faced by thyroid patients, and the most common reason is going to bed with high levels of cortisol–the opposite of what healthy adrenals should be doing. With normal adrenal function, your bedtime cortisol levels should be low, or at the bottom of the range of a saliva cortisol test. Symptoms include laying awake for a long time before falling asleep for the night…or if you can fall asleep well, you tend to wake up often within the next hour or two.
Why the high cortisol?
It's usually a left-over remnant of when you used to have high cortisol all day long, but which has since fallen to low levels of cortisol except for bedtime, or afternoon and bedtime.
And all the above can happen to certain individuals due to a continued hypothyroid state (such as being treated with the inadequate T4-only medications like Synthroid, Eltroxin, Oroxine, and/or Levothyroxine, etc) or due to undiagnosed hypothyroidism (thanks to the use of the TSH lab test).
Another cause is low bedtime cortisol (i.e below the range), which has caused issues with falling or staying asleep at bedtime. Low cortisol seems to cause high adrenaline, and the latter results in a fitful sleep pattern during the night. The solution? First do a 24-hour adrenal saliva test to prove if it's high or low cortisol, say informed thyroid patients. Guessing can get you into trouble. (And blood cortisol is not the answer, since it's measuring both bound and unbound cortisol.) Then compare the results to what we've learned they mean.
For high bedtime cortisol, patients have had success with cortisol-lowering herbs like Holy Basil, zinc or others, taken a good hour or two before they want to fall asleep. Each dose is given three nights to see if it's enough to improve sleep. If not it's raised…and again if needed. Then they wean off after several weeks of better sleep.
For low cortisol (below the range), patients often have to use a small dose of HC or Adrenal Cortex. Even supplementing with sea salt has been reported to help with sleep. Additionally, if bedtime cortisol is below the range, there's a good chance your cortisol is low most of the day, which saliva testing will reveal. Chapter 6 in the revised STTM book has excellent and important information on the proper use of HC, which would also apply to adrenal cortex.
2) WAKING UP ANYWHERE AROUND 3 – 4 AM
Waking up a good three to four hours before you would normally start your morning is a strong sign of low cortisol, which in turn causes hypoglycemia (low blood sugar). And the latter can push your adrenaline up, causing you to wake up hours before you are supposed to. You might also feel shaky or hungry.
The solution? Besides taking cortisol at bedtime, if needed, patients have reported doing far better with sleep by eating a complex carbohydrate at bedtime (for example, whole wheat cracker with cheese or peanut butter…or if you need to avoid gluten, berries and cream cheese). The same strategy is used if waking up around 3 am or so, which will help raise your blood sugar levels and you might fall back asleep better.
3) WAKING UP FREQUENTLY WITH NO SET PATTERN
Time to check your sex hormones, which can get messed up with hypothyroidism, or made worse because of adrenal sluggishness or cortisol use.
Low estrogen can cause hot flashes, waking you up. A study titled Sex Hormones, Sleep and Core Body Temperature in Post Menopausal Women reveals that low estradiol (E2) and higher luteinizing hormone (LH) levels are strongly related to lessening the quality of your sleep.
Low progesterone is also known to cause insomnia and even anxiety, and may cause sleep apnea (or make you snore, ladies. Gulp). Entry into menopause has caused this, report many women.
Especially in men, low testosterone can negatively affect the quality of your sleep, i.e. you won't stay in your deep sleep cycle long enough for recuperation of your body and mind.
SLEEPING TIDBITS:
Low levels of the neurotransmitter serotonin, which can cause depression, is also implicated with insomnia.
High cortisol can also be caused by Lyme or reactivated Epstein Barr Virus–the latter of which at least 95% of adult have dormant in their bodies, but which can reactivate due to stress or illness. .
*******************
Speak or read Spanish better than English?? The revised Stop the Thyroid Madness book is now in Spanish! And shipping is relatively cheaper for two or three books. laughinggrapepublishing.com Give one to a friend or family member!
Need a good doctor to work with your own knowledge? Learn how to find one here. And remember: make it clear you expect to be a "team".
Here's an important summary of what patients have learned in getting well again.

Join the STTM Facebook page for daily tips, information and inspiration!
Important note: STTM is an information-only site based on what many patients worldwide have reported in their treatment and wisdom over the years. This is not to be taken as personal medical advice, nor to replace a relationship with your doctor. By reading this information-only website, you take full responsibility for what you choose to do with this website's information or outcomes. See the Disclaimer and Terms of Use.