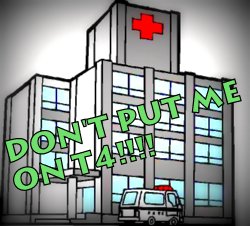 Linda was an informed thyroid patient. i.e. she knew that Natural Desiccated Thyroid (NDT) gave her the best results and had been on it for years and successfully. It changed her life in so many wonderful ways as a survivor of polio.
At 3 grains, it was an amount that removed her symptoms and helped so many issues that T4-only like Synthroid in the past did not.
But she was faced with major heart surgery–the replacement of her heart valve. The current one was quickly failing, and it became serious and necessary to get her into surgery!
And here's what happened after she was admitted into the hospital:
She was immediately put on T4-only

Their reasoning: her FT3 was too high. They failed to understand that her biological stress was probably causing pooling of T3–common in response to high cortisol, and the latter also causing more Reverse T3, the inactive hormone.. Patients will usually just lower the NDT, not get on T4-only, the latter which is a lousy treatment for all too many. And Linda had once been on T4-only and did absolutely lousy!

One of the surgical team doctors, while visiting her several days before surgery, defended the T4.

Linda reports that the doc seemed to have no knowledge that a heart needs T3 to function well.

She was told she could NOT bring her NDT with her and take it.

Linda reports here that she was treated like a moron who couldn't possibly have a brain on what is best for her.

Another doctor gave in, but she was only allowed 1.5 grains

A much better treatment plan, says Linda, based on years of her NDT use, even though lower than she wanted. And she credits her insistence for this change.

She was put back on T4 for the surgery.

"I don't do well on T4!!", Linda exclaims. "Why do they think I should be on an inferior treatment when I need direct T3 the most in my recovery? They are so uninformed and brainwashed!"

Upon being sent to a nursing home for several days for further recovery, she was also forced to stay on T4-only.

Linda had a friend come get her and take her home for the rest of her recovery!
She is now back on her NDT, though less until she recovers from the stress of her surgery, which can cause T3 pooling and rising RT3. Lesson learned, says Linda!
HOW TO AVOID LINDA'S EXPERIENCE
Designate a loved one or a few friends ahead of time to agree to be your advocate if you have to go into the hospital.

Teach your advocates by letting them know what you are on today, why it's a better treatment for you, and what you want to stick with (even if in lower doses due to the stress effect)
Inform your doctor of what you want or don't want in a hospital setting.
Create a MEDICAL INFORMATION POUCH. Inform your advocates where this pouch will be.
WHAT SHOULD BE IN YOUR MEDICAL INFORMATION POUCH
Try and find a clear plastic pouch or envelope of some kind. If it's not transparent, label it with you name and info, such as JANIE'S MEDICAL INFORMATION POUCH, 2013. Place it in a memorable place in your house to be taken to the hospital, if needed. It could even be placed in your vehicle.
Or, create a google doc with all your information, and designate someone's email as always having access to this information.
Add the following information on a sheet of paper:
the amount of Natural Desiccated Thyroid and/or T3 you are on. Suggest an amount to lower to during the stress of the hospital stay, and to be continued after coming home until better recovery. Explain how you dose it. Make it clear that you do not want to be put on T4 of any kind.
the amount of HC/adrenal cortex/adrenal supports you are on and why.
any other important meds you are on and why.
the name of your doctor and phone number.
the name of close relatives or other friends and phone numbers.
****************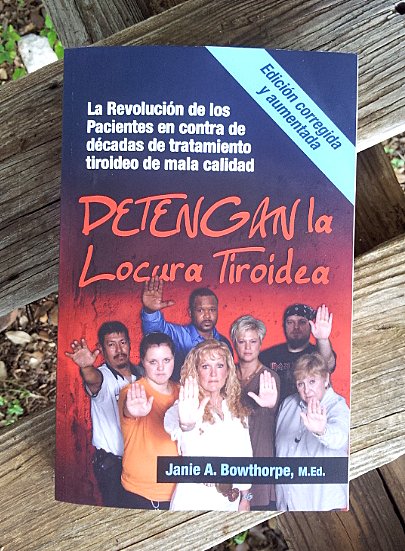 HAVE SPANISH SPEAKING FRIENDS?? PLEASE POST THIS IN YOUR PRIVATE FACEBOOK PAGE: Porfavor ayudame a difundir que la version en español del libro STTM esta disponible. Porfavor peguen la liga de arriba en sus paginas personales de Facebook. No lo puedo dar a conocer sin su ayuda! https://stopthethyroidmadness.com/spanish
It translates: Please help me to spread the word that the Spanish version of the STTM book is available. Please post the above link in your personal Facebook. I can't spread the word (about the book) without your help.
Important notes: All the information on this website is copyrighted. STTM is an information-only site based on what many patients worldwide have reported in their treatment and wisdom over the years. This is not to be taken as personal medical advice, nor to replace a relationship with your doctor. By reading this information-only website, you take full responsibility for what you choose to do with this website's information or outcomes. See the Disclaimer and Terms of Use.