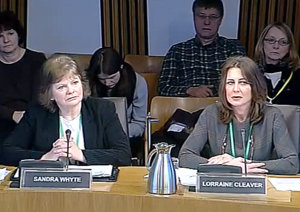 What affects your neighbor can affect you.
This is why you need to be aware of, and show support for, what is going on in Scotland. Namely, three Scottish residents….Sandra Whyte, Marian Dyer and Lorraine Cleaver…have submitted a petition to the Scottish parliament as of last week in defense of better thyroid diagnosis and treatment.
ThyroidChange has provided a video about this hearing, and it's moving. You'll hear mention of the following:
the conversion failure of T4-only treatment, leaving these women suffering with low energy, high cholesterol or blood pressure, weight gain, anxiety, fibromyalgia joint pain, suicidal tendencies or more
issues related to poor cortisol levels
problems with testing only the TSH and T4 lab tests
stress put on marriages because of these failures
how the diagnosis of Chronic Fatigue Syndrome and Fibromyalgia seem to have risen only after the TSH came into being along with thyroxine treatment
A mind boggling and brilliant comment came from Lorraine about the National Health Service (NHS) listing of medicines, which she stated includes 82 for Diabetes, 47 for depression, 45 for acne, 16 for athletes foot, 3 for hiccups, 3 for dandruff….AND ONE FOR THYROID. "There's something very wrong" says Lorraine, when T4 is the only medicine listed (in spite of the availability of natural desiccated thyroid, also called thyroid extract, or T3.)
When asked for evidence as to where the problem is with General Practitioners (GPs), it was mentioned there are no guidelines for the treatment and diagnosis of hypothyroidism, and everyone defers to the Royal College of Physicians guidelines, which is inadequate and does not provide for problems with T4-only or recommend T3 or thyroid extract (natural desiccated thyroid).
Sandra asks "Why are we keeping people ill?". She mentions that patients are told it's in their heads, have "lazyitis", and antidepressants are prescribed everywhere. Lorraine sadly mentions being told by doctors that her problems are not thyroid related (when she knows they are, and so do millions of us).
Mention was made of a Swedish study showing that 70% of thyroxine-treated patients are not symptom-free, going against the idea that taking one little thyroxine pill is going to solve the problem.
Lorraine mentioned that even doctors, like a particular Endocrinologist she has seen, feel ham-strung themselves (by the pressures put on them from their fellow professionals to prescribe T4-only).
BRAVO TO THESE THREE LADIES FOR BRINGING THIS TO THEIR PARLIAMENT! And I can't help but believe that if we see the right outcome in Scotland about this, it will play a role in spreading throughout the world. Have your own T4-only nightmare to share? You can send it to the Scottish parliament to back up what these ladies have already one, here: petitions@scottish.parliament.uk
And from Janie: we see many T4-only patients who do seem to convert well, yet still have issues related to a poor treatment. I was one. There are many others. Additionally, even those who convert well eventually find themselves with problems as they get older. T4-only treatment is not a pretty picture.
For further reading:
To see research which proves what we already know as thyroid patients, go here.
To see patient-recorded symptoms from being on T4-only, go here.
Important notes: All the information on this website is copyrighted. STTM is an information-only site based on what many patients worldwide have reported in their treatment and wisdom over the years. This is not to be taken as personal medical advice, nor to replace a relationship with your doctor. By reading this information-only website, you take full responsibility for what you choose to do with this website's information or outcomes. See the Disclaimer and Terms of Use.