(This page was updated in 2015. Enjoy!)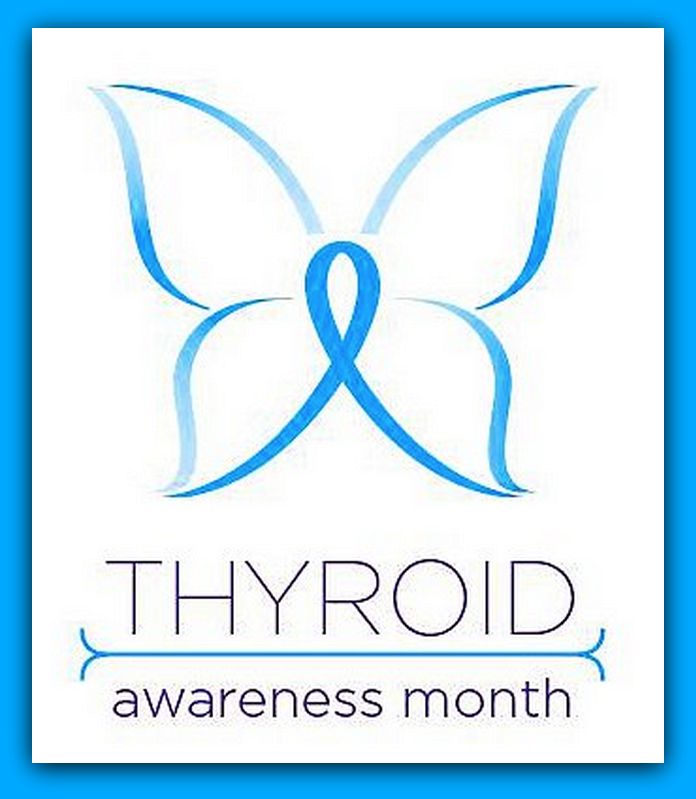 January is THYROID AWARENESS MONTH, but no matter what month you are in, it pays to be an informed patient!
A healthy thyroid, or the right treatment, will create the following TEN RESULTS:
1) Bodily warmth
Because the active thyroid hormone T3 stimulates your metabolism is the right way, patients find themselves getting close to or at 98.6 F/ 37 C in the afternoons, plus warmer hands and feet.
2) Better mood
The right thyroid hormones increase neurotransmitter responsiveness in your brain (like serotonin), meaning it's your natural anti-depressive…and depression is kicked to the wind.
3) The ability to concentrate
Just as they are anti-depressive, thyroid hormones promote better thought processing in your brain.
4) A healthy heart and blood pressure
Thyroid hormones play a strong role in the health of your cardiovascular system
5) Softer skin and better hair
The right thyroid hormones keep you moister, so you don't have problems with dry hands, dry hair, eyebrow loss, hair thinning….etc.
6) Better weight maintenance
Your metabolism stays at a point where it's easier to maintain your goal weight with healthy eating habits and exercise.
7) The ability to avoid naps
The right metabolism from the right thyroid hormones (after a good night's sleep) keeps you awake and feeling fabulous even in the afternoons.
8) Healthy cholesterol
Thyroid hormones appear to have both an indirect and direct relationship to healthy cholesterol levels.
9) Easier and more regular bowel movements
Because of the extra moisture that the right amount of thyroid hormones give you, bowel movements are better, and constipation and hard stools belong to someone else.
10) A stronger immune system
Thyroid hormones play a direct role in the strength of your body's ability to withstand infections and disease, or at the least, fight them quicker and more stronger if you do get sick.
So my friends, if anything above seems off to you, there are important things you need to do:
Find a doctor who will do the Free T3 and Free T4, NOT just the TSH. Just using the TSH lab test has kept many folks UNdiagnosed, or UNDERtreated.
Learn how to read those lab results here. Lab results have NOTHING do with just "falling in the range".
Look into natural desiccated thyroid (NDT). It gives you all FIVE thyroid hormones, not just one left to depend upon like T4-only (aka Synthroid, Tirosent, Levothyroxine, Eltroxine, etc).
Find out about all problems associated with being left undiagnosed due to the TSH and undertreated due to T4-only meds, such as non-optimal levels of iron, high or low cortisol, low B12, depression and mental health issues, low Vitamin D and other problems. Any of these can also contribute to problems with the above ten results.
Order the revised STTM book. This is a compilation of successful patient experience and wisdom to help you achieve the above ten results. Learn from patients! Right now, it's in ENGLISH, GERMAN, SPANISH AND SWEDISH.
**The above graphic was lovingly created by thyroid patient Marivia Gonzalez of Panama.
******************
* ADD A BLUE THYROID AWARENESS RIBBON to your Facebook profile pic here. It will end up on the lower right….
* Did you know there's a STTM II book? Every chapter is written by medical practitioners! A great followup to the revised STTM book!
* Join the STTM Facebook page to get daily tips and inspiration!
Important notes: All the information on this website is copyrighted. STTM is an information-only site based on what many patients worldwide have reported in their treatment and wisdom over the years. This is not to be taken as personal medical advice, nor to replace a relationship with your doctor. By reading this information-only website, you take full responsibility for what you choose to do with this website's information or outcomes. See the Disclaimer and Terms of Use.