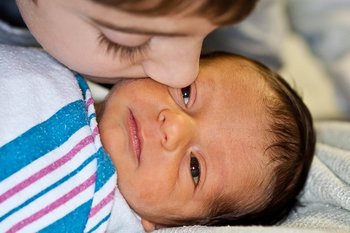 This Guest STTM blog post was written by hypothyroid mom Dana, who strongly feels that her miscarriage was due to her treatment with T4-only medications. She now has two healthy sons of which the second one came into the world after she switched to natural desiccated thyroid.
On a cold snowy day in New York City in early 2009, I lay on a medical exam table on what would be one of the worst days of my life. I had miscarried at 12 weeks and was preparing for a D&C. A technician had just taken an ultrasound and walked out of the room to confirm to the medical staff that my fetus had no heartbeat. I sprang off my bed and ran to the image on the screen. I felt my body shake and my fists clench as I stared at the image of my unborn child. What happened to my child?
I was diagnosed with hypothyroidism following the birth of my first son in 2006. I trusted my doctors and followed their synthetic thyroid drug protocol to the letter …never once thinking they might not know everything there was to know about hypothyroidism. I trusted them as the experts especially when I became pregnant that second time.
In my first trimester, I was overcome by a sick, tired, weak feeling. I recall the night I told my husband, "I am worried that something is wrong with the baby." My body was whispering a warning to me, but I trusted my doctors and didn't question them when they responded that my thyroid levels were safe for pregnancy and that it was normal in early pregnancy to be tired. Somehow this "sick, tired, weak" feeling didn't seem normal but I disregarded my body's warning.
I would later learn that my Ivy League medical school trained and top awarded NYC doctors did not know enough about hypothyroidism especially as it related to pregnancy. Under their care my TSH soared far above the safe range for pregnancy and endangered my baby's life. I miscarried at 12 weeks pregnancy.
A study presented June 2012 at The Endocrine Society's 94th Annual Meeting in Houston recommended that all pregnant women should undergo thyroid screening in the first trimester of pregnancy. The study was conducted on 1,000 pregnant women in their first trimester in Ludhiana in Punjab, India. According to the study's lead author Jubbin Jagan Jacob, M.D.:
"The study found that even mild thyroid dysfunction could greatly increase the risk of serious problems. Women with mild thyroid dysfunction had double the risk of miscarriage, premature labor or low birth weight as compared to pregnant women with normal thyroid function. They also had seven times greater risk of still birth."
In the Journal of Medical Screening, researchers in a large study of 9,400 pregnant women demonstrated that pregnant women with hypothyroidism had a second trimester miscarriage risk four times the risk of women who were not hypothyroid.
According to a 2008 study in the Indian Journal of Medical Sciences, hypothyroidism has a statistically significant relationship with recurrent pregnancy loss in the first trimester. According to researchers:
"Thyroid hormones are essential for the growth and metabolism of the growing fetus. Early in pregnancy the mother supplies her fetus with thyroid hormones. If the mother is hypothyroid, she cannot supply her fetus with enough thyroid hormones. Hence hypothyroidism is a risk factor for pregnancy loss."
So why had I trusted my doctors unquestioningly?
My doctors tried to assure me there was no link between hypothyroidism and miscarriage, but my instincts told me they were wrong.
As the medical staff prepared me for my D&C that fateful day, the warrior mom came out of me. Don't mess with my babies! I vowed that I would do everything in my power to research everything there was to know about this disease and warn women everywhere about the dangers. I would never trust my doctors unquestioningly ever again.
After 3 years of intense research and a quest to find the top thyroid health professionals, I am now in the best health ever. I changed to a great thyroid doctor who listened to my symptoms and discovered abnormally low free T3 levels despite my synthetic drug treatment. Thanks to a switch to the natural desiccated thyroid Nature-throid I am feeling great. I got pregnant naturally with my second son and gave birth to him in 2010. Dreams do come true for moms with hypothyroidism.
By Dana Trentini, creator of Hypothyroid Mom (http://hypothyroidmom.com).
You can read more about hypothyroidism and pregnancy in research here:
1. Endocrine Society (2012, June 23). Mild thyroid dysfunction in early pregnancy linked to serious complication. Newswise. Retrieved July 3, 2012 from http://www.newswise.com/articles/mild-thyroid-dysfunction-in-early-pregnancy-linked-to-serious-complications
2. Allan, W.C., J.E. Haddow, G.E. Palomaki, J.R. Williams, M.L. Mitchell, R.J. Hermos, J.D. Faix, R.Z. Klein. Maternal thyroid deficiency and pregnancy complications: implications for population screening. J Med Screen 2000; 7:127-130. Retrieved from http://171.66.127.126/content/7/3/127.full.pdf
3. Rao VR, Lakshmi A, Sadhnani MD. Prevalence of hypothyroidism in recurrent pregnancy loss in first trimester. Indian J Med Sci 2008;62:357-61. Retrieved from http://www.indianjmedsci.org/text.asp?2008/62/9/357/43122
HO! HO! HO! Did you know the Stop the Thyroid Madness book is now also in German and Swedish? You can order your copy as a Christmas present for your loved one or friend here.
Read about Pregnancy and Thyroid disease here.
Important notes: All the information on this website is copyrighted. STTM is an information-only site based on what many patients worldwide have reported in their treatment and wisdom over the years. This is not to be taken as personal medical advice, nor to replace a relationship with your doctor. By reading this information-only website, you take full responsibility for what you choose to do with this website's information or outcomes. See the Disclaimer and Terms of Use.