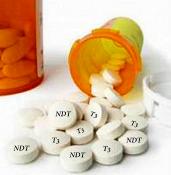 The US Government is going to confiscate your meds sent from overseas!
Fall is in the US, but as you were enjoying your summer, it happened in a flash: last July, President Obama signed into law the FDA Safety and Innovation Act (S. 3187). And that Act includes a section that might negatively affect your life as a thyroid patient if you are among those feel forced to get your life-saving natural desiccated thyroid (NDT) or related medications from overseas (because your doctor was too clueless to either prescribe NDT or give you enough thanks to the medical stupidity about the TSH lab test).
i.e. in Section 708, the US government now has the authority to destroy a package of personally imported drugs at their point of entry to the United States…even if you badly need them. And this potentially includes NDT like Erfa coming to us from safe, reputable Canadian online pharmacies by prescription! Or your T3-only from other places. Both the latter are unclear, but it's a possibility.
And do you know why they state they are doing this?? For your "SAFETY". Janie's eyes rolling here. Can someone tell me how they know if a thyroid med from somewhere else is "unsafe" simply because it wasn't made in the US?? Are US-made drugs SAFE??? Give me a break. Ask that of folks whose lives paid big prices because of side effects from our FDA-approved medications like Synthroid and many other NON-thyroid related drugs pushed upon us. It's all a bunch of Big Pharma-influenced, greedy hooey, say thyroid patients.
Now as far as we know, this isn't going to affect anything really soon. The US Secretary of Health and Human Services has up to two years to decide how to make the new law a reality. But it may happen far sooner than later in that time frame and I would count on it.
Says Lee Graczyk, RxRights Lead Organizer, "It's critical for people to stand up and get organized to fight against this harmful regulation!"
Anti-depressant use and your adrenals: not a helpful connection for some
Sure, having depression is not fun and it's understandable if you want to do something about it. My own mother had depression so bad thanks to her lifelong use of Synthroid that she used anti-depressants her entire adult life. This was long before we, as thyroid patients, discovered the strong connection between low T3 levels in the brain and depression (and a connection which all too many doctors miss!)
She also had an extremely "emotionally apathetic" personality, which I assumed was solely due to the electric shock treatment she had while in her early 40's in an attempt to reverse the depression. But turns out her impassive and flat personality could have also been from the nasty side-effects of my mother's long-term antidepressant use. i.e. while they made her "happy", they also made her more dull, flat and detached. This has been reported by all-too-many patients
But now we are seeing the problems that anti-depressant use can cause for your adrenals. A study done in September 2011 titled Antidepressant use and salivary cortisol in depressive and anxiety disorders reveals that
Tricyclics* flatten your cortisol awakening response
SSRI users** had higher evening cortisol levels
Most antidepressants are associated with distinct alterations of the HPA axis (hypothalamus, pituitary and adrenal feedback loop)
*A common form of Tricyclics is Elavil (Amitriptyline). **Common examples of SSRI antidepressant (Selective serotonin re-uptake inhibitors or serotonin-specific reuptake inhibitor) include Lexapro, Prozac, Celexa, Paxil, Zoloft, etc)
The alternation of your HPA axis is a common finding when you peruse several research studies. And it's even more obvious when thyroid patients with adrenal fatigue start using the T3 Circadian Method. i.e. it can take longer to get the right response from the T3. ***Please note that this is simply providing information in the name of being informed patients, not a recommendation to get off your antidepressant! Talk to your doctor.
(Speaking of mood issues, a study was done showing cherries help with mood. Who would've guessed. You can read about it here.)
The revised Stop the Thyroid Madness book is now in German and Swedish!
You can read about the translations here and I included an autobiography of each translator! Please do not comment asking if a particular language is coming. I'll announce them when the day comes. If you know someone in Germany or Sweden who could badly use the patient-to-patient information in this book, go here.
Important notes: All the information on this website is copyrighted. STTM is an information-only site based on what many patients worldwide have reported in their treatment and wisdom over the years. This is not to be taken as personal medical advice, nor to replace a relationship with your doctor. By reading this information-only website, you take full responsibility for what you choose to do with this website's information or outcomes. See the Disclaimer and Terms of Use.