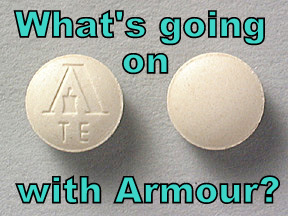 Though this page was originally written in 2012 about Armour and 5-htp, it's been updated to the present day and time.
It's only a handful of comments here or there in patient groups, and I've gotten two emails as well. But there are reports that recent bottles of Armour desiccated thyroid have pills which are performing just like they did before the unappreciated reformulation of 2009. i.e. they are softer again and can be done sublingually, and may be back to more dextrose and less cellulose.
Said one patient who contacted me via email: "It's interesting what I read in the thyroid group the other day that her pills were back to being soft. But typical condescending Forest Labs who never said a word in 2009 to the most informed group of patients in the world, and haven't communicated to us directly once again if it really has changed."
So, if it's true, there may be a phase of figuring out what you get: the hard ones that patients found HAVE to be chewed up to be the most effective, or the return of the softer ones which could be done sublingually. I'd be curious to know which pharmacies and in which city/state are giving out Armour tablets that are softer.
UPDATE: Forest Labs, the former makers of Armour, was bought out by Activas in 2014, then the price of Armour became the highest priced NDT around. And for many, it wasn't working like it used to. But some still do well on it, paying the highest price. Learn from this page: https://stopthethyroidmadness.com/options-for-thyroid-treatment
********************
5-HTP can be miraculous against depression, plus can help troubled sleep patterns
When I went into full menopause, one issue I noticed was out-of-the-blue was afternoon depression, in spite of being optimal on Natural Desiccated Thyroid. Bottomed-out female hormones can be problematic until I can correct them. And I found something that worked to completely remove the afternoon depression with the FIRST day of use: 5-HTP. I was shocked.
Turns out that menopause can also mean low levels of serotonin–a brain transmitter that affects your mood positively. Your over-the-counter 5-HTP supplement (which comes from the seeds of the African plant Griffonia simplicifolia) is a precursor of trytophan, the amino acid responsible for making serotonin and melatonin. And lo and behold, what do many prescription anti-depressives, such as Selective serotonin reuptake inhibitors (SSRI) meds, do?? They increase the bioavailability of serotonin! But why put up with the side-effects when 5-HTP is natural and has so few, I decided!!
How much? 100 mg did the trick for me, once a day. But others report needing 200 or 300 mg. I started on too much–had dizziness with starting on 200 mg. Found out the hard way that 100 mg was enough for the time being until I coud better treat my female hormonal issue. I've read where some only start on 50 mg.
For better sleep, studies have shown that 5-HTP outright will improve your sleep due to increasing melatonin. Research has reported a lengthening and deepening of their REM period of sleep–the deep sleep–and without increasing the amount of time they sleep. It also seems to smooth any ups and downs with sleeping. Some research shows it can take several weeks, but I figure that can be individual.
There's even anecdotal evidence that taking 5-HTP has helped drinkers avoid the bottle. i.e. if someone drinks to self-medicate against depression, 5-HTP could help.
There are definite cautions with 5-HTP! i.e. it's NOT recommended to take it with anti-depressants or any seratonin-raising drug, as together one could raise their serotonin levels too high. A lot of different experiences with 5-HTP can be found here. As always, talk to your doctor about using it or not. It may be for only short-term use.
NOTE ABOUT DEPRESSION: For hypothyroid patients, especially those still stuck on T4-only like Synthroid, depression is pretty common due to inadequate levels of T3. Once you get on Natural Desiccated Thyroid, as well as correct any potential low iron or low cortisol issues, you may find that depression is kicked to the wind!
As intellectually stated by Eric Fliers from the Department of Endocrinology in Amsterdam, "triiodothyronine (T3) is also capable of increasing serotonergic neurotransmission by desensitization of inhibitory 5-HT1a autoreceptors in the raphe nucleus, thus disinhibiting cortical and hippocampal serotonin release, and by increasing cortical 5-HT2 receptor sensitivity, further increasing 5-HT neurotransmission."
*******************
Two newer pages on STTM as of 2012, and updated to today:
Adaptogens: read how certain plant and root substances can help you cope better with stress, here.
Graves Disease: never thought I'd have a page on STTM about it, but enough patients have asked that it's now here. Besides, since many Graves patients become hypothyroid, it's good for them be included on a site that teaches what patients have learned about far better thyroid treatment, which is NOT T4-only.
*******************
New to this website? Read about:
And get the
REVISED STTM BOOK
for more details and ease of learning about what patients have learned.
Important notes: All the information on this website is copyrighted. STTM is an information-only site based on what many patients worldwide have reported in their treatment and wisdom over the years. This is not to be taken as personal medical advice, nor to replace a relationship with your doctor. By reading this information-only website, you take full responsibility for what you choose to do with this website's information or outcomes. See the Disclaimer and Terms of Use.