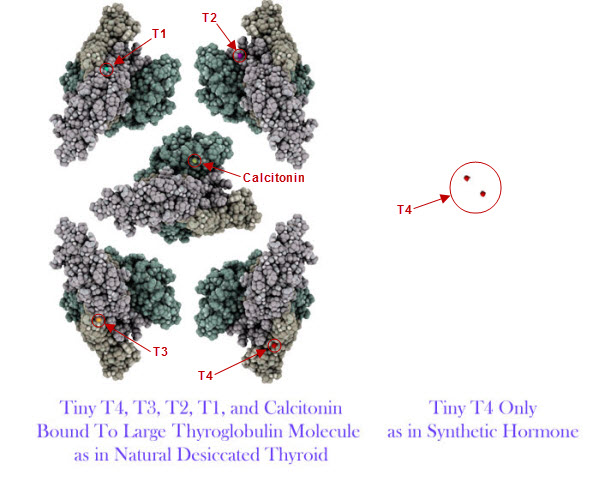 I found this fascinating…and I think you will, too.
I got an email from Peter Guagliano, the owner of the website thyroid-s.com. And he directed me his latest post titled "Natural Desiccated Thyroid and Synthetic are NOT the same".
But this wasn't the basic information that we all know i.e. comparing a single synthetic hormone to all five natural desiccated thyroid, which makes the latter wonderful.
Instead, it was about a bio-analytical chemist who decided to test synthetic T3 (Cynomel and Cynoplus) as well as the Thailand-made Natural Desiccated Thyroid (NDT) called Thyroid-S, by extracting each tablet with methanol, then diluting and injecting them on an LC/MS system–a sensitive instrument used to detect and identify compounds and molecules in a substance.
And what he discovered and reported is that the thyroid hormones of NDT are tightly bound with thyroglobulin, a large iodine-containing protein….whereas synthetics are bound by nothing. i.e. synthetic hormones are exposed; NDT hormones are protected (until they are released by your digestion). The diagram on this blog post gives you a powerful visual of this reality, but specifically in comparing natural desiccated thyroid with synthetic T4-only. You will see the large mass of thyroglobulin on the left, each containing either T4, T3, T2, T1 or calcitonin within. Then the tiny synthetic hormone on the right, alone.
But is that bad NOT be bound by thyroglobulin?? Possibly yes in the opinion of Peter. As Peter explained: "The [exposed] synthetics might be affected by stomach acids in different ways in different people. Low acid, high acid, various digestive and pancreatic enzymes in varying amounts, bacteria/flora in the stomach and small intestine, all kinds of possibilities here which would vary by the person." And, he says, that can mean instability!
Peter continues: "Perhaps the thyroglobulin in NDT (and completely missing in the synthetics) is absorbed, or necessary, or utilized, or forms other products during digestion that could affect blood levels of various substances, numerous carrier proteins for example, thereby affecting the results obtained." And he concludes: "The NDT hormones are bound to thyroglobulin and not available for reaction or breakdown until after they first digested (from Janie: which saliva begins, by the way, even in your mouth). This would be a more stable compound." His original post is here.
A side note about thyroglobulin and iodine: The protein Thyroglobulin takes up a lot of space in your thyroid with the purpose of taking ahold of iodine and storing it to produce thyroid hormones. That purpose alone tells you how important it is to have healthy levels of the nutrient iodine. And each molecule of thyroglobulin has just over 100 sites where the iodine can take ahold along with the assistance of thyroid peroxidase (TPO) and hydrogen peroxide. When you are iodine deficient, it's been noted that your thyroglobulin will increase, which is why you can see a bulge in front of your neck–also called a goiter. (Even taking too much iodine supplementation can cause this increase, which can block thyroid hormone production).
**Enjoy more scientifically technical information about thyroglobulin? Go here.
**To read about the process of making porcine-derived NDT via thyroglobulin, go here.
**To know more details about Natural Desiccated Thyroid–its history, the breakdown of the hormones, and how patients dose it, see Chapter 3 in the revised STTM book, here.
**To read how T4-only is only a reverse mirror image of the real thing, read my blog post from May 10, 2012.
Whether these findings are completely correct or not, patients simply know from ten years of experience that NDT has been giving them far better results than T4-only…and even those on T3-only who moved to NDT reported they liked the results even more. It's all important patient-to-patient information.
Important notes: All the information on this website is copyrighted. STTM is an information-only site based on what many patients worldwide have reported in their treatment and wisdom over the years. This is not to be taken as personal medical advice, nor to replace a relationship with your doctor. By reading this information-only website, you take full responsibility for what you choose to do with this website's information or outcomes. See the Disclaimer and Terms of Use.