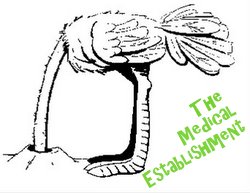 As mentioned in my previous blog post of November 10th, I frequently get emails from doctors all over the world who appreciate the message of patient experience as expressed on Stop the Thyroid Madness, both the revised book and website. Here is just one more that absolutely blew my mind, as this MD, unlike his ostrich colleagues, keeps his head out of the sand and tells it LIKE IT IS. Again, I will not be mentioning his name. The below is exactly as he wrote it to me. Get ready to be both awed and disgusted!
*****************************
In the year 1847, a young Hungarian physician named Ignaz Philipp Semmelweis had a practice of Obstetrics which began to grow by leaps and bounds. Even the Royalty of Hungary began to go to his practice. Why? Because he had the best outcomes.
When he tried to show his collegues his techniques, they simply made fun of him. As his practice continued to flourish, his peers brought him before the medical society and censured him for not adhering to the current practice guidelines.
His crime? Washing his hands before delivering babies. Physicians were offended to think they should wash their hands, and were especially incensed when he could offer no scientific explanation for his intuitive action. Yet, this very simple antiseptic procedure meant that his OB patients did not contact puerpeal fever and die. Puerperal fever was common in mid-1800's and often fatal.
The censureship did him in with depression and his practice ended when he was only 47 years old….not because he couldn't practice, but because he literally grieved himself to death watching so many women dying unnecessarily for the sake of current practice guidelines.
It was not until the 1890's that his methods were fully recognized, even though Oliver Wendell Holmes of Boston, Mass. USA had confirmed the contagiousness of peurperal fever, and Louis Pasteur confirmed the theory about germs.
And today, established scientific and medical opinions continue the same ridiculous travesty.
TSH levels have been set at 0.3-5.1 as normal. Therefore, if your physician screens for thyroid disease and you fall within that range, you are considered normal. Yet, Gay, JC et. al., in the Arch Intern Med 2000: 160: 526-534, showed that the TSH range was 0.45-2.5 for 95% of general population.
In the J Clin Endrocrino Metab Feb 2002 87:(2)489-499 "Serum TSH,T4, and Thyroid Antibodies", Hollowee JG et.al. found that a normal TSH was 0.05-3.0 and was different for Whites, Hispanics, and Blacks.The NHASANES lll study showed the normal TSH to be 0.3-2.5 (95% of normal reference subjects).
As a doctor, I wrote to my pathologist at the lab I use and asked why his lab had not changed the 'normal' values. I will give you his reply:
"I am aware of this idea to lower the reference range for TSH. But there are mixed feelings about this in the medical community, especially with endocrinologists. If, for example,we lowered our reference range for TSH from its current 5.1 to 3.0, we would go reporting about 7% of TSH results being too high to 30%. The last time I looked into this, which was about two years ago (note: this was written in June 24, 2005, which puts the date of last looking in 2003), most endocrinologists that I spoke with were concerned that suddenly having many more patients would be considered "abnormal" and it would be difficult to manage. They felt it would be best to wait until the word spread in the general medical commmunity and literature so that most physicians would be prepared for the inevitable questions from patients and know how to deal with patients suddenly having high TSH's. On an individual basis, we certainly could give a lower reference range for the TSH, but you should know that this is not the standard practice in the commnity at this time. It may become standard, but right now, it is not.

Thanks, and good luck,
xxx
So there is the problem. Even if TSH alone was used for screening, the answer will be wrong. Many hypothyroid patients misdiagnosed as 'normal' are being done so because if the right change were made, the 'medical establishment' would be embarassed. This says to me that the 'medical establishment' does not care about the patient as much as they do themselves.
Recap: TSH levels were known to be wrong by 2000. Reconfirmed in 2006. Waited at least 5 years to make change and no change made. Something is wrong with the system. Review Ignaz Philipp Semmelweis story. Nothing has changed in approx. 160 years.
******
From Janie: ABSOLUTELY BRILLIANT! And of course, informed thyroid patients also know another inane current practice guideline–the use of Synthroid and other T4-only meds as the "gold standard" of thyroid treatment…in spite of the fact that a huge body of thyroid patients in internet groups ALL OVER THE WORLD report POOR outcomes when on T4-only meds, besides with the TSH, and do much better on natural desiccated thyroid, or even T3, and dosing by symptoms and the free T3.
****************************
FIND THE ABOVE APPALLING??? FIGHT BACK!!! A publicist has been hired to represent Stop the Thyroid Madness in getting to the word out to millions who still linger on T4-only meds, or who are considered "normal" thanks to the lousy TSH lab test. But it can't go on long without your help!! Read about it here.
Important notes: All the information on this website is copyrighted. STTM is an information-only site based on what many patients worldwide have reported in their treatment and wisdom over the years. This is not to be taken as personal medical advice, nor to replace a relationship with your doctor. By reading this information-only website, you take full responsibility for what you choose to do with this website's information or outcomes. See the Disclaimer and Terms of Use.