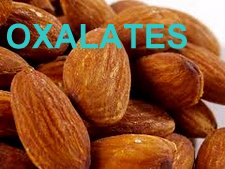 (This page, originally written in 2011, has been updated to the present day and time. Enjoy!)
HAVE LOW MAGNESIUM LEVELS AND SYMPTOMS?
Do you have a hard time raising any of your mineral levels?
I have been working to raise my miserably low RBC (red blood cell) magnesium levels for a good year. And in spite of a strong commitment to my magnesium supplementation as well as oil, I continued to have typical low-magnesium symptoms–most especially lower leg cramping after hiking or heavy duty activity. Why was that? I think I may have discovered one contributing factor, and this may or may not apply to you. It's called high OXALATE food consumption.
Oxalate is an "organic acidic salt compound" commonly found in foods of plant origin. It's also produced in your body by the metabolism of glyoxylic acid or ascorbic acid (vitamin C). And it is normally excreted out of your body via urine, and sometimes the bowels.
But it turns out if you consistently eat a LOT of food containing high levels of oxalates, on top of what your body naturally produces, your body might have excessive levels. This may be exactly what happened to me this year, also causing chronic hives (scratch~scratch~scratch). The latter pushed me to do research, and voila, I realized I had consumed far too many high-oxalate foods (which in turn produced excessive histamine). And my eyes popped out when I read this:
"oxalates strongly bind to minerals and vice versa (e.g., calcium, magnesium, zinc and potassium), and reduces the absorption of your minerals as they both come out via your urine."
Of course, I am only proposing this may be why I've had a hard time bringing my magnesium levels up. Please do your own research.
What are foods which are the highest in oxalates?
In alphabetical order, they include:
almonds, amaranth, black beans, brazil nuts, beets, blackberries, buckwheat, carob chips, carrots, cashew nuts, cannellini beans, celery, chocolate, corn meal, dried apricots, cooked tomatoes, great northern beans, green peppers, hazelnuts, marshmallow root, milk thistle, navy beans, oil of oregano, okra, peanuts, pecans, pine nuts, pink beans, pinto beans, potato chips, potato flour, rice bran, rhubarb, sesame seeds and tahini, slippery elm bark, all soy, spinach, star fruit, sweet potatoes, teff (flour and whole grain), quinoa (whole grain), white bean flour, and yucca powder.
And what was I eating daily as I was working on the final updating of the revised STTM book this year? Cocoa-covered almonds! Almonds are considered a very-high-oxalate food, as is cocoa. That was on top of the slivered almonds in my morning yogurt, as well as my consumption of pecans, spinach, and okra. I also drink iced tea daily, which can have higher levels of oxalates. And many times, I grabbed small amounts of frozen sugar-free carob chips every few hours. ~~blush~~
I am currently on a low oxalate diet (besides a great herbal blend four times a day to counter the itchiness and histamines). And I am curious that by lowering oxalates, I just may finally be able to get my magnesium levels up and far faster. We'll see. To see a good blog post and list of oxalate foods (high and low), called Roo's Clues, go here.
And for more to the oxalate story, including its connection to autism, leaky gut, depression, kidney stones, yeast overgrowth and arthritis, read this. B6 is also crucial in lowering oxalates.
P.S. Here's research that may underscore a relationship between oxalates and mineral loss. The problem with research is that one study will say one thing and another will say the exact opposite! So you decide! If you know of more research on this topic, let me know and I'll add it.
**************************
UK thyroid patients are clapping at the latest article which appeared in the July 3rd "The Mail", a UK based, Sunday only magazine. It's titled "For Twelve Years I was a victim of The Great Thyroid Scandal" by Matthew Barbour. You can read its entirety here.
**************************
WHEN YOUR HYPOTHYROID SPOUSE OR LOVED ONE IS RUINING YOUR MARRIAGE or RELATIONSHIP:
Over the years, I've gotten several emails, and mostly from men, who are emotionally suffering. But it's not because they themselves are hypothyroid. It's because their spouse/girlfriend is, and many of the latter seem to be in the throes of adrenal fatigue and low cortisol, as well.
The correspondents all seem to love their spouses dearly. But their spouses are defensive, over-reactive, paranoid, depressed and/or reclusive—all typical symptoms of having low cortisol. Depression is especially a problem even for those who just have undiagnosed or T4-only treated hypothyroidism. And most all of those who email me are facing extremely unhappy relationships at the least, and pending divorces at the worst, even while still loving their spouses and wanting to stay married or connected.
Important notes: All the information on this website is copyrighted. STTM is an information-only site based on what many patients worldwide have reported in their treatment and wisdom over the years. This is not to be taken as personal medical advice, nor to replace a relationship with your doctor. By reading this information-only website, you take full responsibility for what you choose to do with this website's information or outcomes. See the Disclaimer and Terms of Use.