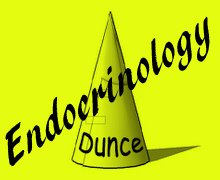 (Though this was originally written in 2011, it has been updated to the present day and time. Enjoy!)
**********
Will it ever end?
A very troubling article
On March 21st, 2011, from the Endocrine Today website, comes the article Hypothyroidism only partially responsible for decreased quality of life in Hashimoto's thyroiditis. And this article has so many troubling comments and wording that it has made some thyroid patients question whether their Endocrinologist can really help then.
For example, the article notes that there seems to be a "higher symptom load and the lower quality-of-life scores in the group of patients with increased anti-TPO levels", which can include "Chronic fatigue, dry hair, dysphagia, irritability and nervousness".
Yet, the article states, these patients have
"normal thyroid function"
are "euthyroid"
have an "ideal biochemical response to thyroid hormone replacement therapy.".
Are you kidding me, say many thyroid patients??? Euthyroid technically means "the state of having normal thyroid gland function." Yet, chronic fatigue, dry hair, dysphagia (difficulty swallowing), irritability and nervousness are far from normal, besides being classic hypothyroid or Hashimotos symptoms, as well as having potential adrenal issues from having poorly treated hypothyroidism!
And of course, most informed thyroid patients know that " euthyroid" and "normal" and "ideal" in the mind of poorly-trained doctors refer to an ink spot on a piece of paper called the TSH lab result and NOT cellular receipt and/or use of thyroid hormones. The TSH is a pituitary hormone, not a thyroid hormone. The TSH lab test has failed patients for decades, just as has T4-only like Synthroid, levothyroxine, Eltroxine, etc!
Also mentioned is a particular Austrian study involving 426 women aged 19 years or older who were undergoing surgery for benign thyroid disease. When patients come on thyroid groups and report Endocrinologists who want to remove their thyroids simply because they have the treatable Hashimotos disease, you have to wonder why 426 women were having surgery for "benign thyroid disease"…
But in spite of all the above, there is hope!
Hashimoto's patients have become wise and informed. To read all the ways patients have learned to adequately treat Hashimotos, go here.
To find out if you now have an adrenal problem, go here. This is important to know because it can be problematic in raising NDT if you have low cortisol, or high cortisol. Thus, the need to treat it first.
To find a good doctor to work with, and/or teach while you are working with, go here.
******************************
Do you look back and wonder about the fact that your thyroid was taken out? Let us hear your story by commenting on this post. What has been your experience with an Endocrinologist? Tell us about it.
*******************************
** Have you Liked the STTM Facebook page? It provides daily information and inspiration just for thyroid patients!
** Check out recommended patients groups on the internet.
** Stop the Thyroid Madness is available in TWO different books! https://stopthethyroidmadness.com/comparing-the-sttm-books/
Important notes: All the information on this website is copyrighted. STTM is an information-only site based on what many patients worldwide have reported in their treatment and wisdom over the years. This is not to be taken as personal medical advice, nor to replace a relationship with your doctor. By reading this information-only website, you take full responsibility for what you choose to do with this website's information or outcomes. See the Disclaimer and Terms of Use.