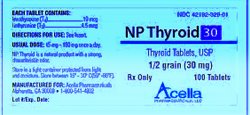 Even tho I saw this mentioned by a patient here or there on patient groups, and later saw it mentioned elsewhere on the net, I have been very hesitant to talk about it on this very widely-read website called Stop the Thyroid Madness.
Namely, there is a new US-made natural desiccated thyroid product out there. It's considered generic, and is being actively substituted for Armour when patients go to pick up their Armour at the pharmacy. It's made by Acella Pharmaceuticals LLC in Alpharetta, Georgia, which was formerly Brookstone Pharmaceuticals. And I just found out that the inactive ingredients are listed as calcium stearate, dextrose monohydrate, maltodextrin and mineral oil. Anybody see cellulose in there?? Neither do I. Very nice.
It also contains the same T4/T3 amounts we are used to in the 60 mg, one grain tablet: 38/9. Oh, and it's still called an "unapproved drug".
Now before you get all ticked off at me for NOT wanting to talk about it here as it has been done elsewhere, understand this: last year, we saw the FDA shut down ALL generic production of desiccated thyroid. The implication was that ONLY ones around since the 1930's (Armour and Naturethroid) were allowed to exist, being an unapproved drug. So…I worried that by mentioning it, we might give TOO much attention to a new one and see THIS ONE shut down.
But right now, I am seeing information about it on certain medicine website, including this one connected to our government.
Don't ya just love the way things happen with a medication that turns lives around and we know NOTHING as to whythey are happening or when from the FDA?? Pitiful, typical…and sad.
***If you want to talk about this new generic version, which some patients are accepting in place of Armour and trying, go to the NTH (Natural Thyroid Hormones) yahoo group here. It's so new that there's not a lot of feedback yet from folks, but I suspect we'll start to see more and more.
P.S. If you have been through any long-term stress, you need to know that your cortisol will go high to help you cope, and in turn, it can drive your potassium and magnesium levels low. That happened to me this year as I went through prolonged stress from the economy. So be sure and get those tested, and specifically the RBC (red blood cell) rather than serum. The RBC tests will show what your cells have.
HAPPY NEW YEAR, 2011!
**************************
As we enter another wonderful year, the Stop the Thyroid Madness website couldn't exist without your donations to the hosting fees, which have grown substantially due to the popularity of this patient-to-patient informational website. If you have benefitted from STTM, please consider donating to the fees here. And thank you, since your donation assures that other will benefit as you have.
Important notes: All the information on this website is copyrighted. STTM is an information-only site based on what many patients worldwide have reported in their treatment and wisdom over the years. This is not to be taken as personal medical advice, nor to replace a relationship with your doctor. By reading this information-only website, you take full responsibility for what you choose to do with this website's information or outcomes. See the Disclaimer and Terms of Use.