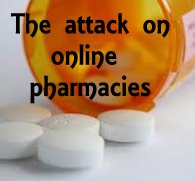 When I found out about natural desiccated thyroid in 2003, which at the time was Armour (and when it used to be a better product), I was lucky to find a Nurse Practitioner to put me on it, even if I had to drive far. Today, I use a different doctor who totally supports my new health on desiccated thyroid. Natural desiccated thyroid has saved my life.
I've been lucky. But some thyroid patients have not.
It's been clear that a certain percentage of thyroid patients, who desire to be healthy and live again after the nightmare of T4-only treatment, have had a hard time finding a doctor to either prescribe desiccated thyroid, or to understand how to dose it even if they did prescribe it. Even harder have been those thyroid patients with adrenal fatigue in finding doctors who understand this widespread and debilitating condition and how to treat it.
As a result of the latter tragedy…and here comes the big elephant in the room…some thyroid patients will state they have felt forced to self-treat and find their needed medications via online websites in order to live again.
And now comes some breaking information that I think all thyroid patients who feel forced to self-treat, and even those who don't but use legitimate prescription-required online pharmacies, need to read:
Apparently, we now have a possible explanation of why "some" online pharmacies have disappeared: a company called LegitScript LLC, which seems to have some power to push online pharmacies out of business.
Also, says PharmacyChecker.com, LegitScript has been targeting some of the "legitimate pharmacies" i.e. those who require prescriptions.
And here's another twist: PharmacyChecker.com, who is "the leading online verification company for U.S. and international online pharmacies" commends LegitScript for fighting the pharmacies who send out meds without a prescription, but does not agree with LegitScript's attack towards legitimate on-line pharmaceuticals. If this is true, the former will concern thyroid patients who feel forced self-treat in order to have their health restored, and the latter is good news for those who use these "legitimate prescription-only pharmacies".
Additionally, there may be some governmental push to get ICANN, the organization that works with URL names of businesses, to forbid URL's to certain pharmacies across the world, and that may have huge legal implications. Last week, the Santa Monica headquarterd eNom, which is a domain name registration and wholesaler, has agreed to work with LegitScript in "identifying customers who are operating online pharmacies in violation of U.S. state or federal law".
There is going to be a White House meeting on September 29th which is focusing on addressing "illegal online sales" via these internet websites.

You can read more about PharmacyChecker's opinion about the White House and online pharmacies here and their opinion of Legitscript here. You can read about an investigation request against the president of LegitScrip here and his rebuttal here. I am just now reading about this, and reporting above on what I know right now. I'm sure there is more to come, and I also have no doubt that this is going to produce a lot of discussion and/or action by thyroid patients. If you want to contribute to discussion on this, here is where to go. BUT REMEMBER: unlike what has happened before, let's keep a level head and stick to facts.
Important notes: All the information on this website is copyrighted. STTM is an information-only site based on what many patients worldwide have reported in their treatment and wisdom over the years. This is not to be taken as personal medical advice, nor to replace a relationship with your doctor. By reading this information-only website, you take full responsibility for what you choose to do with this website's information or outcomes. See the Disclaimer and Terms of Use.