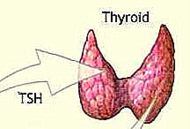 I always know that when I get an email from Dr. John C. Lowe, it's going to contain excellent information. And he didn't let me down.
Dr. Lowe is Editor-in-Chief of Thyroid Science, an "open-access journal for truth in thyroid science and and thyroid clinical practice". And in the recent issue, there is a remarkable and precise TSH (Thyroid Stimulating Hormone) hypothesis by none other than a brilliant UK electrical and electronics engineer, Mr. Peter Warmingham. In fact, his hypothesis about the TSH lab result when treating one's hypothyroidism exactly corresponds to the successful experience of thyroid patients all over the world.
To quote Dr. Lowe in his introduction about Warmingham's paper (FYI: "exogenous" refers to the thyroid hormone you give yourself; "endogenous" refers to what happens naturally in your body):
Mr. Warmingham's hypothesis is straightforward: When a hypothyroid patient (whose circulating pool of thyroid hormone is too low) begins taking exogenous thyroid hormone, a negative feedback system reduces the pituitary gland's output of TSH. This decreases the thyroid gland's output of endogenous thyroid hormone, and despite the patient's exogenous thyroid hormone's contribution to his or her total circulating thyroid pool, that pool does not increase–not until the TSH is suppressed and the thyroid gland is contributing no more thyroid hormone to the total circulating pool. At that point, adding more exogenous thyroid hormone will finally increase the circulating pool of thyroid hormone. The increase must occur for thyroid hormone therapy to be effective. The patient's suppressed TSH, then, does not indicate that the patient is over-treated with thyroid hormone; instead, it indicates that the patient's low total thyroid hormone pool will finally rise to potentially adequate levels.
In other words, when your doctor says no to an increase in your desiccated thyroid simply because your TSH lab result is, or would become, below the so-called normal range (and in the presence of continuing symptoms or a low temperature), he will usually end up keeping you hypothyroid! i.e. making an ink spot on a piece of paper more important than clinical presentation is just one reason why the current thyroid patient revolution represented by Stop the Thyroid Madness exists!
You can read Warmington's entire paper here on Dr. Lowe's site. For further information on the fallacy of the TSH lab test, go here or read Chapter 4, aka Thyroid Stimulating Hooey, in your copy of the STTM book for more detail.
P.S. Dr. Lowe is probably right on when he says he expects criticism to flow for the fact that Warmington is not an Endocrinologist and "how in the world can anybody but an Endo make a logical hypothesis about the TSH lab test". Read more on Lowe's thoughts about this here. But enlightened thyroid patients around the world are collectively shouting "GOD BLESS AN ELECTRICAL ENGINEER!"
Important notes: All the information on this website is copyrighted. STTM is an information-only site based on what many patients worldwide have reported in their treatment and wisdom over the years. This is not to be taken as personal medical advice, nor to replace a relationship with your doctor. By reading this information-only website, you take full responsibility for what you choose to do with this website's information or outcomes. See the Disclaimer and Terms of Use.