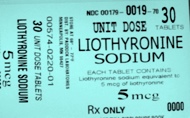 Though this page was written in 2010, it has been updated to the present day and time. Enjoy!
***************
After the turn of the century and within groups associated with Stop the Thyroid Madness, thyroid patients made a huge discovery–that many of them had an RT3 problem!
RT3 is the acronym for Reverse T3. Reverse T3 production is normal. It will occur if you have surgery, after a bodily accident, when having the flu and/or other stressful conditions. It's your body's way of moving out the excess T4 by converting it to more and more RT3, which in turn, lowers your metabolism.
But when thyroid patients have either low iron or a cortisol problem, up goes the Reverse T3. And why is that a problem? RT3 is not only inactive, but you might say it's a T3 "antagonist", binding to the same cellular receptor that T3 would have attached to, but now can't. Thus, T3 will rise higher and higher in the blood–a condition we call pooling.
So what did patients learn to do? Find out the reason and treat it…and in the meantime, they lowered the RT3 by lowering the amount of T4 they were getting, or by being on straight T3.
And in 2010 came recall of one of the brands of T3 by Paddock.
PRODUCT
Liothyronine Sodium Tablets, USP 5 mcg, RX only, Net contents 100 tablets, NDC0574-0220-01, UPC code (01) 00305740220016. Recall # D-695-2010
CODE
Lot # 9C548
RECALLING FIRM/MANUFACTURER
Recalling Firm: Paddock Laboratories, Inc., Minneapolis, MN, by letter dated May 18, 2010.
Manufacturer: Metrics Inc., Greenville, NC. Firm initiated recall is ongoing.
REASON
The recall is being conducted due to a stability failure at the 12 month timepoint; the assay value of this lot was found to be sub-potent.
VOLUME OF PRODUCT IN COMMERCE
11,064 bottles
DISTRIBUTION
Nationwide including DC and PR
Luckily, as the years went by, there continued to be other brands of T3 and new brands.
Important notes: All the information on this website is copyrighted. STTM is an information-only site based on what many patients worldwide have reported in their treatment and wisdom over the years. This is not to be taken as personal medical advice, nor to replace a relationship with your doctor. By reading this information-only website, you take full responsibility for what you choose to do with this website's information or outcomes. See the Disclaimer and Terms of Use.