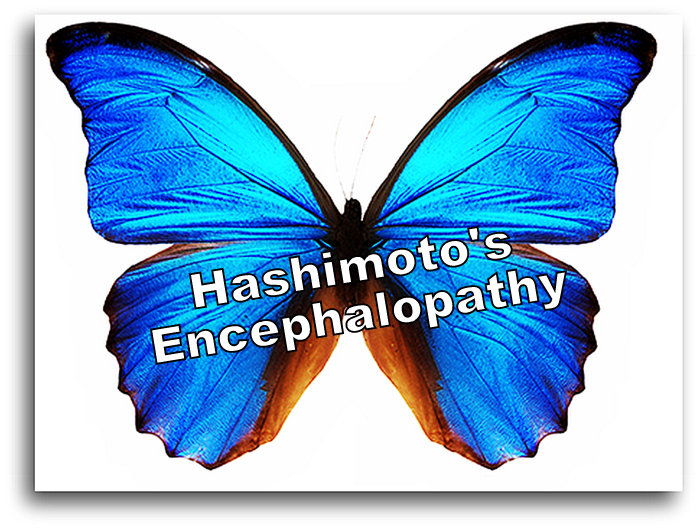 Though this post first came up in 2010, it has been updated to the present day and time.
*****************
I got an email from a sweet thyroid friend and advocate, Bev, aka Thyro-butterfly, whom I've known for several years. And Bev has had two relapsing and unnerving bouts with a condition that's not common, and under-diagnosed: Hashimoto's Encephalopathy (HE).
She stated "I think everyone who has Hashimoto's disease should know that this exists because the symptoms are so similar to severe neurological problems. And the treatment, though not curable, is relatively easy to do…."
What is Hashimoto's Encephalopathy (HE)?
Hashimoto's Encephalopathy is a rare neuroendocrine disorder which was termed and recognized in 1966 and has a strong connection to the autoimmune thyroid disease called Hashimotos–a form of Thyroiditis. i.e. just as antibodies attack your thyroid, there are rare cases where it can attack and destroy your brain cells. Having a high thyroid peroxidase (TPO) antibodies lab result is common with Hashimoto's Encephalopathy, and can accompany high anti-thyroglobulin antibodies, as well.
Researchers have also coined other names for this condition:
Steroid Responsive Encephalopathy Associated with Thyroiditis (SREAT)
Encephalopathy Associated with Autoimmune Thyroid Disease (EAATD)
Non-vasculitic Autoimmune Inflammatory Meningoencephalitis (NAIM)
Autoimmune Encephalopathy (AE)
The U.S. National Institutes of Health's Office of Rare Diseases Research refers to it as Hashimoto's Encephalitis.
Wikipedia states:
Up to 2005 there were almost 200 published case reports of this disease. Between 1990 and 2000, 43 cases were published. Since that time, research has expanded and numerous cases are being reported by scientists around the world, suggesting that this rare condition is likely to have been significantly undiagnosed in the past. Over 100 scientific articles on Hashimoto's Encephalopathy were published between 2000 and 2013.[2]
What are symptoms that can make one suspicious of having HE?
Those with HE can share many symptoms, or can have unique symptoms from each other. They include:
tremors
seizures
jerking
language difficulty, whether speaking, writing or reading
confusion
limited attention span or concentration
poor memory and retention
dementia diagnosis
disorientation
restlessness
convulsions
symptoms similar to a stroke
poor coordination (walking, fingers, hands, etc)
partial right-sided paralysis
headaches
fatigue
sleep problems
psychosis
coma
Women are more prone to HE than men.
What tests might my doctor do to confirm this?
Studies underscore the need to first exclude "other toxic, metabolic and infectious causes of encephalopathy (disorder of the brain) with neuro-imaging and CSF examination". The latter is examining one's cerebrospinal fluid. But when there are quite high levels of antithyroid antibodies like TPO (thyroid peroxidase), that alone can be a strong enough clue to diagnose Hashimoto's Encephalopathy. High TPO antibodies can accompany high levels of thyroglobulin antibodies, as well.
What kind of doctor might help me the most?
Many of the published articles on HE have been done by Neurologists from the Mayo Clinic. If you live in Arizona, Florida or Minnesota, here's a list of Neurologists associated with Mayo: http://www.mayoclinic.org/departments-centers/neurology/sections/doctors/drc-20117077
Here's a list of Neurologists by states in the US: http://www.healthgrades.com/neurology-directory
Around the world, you can click on the area you live, then see a list of Neurologists: http://www.wfneurology.org/member-societies
How is HE treated?
Luckily, treatment is fairly straightforward and dramatic against symptoms: steroid use, which is why it's also termed "steroid-responsive encephalopathy associated with autoimmune thyroiditis (SREAT)".
Says Elaine Moore in her article titled Hashimotos encephalopathy: A Treatable Form of Dementia:
Patients with SREAT show a good response to corticosteroids such as prednisone and related immunosuppressants because of the ability of these medications to reduce thyroid antibody production and reduce inflammation. Researchers in India report a case of SREAT that did not respond to corticosteroids but showed a very favorable response to plasma exchange, a technique used to remove circulating antibodies." Doses of steroid can vary from individual to individual, but some do well on 4-6 mg cortisol for a few days. Others may need more. Remission is the norm for most. You'll have to watch for relapses. Since misdiagnosis is common, it's important to talk to your doctor about this potential disorder, testing, and treatment if you have Hashi's and symptoms similar to any of the above.
Wiki also states: Initial treatment is usually with oral prednisone (50—150 mg/day) or high dose IV methylprednisolone (1 g/day) for 3—7 days.
Thanks to Bev for bringing this issue back up.
Important notes: All the information on this website is copyrighted. STTM is an information-only site based on what many patients worldwide have reported in their treatment and wisdom over the years. This is not to be taken as personal medical advice, nor to replace a relationship with your doctor. By reading this information-only website, you take full responsibility for what you choose to do with this website's information or outcomes. See the Disclaimer and Terms of Use.