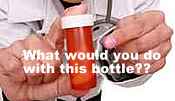 Well, I just can't let this go by the wayside, says I with a cheesy grin.
When I did the lighthearted post, two posts below his one, about a woman who got filthy rich thanks to her old stock with Abbott Labs (the makers of Synthroid), it got a humorous and creative comment from "Elizabeth":
I have found a couple of uses for a bottle of Synthroid:

A. Doorstop
B. Prop for DSL modem (so it won't overheat)

However, I do not recommend it to be taken internally. Ever.
hahahaha. You get a blue ribbon for that gem, Mz. Elizabeth. And I think Elizabeth's creatively-funny reply deserves expansion and a party of fun-lovin' contributors. So now it's your turn, fine reader of the STTM blog, to list your own innovative and hilarious ideas for that bottle of a T4-only medication. Just use the Comment below this post and let 'er rip.
***********************************
Below this post you'll see information on the current failure of McCain's cockeyed anti-supplement bill, which if it had passed, would have negatively affected every single thyroid patient out there who is trying to undo the damage done by T4 meds and/or the inane TSH lab test. So though we all won right now with this failure, you betcha we're going to have to keep our eyes and ears open for the money-grubbing Big Pharma to influence someone else about supplements.
Important notes: All the information on this website is copyrighted. STTM is an information-only site based on what many patients worldwide have reported in their treatment and wisdom over the years. This is not to be taken as personal medical advice, nor to replace a relationship with your doctor. By reading this information-only website, you take full responsibility for what you choose to do with this website's information or outcomes. See the Disclaimer and Terms of Use.