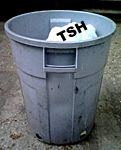 "It is far better to grasp the Universe as it really is than to persist in delusion, however satisfying and reassuring." –Dr. Carl Sagan
You may have seen the segment on NBC's Today Show this morning, January 29th, 2010, or you may have heard about it on the internet. But in case you didn't, the Today Show had a rare short piece about hypothyroidism and diagnosis which presented a Nurse Practitioner, Eola Force, with clear symptoms of hypo, including extreme tiredness, feeling like she's dying, huge weight gain, depression, and brain fog, to name a few.
Yet, she had a so-called "normal "TSH" lab test. The explanation for her symptoms?? She's FAT, HORMONAL and FEMALE, of course!
And because she is under the care of a wise and knowledgeable doctor named Dr. Kent Holtorf and his clinic, which uses additional tests besides the TSH, he diagnosed her clearly, put her on thyroid hormones, and changed her life.
And the response by Dr. Singer, an Endocrinologist? There is "no real scientific basis" for what Holtorf does in his practice, and it was equivalent to the "laying on of hands".
Well my dear Dr. Singer sir, if hundreds of millions of patients all over the world waited on "science" to prove what they know by decades of miserable experience because of the TSH, we'd all still be sick as dogs. The mutually accepted delusion by the Endocrinology field about the TSH lab test has left millions of thyroid patients undiagnosed and undertreated for nearly 40 years of its existence.

Other than to potentially diagnose a pituitary problem, no, the TSH lab test is NOT the gold standard for thyroid screening anymore than reading tea leaves tells me what kind of day I'm going to have.
Read more about the TSH lab test here, or find even more detail in Chapter 3 in the book called TSH: THYROID STIMULATING HOOEY.
See much better labwork than simply the TSH here. Find what your results mean here. And here's how to find a much better doctor.
P.S. Thyroid patient Lynn Dunning emailed me about talking about the craziness of current thyroid treatment at her work, and one of her colleagues put this up on the work website:
http://www.spunout.ie/health/Healthy-body/Thyroid-madness Good for Lynn and the SpunOut website!
Important notes: All the information on this website is copyrighted. STTM is an information-only site based on what many patients worldwide have reported in their treatment and wisdom over the years. This is not to be taken as personal medical advice, nor to replace a relationship with your doctor. By reading this information-only website, you take full responsibility for what you choose to do with this website's information or outcomes. See the Disclaimer and Terms of Use.