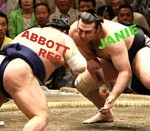 Yesterday, I was meandering through a small biking/river runners store, exchanging a vest I got my son for Christmas that turned out to be too large, and looking intently for a replacement gift he'd like.
The only other shopper left—a tall, dark and handsome young man. And almost as quickly, he re-entered, approached me, and asked if that was my car out there.
"My car?" I replied. "Yes, why?"
"I'm curious about the sticker you have on your back window," he stated with a friendly but curious smile.
The sticker is of Calvin peeing on the word of a particular T4-only medication. I give these away free if someone requests it with their current order of the STTM book. And this was not the first time I've been asked about that attention-getting sticker.
So I proceeded to tell him that I'm a Thyroid Patient Activist, owner of Stop the Thyroid Madness, about the history of T4, how lousy many patients have reported doing on it for nearly 60 years with their own variety and intensity of lingering hypo symptoms, and how much better natural desiccated thyroid has been for patients all over the world.
I then innocently asked: "Are you on Synthroid?" I just knew I had one more victim of this treatment who needed enlightenment.
"Nope", he said with a confident and defiant air. "I have until recently been a pharmaceutical rep with Abbott Labs."
THWACK. Standing before me stood a mighty well-trained Big Pharma champion for Synthroid who was going to reveal and defend his propaganda like a master. And that led to the most heated and piercing give-and-take I've ever experienced, right in front of the chagrined and wide-eyed sales person at the checkout desk. We were like sumo wrestlers butting our words against each other.
When I explained the slew of continuing symptoms reported by patients worldwide who have been on T4, and no matter how high they raised it…his response? "Those symptoms can be the result of many issues other than hypothyroidism."

I responded: "Well isn't it odd that those who are hypo and on Synthroid, and who get on desiccated thyroid, find those symptoms completely removed."
His reply?? "Heroin can do the same thing". Groan. I simply had to laugh at him. How many times have we heard the same kind of baloney.
He proceeded to tell me in great detail with each point he made that:
He has worked with many patients and they do well on Synthroid (A rep has worked with many patients? And what in the world does "well" mean?)
Clinical trials have proven that Synthroid works. (Ah! You mean those financed by Abbott Labs and which are contrary to the reported experience of millions of patients around the world? Those??)
The TSH lab test gives proof about the efficacy of T4 (Funny how patients all over the world have proven by their continuing symptoms that the TSH lab test for the diagnosis and treatment of hypothyroidism belongs at the bottom of a trash heap)
There are many differences in the efficacy of T4 brands to explain any issues in patients (Funny how not ONE brand of T4 has been exempt from leaving continuing symptoms according to the global rexperience of a huge body of patients)
Blaming T4 for the amount of adrenal fatigue that "supposedly" some T4-treated patients find themselves with is silly since there can be other reasons for it. (Another laugh on my part. Clearly, when someone isn't adequately treated on T4, something has to kick in to keep them going, and voila–it's those trusty dusty adrenals which eventually just poop out thanks to T4 and the TSH.)
There were much more machine gun stances between us, but that would make this blog post far too long.
One truth we did agree on? That "some" patients do get benefit from using T4. He specifically referred to the elderly. And my quick response? Why accept "some" when patients all over the world report getting rid of that "some" with desiccated thyroid (and especially for certain ones who also treat their low cortisol, low ferritin, and other issues most likely related to an inferior treatment.)
Clearly, we were each deadlocked in our positions. And he concluded, looking at the sales associate, that neither of us were wrong; we just represented two sides.
And I turned my head, looked him straight in the eye, and said: Uhhh, no. YOU are completely and totally wrong.
P.S. After he left, the sales gal said she was totally in tune with what I was saying, and wrote down the name of this website. lol lol
*******************************************
See the blog post below about favored Canadian pharmacies, plus many more comments by patients.
What the heck is going on with desiccated thyroid and current shortages? Read about it here.

Important notes: All the information on this website is copyrighted. STTM is an information-only site based on what many patients worldwide have reported in their treatment and wisdom over the years. This is not to be taken as personal medical advice, nor to replace a relationship with your doctor. By reading this information-only website, you take full responsibility for what you choose to do with this website's information or outcomes. See the Disclaimer and Terms of Use.