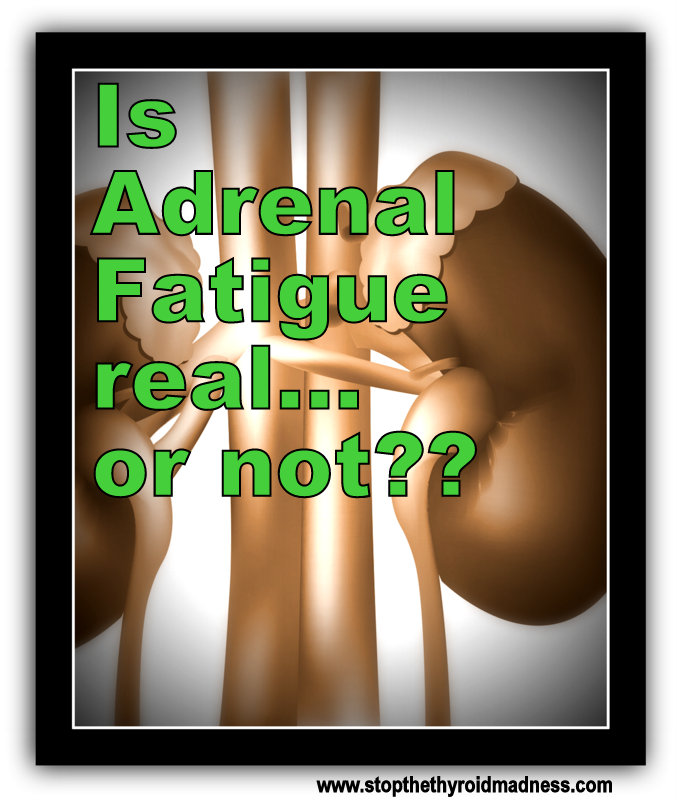 (This page was updated. Enjoy!)
In 2009, Louis Neipris, M.D., a staff writer who has written many fine articles for myOptumHealth.com, wrote one article titled Adrenal Fatigue: Is it for real?
It appeared on Upper Michigan News, TV 6 website on July 16th and made the rounds on other sites.
His answer to his own question? "Not really". He adds "It's not an accepted medical diagnosis."
Oops. Thyroid patients and a growing body of informed medical practitioners beg to differ.
About the term "Adrenal Fatigue"
Patients in the earliest discussion groups were using the term "adrenal fatigue" right after the turn of the 21st century, probably because they saw it used so often on the internet, as well as referred to in certain books. And we did think that the adrenals became "tired" as a way to explain the low cortisol we outright saw in each other's saliva results, as well as symptoms. The term "adrenal insufficiency" also fit.
Later, it became more popular with patients to identify the biological cause of our low cortisol as being rooted in a sluggish HPA axis, i.e. the messaging between the Hypothalamus to the Pituitary to the Adrenals. That messaging wasn't as vibrant as it should be.
Fast forward to the 2014 book Stop the Thyroid Madness II, where the last chapter by Dr. Lena D. Edwards et al does a bang-up job explaining what might really be going on, and which they term "hypocortisolism". They propose five brilliant and biologically valid reasons why we see low cortisol:
a developmental response to high stress
a corticotrophin-releasing factor (CRF) receptor down-regulation
inadequate glucocorticoid signaling
intrinsic adrenal gland dysfunction
an adaptive response towards infection or inflammation.
See Chapter 13, pages 291-292 for more details on each of the five. It's a brilliant chapter on the subject within the STTM II book.
In other words, there are explainable and logical reasons why certain thyroid patients have low cortisol, and it's very real, whether you call it adrenal fatigue, adrenal insufficiency or hypocortisolism.
The cortisol saliva test
One excellent method, we as informed patients, prove our low cortisol state is by the use of saliva testing. The important aspect of saliva testing has been two-fold: 1) it reveals our cellular level of cortisol, which we've noticed has always fit our symptoms (if the facility we use knows that they are doing, as do the ones listed on the Recommended Labwork page which do not need a doctor's prescription), and 2) it tests us at four key times during a 24 hour period (which is important to see the fuller picture of what our adrenals are doing.)
We're learned repeatedly, in comparison, that blood cortisol is not the way to go, since with blood, you are measuring both bound and unbound cortisol. And as informed patients, we have noticed that blood cortisol can look high, yet both saliva testing and our symptoms reveal we are actually low, cellularly. We've even seen blood cortisol measure low, yet saliva and our symptoms reveal high…even though it's less common that the other way around. It's uncanny! Also, with blood cortisol testing, a misinformed doctor will only do one test instead of the needed four.
What has been the impetus behind the low cortisol state of a large body of thyroid patients?
Two very clear reasons: first, being held hostage to the TSH lab test, giving one a "normal" reading for years in spite of obvious clinical presentation of hypothyroid symptoms, and pushing one's adrenals into overdrive with high cortisol and adrenaline to keep the patient going, and ultimately leading to the downwards spiral of adrenal fatigue/adrenal insufficiency/hypocortisolism. On page 65 of the revised Stop the Thyroid Madness book, you'll read about a 44 year old woman who went 15 years with a "normal" TSH result, in spite of obvious clinical presentation of hypothyroidism, and which led to her own low cortisol. This is not uncommon.
Second, the risk of adrenal fatigue is high due to the inadequate treatment of T4 medications like Synthroid, Levoxyl, levothyroxine, Eltroxin, Tirosent and other T4-only meds. Because of being forced to live for conversion alone, and missing out on the compliment of all five thyroid hormones, T4-only meds leave a high percentage of patients with their own brand and intensity of lingering symptoms of a poor treatment…sooner or later…forcing the adrenals to kick in for too long, for many.
Even William Mck. Jeffries MD., who wrote the medical classic Safe Uses of Cortisol around 1984, understood the preponderance of adrenal fatigue and low cortisol, even without the diagnosis of Addison's disease, and the need for physiologic doses of cortisol treatment, or the amount needed by each individual's body to function correctly. And he would certainly be amazed by the explosion of adrenal fatigue that has occurred since then in thyroid patients thanks to the lousy TSH and synthetic T4-only 'affaire de coeur' with doctors.
Adrenal fatigue may not be an "accepted diagnosis" by some medical professionals. But today, there are a growing body of open-minded practitioners who recognize its reality as an acceptable diagnosis, and for which we are grateful. Now our job as patients is to make sure our more open-minded doctors understand what we have on how to treat it!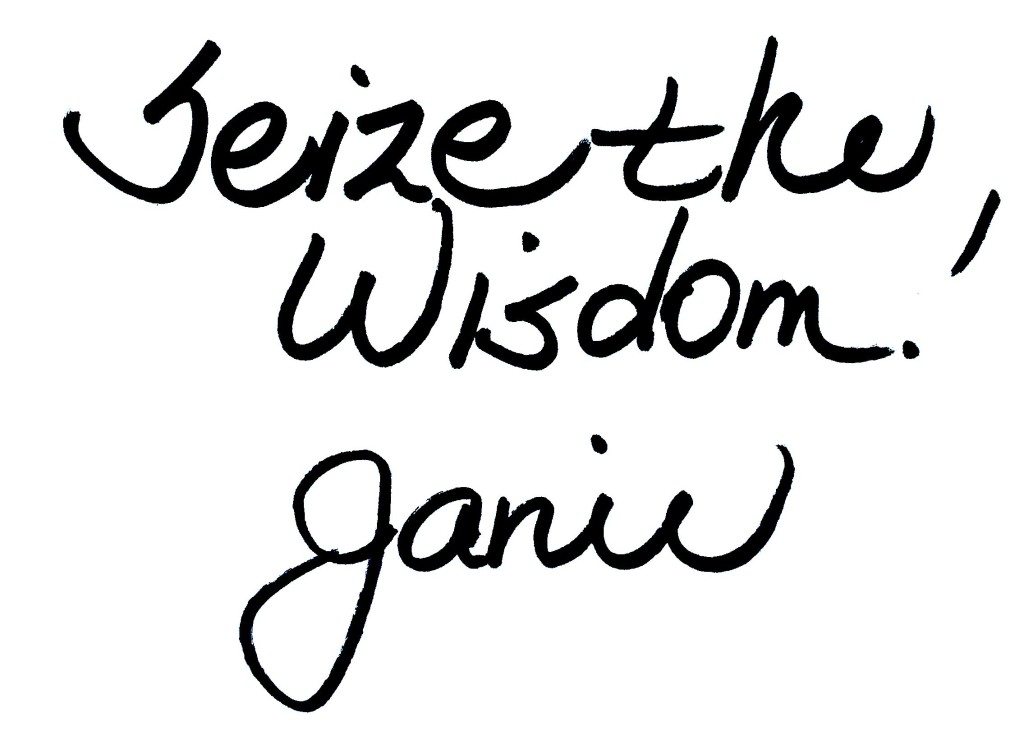 ** Want to be informed of my blog posts? Curious what's on my mind? Sign up to be notified at the bottom of this page.
** Join the STTM Facebook page for daily inspiration, tips and information.
** Chapters 5 and 6 in the revised STTM book contain the best details about adrenals and treatment in any book.
** Here's a page on STTM listing a variety of symptoms related to a cortisol problem: https://stopthethyroidmadness.com/adrenal-info/symptoms-low-cortisol/
Important notes: All the information on this website is copyrighted. STTM is an information-only site based on what many patients worldwide have reported in their treatment and wisdom over the years. This is not to be taken as personal medical advice, nor to replace a relationship with your doctor. By reading this information-only website, you take full responsibility for what you choose to do with this website's information or outcomes. See the Disclaimer and Terms of Use.