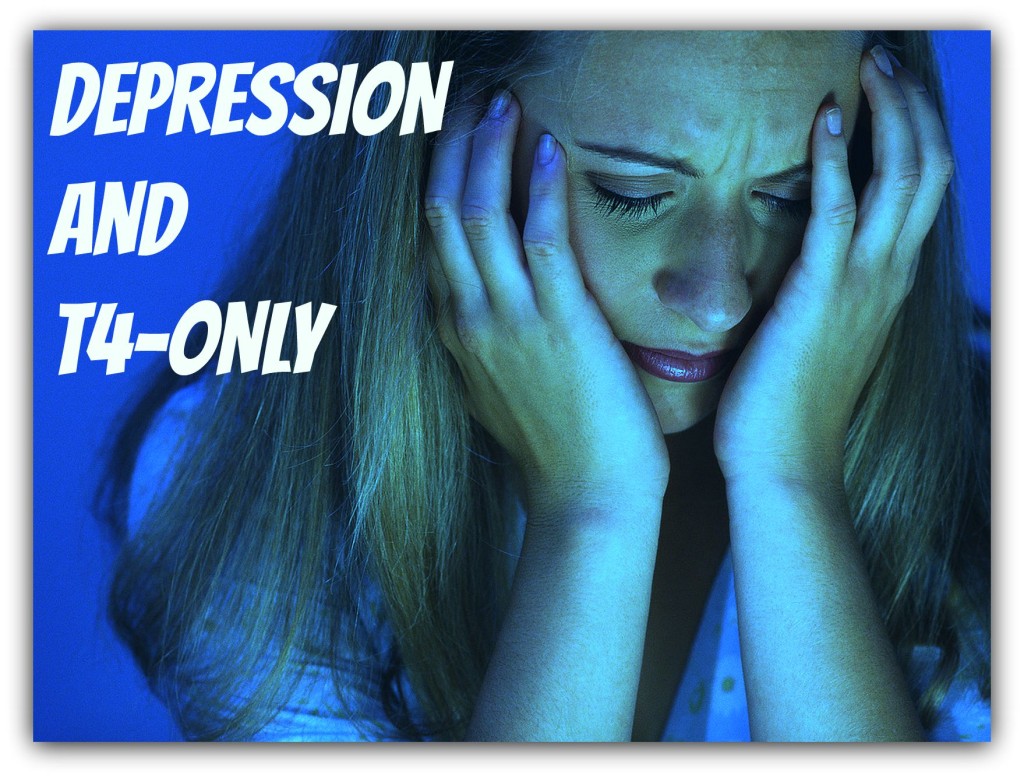 (This post was updated to the present day and time. Enjoy!)
I've been perusing comments in response to the UK's Royal College of Physicians blundering and dark-age-constructed Diagnosis and Treatment of Primary Hypothyroidism. And though all comments are quite good and worth your read, I was struck by the comment titled May Reality Intrude? by a man named Charles.

Charles profound story about his wife's depression
Charles explains that in 1999, his 67-year-old wife had RAI (radioactive iodine) and was then put on levothyroxine, a T4-only medication (aka Synthroid, Levoxyl, Eltroxin, Oroxine, levothyroxine, et al). And not long after, she complained of having depression.
He had an idea why after reading the New England Journal of Medicine about T3, and proceeded to buy her Armour off the internet. For those reading this, Armour is one of several brands of Natural Desiccated Thyroid–the latter which contains all five hormones that a healthy thyroid produces: T4, T3, T2, T1 and calcitonin.
Without her knowing, he switched medications. Lo and behold, he states "she promptly returned to her usual sunny disposition". Her physician knew nothing of the switch either, and found nothing to be concerned about in her.
Charles then explained how, at age 74 in 2007, she was near death thanks to an ulcer bleed. And to continue treating her hypothyroidism, the hospital gave her levothyroxine, aka T4-only, all over again. Back came her depression and a feeling of wanting to go home and die.
So Charles brought her Armour to the hospital, and though her physical state was depressing enough, her sunny disposition returned. And that happy spirit while still on Armour continues today after a full recovery.
And Charles pondered: If his wife had been in a NHS (National Health Service) hospital under the care of a so-called thyroid specialist of the NHS, would she have failed to obtain T3 in her treatment and instead, sent to a psychiatrist as if her depression had nothing to do with her levothyroxine treated hypothyroidism–the very treatment that the Royal College of Physicians has a dogmatic love affair with?
He then concludes: My wife's depression was obvious. Since she is equipped with much the same assortment of body parts and associated physiology as others, is it not likely that many levothyroxine-treated patients suffer from less-noticeable depression?
Our experiences as thyroid patients agree with Charles!
Well Charles, most any thyroid patient who decides to respond to this will tell you unequivocally YES, YES, YES. Because there's no research, study or directive that is more profound and telling than the actual EXPERIENCE of patients all over the world with T4 treatment and depression…besides a slew of other side effects of continuing hypothyroidism on T4-only meds.
Why have so many experienced depression on T4-only?
Because we've learned repeatedly that the body is not meant to live for T4 alone, which is simply a storage hormone, not to live for conversion alone. T4 is meant to convert to the active hormone T3. Studies reveal that T3 influences the effect of the transmitters serotonin and catecholamine in the brain–both which effect mood. Without enough T3, an imbalance in serotonin seems to occur. So when one is forced to live for conversion alone, the body doesn't appear to get enough of the powerful T3. Depression is just one of many side effects of a poor treatment with T4-only.
Go here to read several stories of patients whose depression went away with the right thyroid treatment.
* Did you have depression on a T4 med? Tell us about your experience in the Comments section of this post.
* Want to be informed of these blogs? Curious what's on Janie's mind? Use the Notifications at the bottom of this page.
* Join the STTM Facebook page for daily information, tips and inspiration, and sometimes a few chuckles.
Important notes: All the information on this website is copyrighted. STTM is an information-only site based on what many patients worldwide have reported in their treatment and wisdom over the years. This is not to be taken as personal medical advice, nor to replace a relationship with your doctor. By reading this information-only website, you take full responsibility for what you choose to do with this website's information or outcomes. See the Disclaimer and Terms of Use.