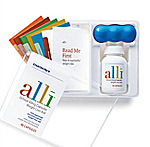 There's an over-the-counter weight loss drug called Alli made by the huge pharmaceutical GlaxoSmithKline. You can see it on the shelves of most any Wal Mart or local drug store. It's also called Orlistat which is marketed under the trade name of Xenical by the pharmaceutical Roche.
It's promoted as safe, and it works by limiting the absorption of fats from what you eat, which in turn reduces your intake of calories. (What has always turned me off about Alli or Orlistat is that is creates oily and loose stools. Bleck. )
Medscape just today reported about an FDA warning: the Use of orlistat may decrease L–thyroxine (T4) absorption and lead to hypothyroidism. Clinicians are advised to administer levothyroxine and orlistat at least 4 hours apart…
Oh jolly. So now we have the FDA giving a warning about Alli causing problems with "thyroxine" use, yet it's the VERY "thyroxine" use that causes a certain large percentage of those using Alli to need to use it in the first place. You can see that reality in the questions about the hypo problem on the Alli forum. i.e They are all on thyroxine!
Hitting my head against the wall.
P.S. Reported in Endocrine Today and from just a month ago, and article titled Hypothyroid patients required increased levothyroxine during pregnancy. Zombie Endocrinologists. Zombies. That's like having an article titled Sick patients need more blood-letting. i.e LEVOTHYROXINE SUCKS AND SHOULD BE IN THE PAST just as much as blood-letting. WAKE UP ENDOCRINOLOGISTS!! WAKE UP!!
*Check out patient response to the newly formulated Armour below, and add your own comments.
Important notes: All the information on this website is copyrighted. STTM is an information-only site based on what many patients worldwide have reported in their treatment and wisdom over the years. This is not to be taken as personal medical advice, nor to replace a relationship with your doctor. By reading this information-only website, you take full responsibility for what you choose to do with this website's information or outcomes. See the Disclaimer and Terms of Use.