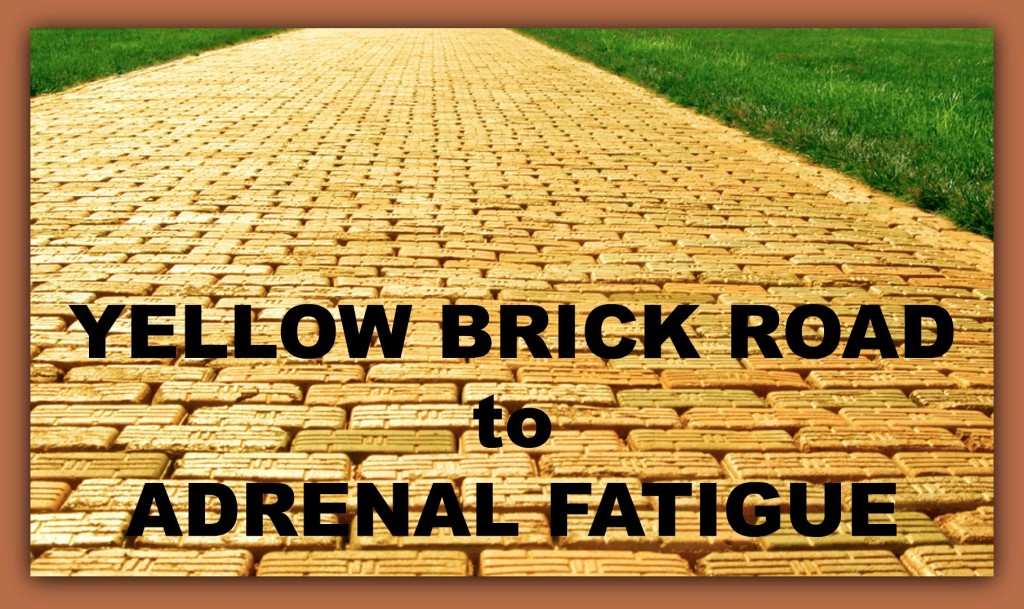 (This page was first written in 2008 and has been updated to the present day and time. Enjoy!)
Do you ever feel like you want to strangle your doctor with your bare hands?
Of course, we don't mean it literally, but there is heightened frustration about the lack of knowledge displayed by our doctors!
Today, I am once again appalled and saddened by the endless body of thyroid patients who continue to plummet into the abyss of adrenal fatigue/adrenal insufficiency, day after day after day. And it just never needs to happen if doctors would simply pay attention and be informed.
Belinda is the perfect example.
She didn't participate in thyroid patient groups anymore, living her life happily, because she thought her post-RAI thyroid treatment was under control, being on 2 grains of Natural Desiccated Thyroid for a year and a "normal" TSH.
But suddenly, she felt the need to return to her groups and seek feedback. Because 2 grains was not an optimal dose for Belinda. She has become more irritable and moody, has a hard time falling asleep, and feels frequently anxietal. Labs are redone, and she finds herself with a slightly over-range free T3 and a very suppressed TSH. Her doctor decides to lower her thyroid meds, which in turn improves her insomnia and anxiety, but weight starts piling on. She's confused and wonders how she can find her balance between being on too little with unwelcome weight gain and being on too much with uncomfortable anxiety and insomnia.
What Belinda didn't get, and what her doctor didn't get, is that Belinda had now joined the dubious camaraderie of those with adrenal fatigue/adrenal insufficiency–a needless condition of over-stressed and now under-functioning adrenals i.e. low cortisol. As a result, T3 in natural desiccated thyroid starts to pool in the blood, or raises the inactive Reverse T3, either causing anxiety, insomnia, and all sorts of low cortisol symptoms.
In Belinda's case, the problem was that 2 grains was not an optimal dose for Brenda, even if her TSH looked oh-so-normal! Because it's never about the TSH. It's about where our free T3 falls and more.
Thyroid patients just like Belinda have to first discover what is going on, then face the complicated balancing act of treating adrenal fatigue AND hypothyroidism. And it's a path that never needed to happen.
WHAT IS POTENTIALLY TAKING YOU DOWN THE DIRTY-YELLOW BRICK ROAD TO ADRENAL FATIGUE??
Being undiagnosed, or being dosed by, the faulty TSH lab test and its dubious "normal" range, which will leave you with lingering hypothyroid symptoms.
Being treated by T4-only medications like Synthroid, Levoxyl, Eltroxin, et al, which end up teasing your adrenals to work harder to take up the slack of an inadequate treatment, then to fall into the abyss of low cortisol.
Lowering your expectations of what "normal" is. No, it's not normal to have less stamina than others, to be on an anti-depressant to bandaid your hypo depression, to feel colder than others, to require frequent naps, to feel the need to avoid people, to be bothered by lights or noises, to be told by those you love that you are too defensive or over-reactive…and so on.
I hope anyone reading this comes to an understanding that you canNOT enter your doctor's office as if you are entering the throne of a god. Your doctor, no matter how educated, dedicated or wonderful, may not have a strong understanding of the role of adrenal function in relationship to bad treatment via T4-only meds or the TSH lab range. You may have to bring this knowledge to your doctor, or find another one who is either learned, or open-minded. Because your chances of having adrenal fatigue/insufficiency are higher if you are on T4, if the TSH is worshipped by your doctor whether on T4 or desiccated thyroid, or if you keep walking into the doctor's office and hang your own knowledge on the hook outside his or her door.

WANT TO UNDERSTAND MORE ABOUT HOW WE FALL INTO HAVING LOW CORTISOL?
Order the STTM II book and read Chapter 15. It's brilliantly written by an MD who gives a most excellent explanation of how we get there!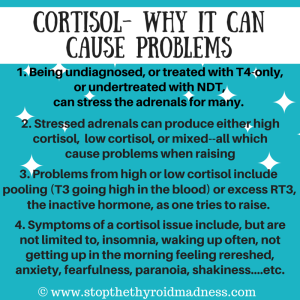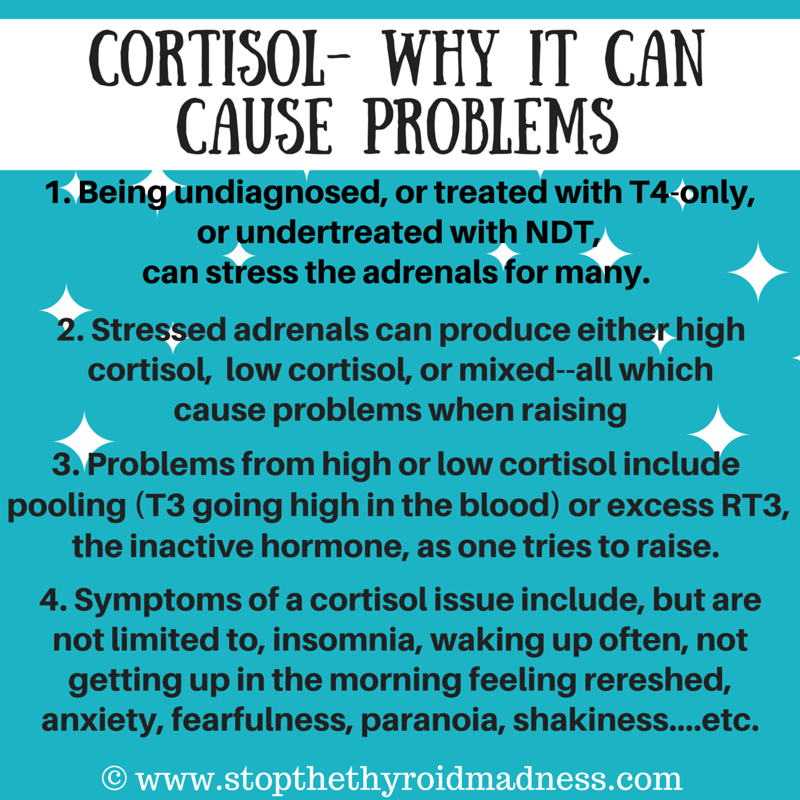 Important notes: All the information on this website is copyrighted. STTM is an information-only site based on what many patients worldwide have reported in their treatment and wisdom over the years. This is not to be taken as personal medical advice, nor to replace a relationship with your doctor. By reading this information-only website, you take full responsibility for what you choose to do with this website's information or outcomes. See the Disclaimer and Terms of Use.