Inflammation: Hashimoto's or non-autoimmune hypothyroid of any cause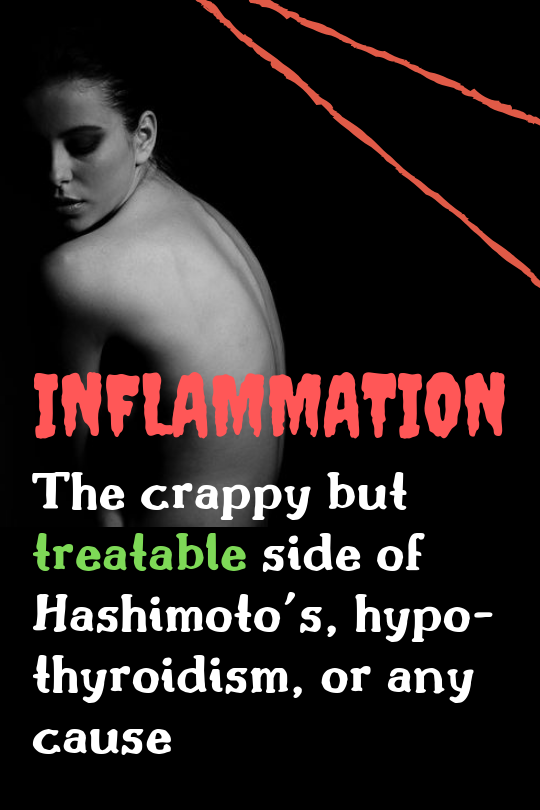 Inflammation is a healthy and positive response of your immune system to counter the infectious problem of a virus, bacteria or fungal excess. It can also be activated by an irritant (picture a splinter in your finger) or damage to your cells from an injury.
But in thyroid patients, whether with 1) insidious Hashimoto's disease, or 2) non-autoimmune hypothyroidism of any cause, the inflammation response can become chronic and problematic! And while many thyroid patients may be clear they have inflammation, others may have it with no clue! The latter is common.
The following article was written by thyroid patient Mary, plus more contributions by Janie A. Bowthorpe, M.Ed., to help you become informed and pro-active about this potential problem.
*********************
It's all too common for thyroid patients to find themselves with high levels of inflammation as discovered by certain lab work, such as a high ferritin (iron goes into storage when inflammation is present). For most of us, this is the best away to find inflammation. Or a positively high C-Reactive Protein (CRP), but sometimes it's good even with inflammation.
Why is chronic inflammation a concern?
What lab work do I need if I haven't proved inflammation yet?
Patients first start with the ferritin lab—that can go higher even in the presence of small inflammation, but will go even higher the longer and stronger the inflammation is going on (usually ~90's or above for women; ~120's or high for men), i.e. your body will push iron into storage, pushing it higher and higher in response to inflammation. Other inflammation labs are CRP (C-Reactive Protein) and ESR and can be ordered from Ulta on the Recommended labwork page without a prescription. CRP is also helpful with infection-caused or antibody-caused inflammation, and ESR is helpful to show chronic inflammation. But most find their inflammation with the ferritin test–it's that sensitive.
Supplements to take to lower proven inflammation (and we often need more than the bottle says). Warning: ALWAYS do your research on any product to see if it's right for you. Work with your doctor.
But what about the cause of inflammation?
We as patients figured out that taking supplements to lower the inflammation is half the plan. We also need to see if we can find and treat the cause. Here is a list of causes to explore:
LOOK TO YOUR GUT IF NOTHING ABOVE FITS
A healthy human body is estimated to contain ten healthy bacteria for every 1 cell–and there are billions of cells! The presence of beneficial bacteria is essential to maintain health, particularly of the GI tract, and to prevent pathogenic bacteria from taking up residence. Fermented foods and drinks can help populate and maintain the presence of these beneficial bacteria. Good probiotic supplements can help as well.
Important note: STTM is an information-only site based on what many patients worldwide have reported in their treatment and wisdom over the years. This is not to be taken as personal medical advice, nor to replace a relationship with your doctor. By reading this information-only website, you take full responsibility for what you choose to do with this website's information or outcomes. See the Disclaimer and Terms of Use.