Stop the Thyroid Madness Patient-to-Patient Coaching Call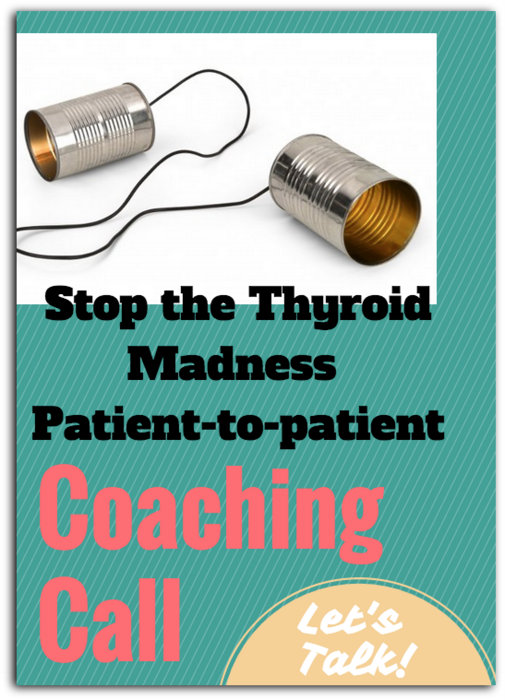 Confused about your lab results or symptoms?

Hitting a dead end and feeling stuck in your treatment?

Not sure how to explain issues to your doctor?

Want to avoid just "opinion" and have a focus on nearly two decades of successful patient experiences and wisdom?

Need privacy & one-on-one encouragement, hope and support from someone who has been collecting all this information for nearly two decades?
Janie A. Bowthorpe, M.Ed., thyroid patient activist, patient advocte, author of STTM related books, speaker, blogger, thyroid patient herself, and the creator of the Stop the Thyroid Madness website and books, is available to do a coaching/consultation call with you.
HOW DO WE DO A PAID CALL??
Either….
1)

Via Phone (USA and Canada, you will be called by Janie via a Private number, so unblock private numbers for this call)
(cell or wall phone and you need to UNBLOCK private numbers for this call)
2)

Via Skype (Everyone else–non-USA)
(computer use, audio-only so you don't have to worry what you look like!) 🙂 Requires a Skype account. Make sure your computer has a working audio and your Skype is set to accept calls before the call!
WHAT IS THE COST??
Cost is based on the time spent together, not on content, which is a prepayment of

 $75.00 US flat rate for the first 30 minutes (or less)

 due via a PayPal request from Janie BEFORE the call.
Once you get the PayPal request, it's due a.s.a.p. since payment reserves your spot. 🙂
If payment request sits there unpaid, Janie reserves the right to offer the time to someone else as there are always people waiting in line.
Payment for the first 30 minutes or less is non-refundable. If you can't make the call time, one reschedule only.
If you go over the 30 minutes, then comes a savings!! It's just minute-by-minute at

1.95 per minute.

For example, 10 minutes over is only 19.50. Or 15 minutes over is just 29.25. Or 30 minutes over is just $58.50, etc. You will receive another PayPal request after the call for any of those extra minutes..and it's due the same day.
If you want to stay in the 30-minute-or-less flat cost, you need to watch the time, then state you need to end the call. If call goes over the 30 minutes, there is an additional per-minute cost. See #5 above.
HOORAY!! You do not have to have a PayPal account to use the PayPal request–it can also be just an intermediary with your credit card. Your credit card in a month will show PayPal and "Thyroid Call".
***IMPORTANT DISCLAIMER AND TERMS OF SERVICE YOU ARE REQUIRED TO READ and AGREE TO BY DOING A CALL:
a) By doing a coaching call, you are agreeing that you will be receiving "information concerning years of reported patient experiences and wisdom" as they pertain to your issues. Then you decide how you want to use it, plus take total responsibility for how you use it and any risks.

b) The call is NOT be seen as a substitute for your relationship with and guidance from a qualified medical professional.

c) The $75 pre-payment for 30 minutes or less is a flat rate, based on "time", not on "content", due the day you receive the PayPal request, and reserves your spot. If you don't pay right away, the spot can go to someone else. The cost for the extra minutes after the first 30 minutes are due the same day the PayPal request is sent for those.

d) Janie uses an automatic timer that starts when the call begins. When you are ready to end the call, Janie will go by that timer. BUT YOU ARE RESPONSIBLE TO WATCH THE TIME.

6) Janie cannot promise to read anything you send before the call–she has a full life on top of what she does for STTM and related, and just can't fit everything in before the call.
WHERE IS THE FORM TO REQUEST A COACHING CALL?
Go
here
.
*****************
NOTE: Janie cannot follow up calls with email questions–she would need three of her and 36 hour days. 🙁 🙁 Thus it's very important to keep precise notes during the call, and feel free to ask questions or clarification during the call. 🙂
Important note: STTM is an information-only site based on what many patients worldwide have reported in their treatment and wisdom over the years. This is not to be taken as personal medical advice, nor to replace a relationship with your doctor. By reading this information-only website, you take full responsibility for what you choose to do with this website's information or outcomes. See the Disclaimer and Terms of Use.