Scheduling for Coaching Call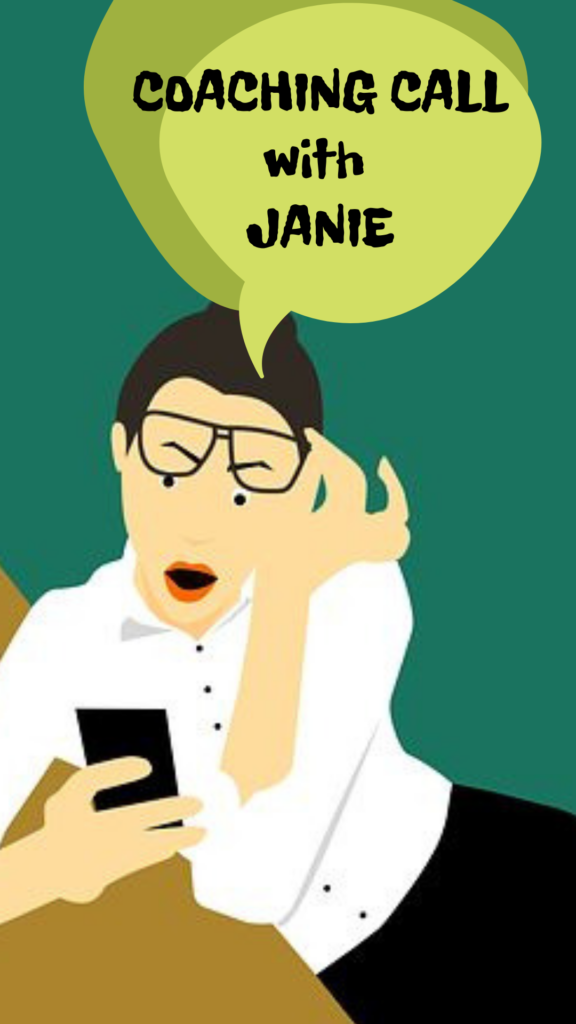 This is your form to schedule a Coaching Call with Janie. It's VERY important to read ALL below
before scheduling.
1)
What do I type out in my request for a call below?
A very brief description, one or two sentences max, of what you want to talk about. PLEASE KEEP IT TO THAT. I get SO MUCH MORE from listening to you in the call. 🙂
2)
After I request a call below, how long before I hear from Janie?
You will usually receive an email reply within 3 business days or less. DO CHECK YOUR SPAM FOLDER TOO!! If it goes longer (not common), request again, please, just in case the pointy-eared internet monster failed us. PLEASE NOTE I do not work on weekends or evenings.
3)
When I hear back from Janie with a date and time, should I reply timely?
Yes, you need to reply as soon as possible. I usually have a waiting list of people, so if you don't reply in a timely manner, someone else can grab the day and time I was offering you! 🙁
4)
Can I also email Janie detailed information/summary before the call?
No, please don't. Two reasons: 1) I don't have enough time in the day to read long details, 2) I get FAR more just listening to you on the call. 🙂 But you are welcome to make those details for yourself to tell me in the call.
5)
Do you, Janie, call me?
Yes I do. I will call you VIA A PRIVATE NUMBER (turn your private number block off, please) which means no caller ID will show….or I will SKYPE you if you are NOT in the US or Canada. I'm usually on time or within a few minutes from getting off from someone before you. DO NOT EMAIL ME IF I'M A FEW MINUTES LATE!! I'm a-getting to you!
Real patient reviews on a coaching call with Janie:
"I have just finished a call with Janie and I can attest that she knows what she's talking about much better than someone I've used in a Facebook group. I have sent this to her to use on her coaching call page".
"Wow. I didn't realize I would get so much valuable information to help me get well. I understand my cortisol problem and treatment better. Thank you Janie. It has made a difference."
"I am sending this to Janie one week after our call to tell everyone that I was better equipped for my appointment with my doctor. I knew what I needed to say to her and what I wanted done. Thanks, Janie"
"I have used Janie's coaching calls three times now, and I am better. I took notes that have helped me after the call. Janie is knowledgeable and now I see why others recommended her to me."
"Thank you. I got more from you than I've gotten anywhere. Keep up the good work you do."
***IMPORTANT DISCLAIMER AND TERMS OF SERVICE YOU ARE REQUIRED TO READ and YOU AGREE TO BY DOING A CALL:
a) By doing a coaching call, you are agreeing that you will be receiving "information based on years of reported patient experiences and wisdom" as they pertain to your issues. Then you decide how you want to use it, plus take total responsibility for how you use it and any risks.
b) The call is NOT be seen as a substitute for your relationship with and guidance from a qualified medical professional.
c) The $75 pre-payment for 30 minutes or less is a flat rate, based on "time", not on "content", due the day you receive the PayPal request, and reserves your spot. If you don't pay right away, the spot can go to someone else. The cost for the extra minutes after the first 30 minutes are due the same day the PayPal request is sent for those.
d) Janie has a timer on her phone that tells her how long the call ends up being. BUT YOU ARE RESPONSIBLE TO WATCH THE TIME if you want to end at 30 minutes.
6) Janie cannot promise to read anything you send before the call–she has a full life on top of what she does for STTM and related, and just can't fit everything in before the call.
Important note: STTM is an information-only site based on what many patients worldwide have reported in their treatment and wisdom over the years. This is not to be taken as personal medical advice, nor to replace a relationship with your doctor. By reading this information-only website, you take full responsibility for what you choose to do with this website's information or outcomes. See the Disclaimer and Terms of Use.