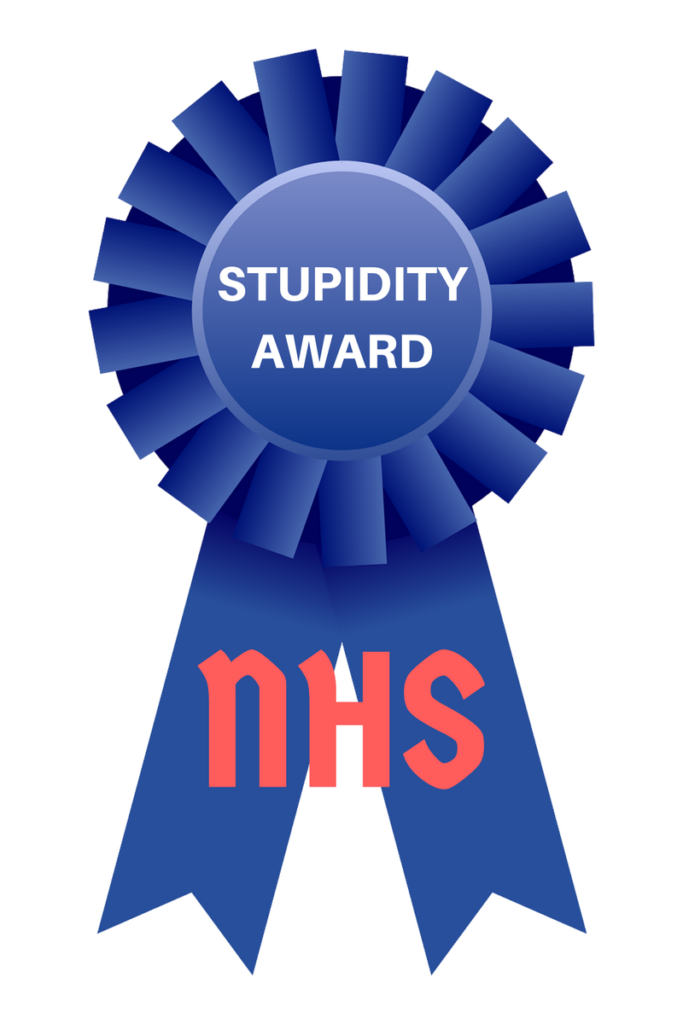 The following Guest Blog post has been written by UK Thyroid Patient Carolyn and contributions added by Janie A. Bowthorpe
*********************
Just when you think things couldn't get more ridiculous….
Just a few days ago, the BBC reported that the National Health Service (NHS) of the United Kingdom has proposed that the medication T3-only, aka Liothyronine, has little or no value. Let me repeat: LITTLE OR NO VALUE.
The article also states: "The proposals could see an outright ban or tighter restrictions on some products being prescribed by GPs."
Here's the list, as reported by the BBC, of those they consider as low value medicines (and their annual cost to the NHS):]
£30.93m on Liothyronine to treat underactive thyroid
£21.88m on gluten-free foods
£17.58m on Lidocaine plasters for treating nerve-related pain
£10.51m on Tadalafil, an alternative to Viagra
£10.13m on Fentanyl, a drug to treat pain in terminally ill patients
£8.32m on the painkiller Co-proxamol
£9.47m on travel vaccines
£7.12m on Doxazosin MR, a drug for high blood pressure
£6.43m on rubs and ointments
£5.65m on omega 3 and fish oils
Also mentioned in the article after the above "low value" medications comes "suncream, cough and cold remedies and indigestion and heartburn medicines". i.e. T3-only, which patients report has brought back MUCH better health, is on the same level as suncream.
The article states that the "NHS England confirmed the review would begin in April, but did not put any timescale on how quickly a decision would be made."
Living in the UK as a hypothyroid patient
Those like me living in the UK and using the NHS (which by the way is not 'free', as we all pay into it through our taxes), appreciate that it isn't a bottomless pit of money which can fulfill every single person's desires. Some of the items on this list (see above) are easily and cheaply available over the counter in pharmacies and supermarkets. I believe people also have a responsibility to purchase some things themselves rather than incurring the excessive cost of processing an unnecessary doctor's prescription.
But T3 isn't available over the counter, although it is in some other European countries.
The sole reason T3 is on this list at all is the cost. Just look at that amount of money: £30.93million annually— that's a lot of money, and who wouldn't want to save that.
But despite this drug called Liothyronine (aka T3) costing pennies to make, and costing a couple of Euros on the mainland, it costs over £9 A TABLET to the NHS. No wonder they don't want to prescribe it.
A loophole in legislation around generic medicines has been massively exploited and the cost has been steadily increased by the sole licensed supplier. So rather than investigate that situation of being totally ripped off and putting a proper system of value-for-money purchasing in place, the answer that is being proposed is to withdraw T3. What a failure of proper management of resources; I expect better of my government officials.
I have friends with the genetic mutation which means they literally cannot convert T4 to T3, even before we get into the debate about T4-only thyroid hormone replacement detailed below. They are being condemned to a long slow death.
A health care system which is held up as a model for the rest of the world is going backwards.
We aren't all able to change doctors and a private prescription would be prohibitively expensive for most people, even if the doctors working in the private sector would be prepared to step outside the cruel guidelines still in place for treatment of hypothyroidism in the UK.
I can only hope that someone listens to the cries of outrage following this proposal and takes some sensible action to correct this massive pricing discrepancy. Getting proper treatment with T3 or NDT shouldn't be this difficult and is a false economy.
Before I was refused any treatment due to the guidelines, I was off work ill for months. I was working full time within weeks of starting Natural Desiccated Thyroid; back paying my tax and supporting the NHS.
Let's talk a minute about T3
For those who might be new to this, a healthy thyroid produces five known hormones: T4, T3, T2, T1 and calcitonin. Those five hormones are a wonderful symphony of what makes a healthy thyroid function. (Chapter 2 in the revised STTM book gives excellent detail about all this)
And hypothyroid patients were treated with all five hormones from the 1800s onward via pig or sheep thyroids…until the early 1960's when Knoll Pharmaceuticals decided to promote its "new and modern" treatment for hypothyroidism–T4-only. i.e. no direct T3. T4 is a storage hormone meant to convert to the powerful and health-giving T3. And everyone fell for this promoted fallacy that somehow, giving patients only one of five thyroid hormones was a hunky-dory way to treat hypothyroidism. (See Chapter 1 in the Revised STTM book! Learn the truth!!)
But they were dead wrong. T4-only, aka Synthroid, Levoxyl, Levothyroxine, Unithroid, Eltroxin, Levaxin, Norton, Eutrosig, Oroxine, or Tirosint, seems to have failed millions of patients in their own degree and kind, over the years, forcing all who are prescribed it to live for "conversion" alone. Yes, some do better than others! But the large amount of people who have NOT done well is profound….just as it's profound how many T4-users report feeling far better when they added direct T3 in their treatment, or Natural Desiccated Thyroid.
My final message to the NHS
You are seriously wrong to state that the medication Liothyronine (aka T3) has little or no value as a way to cut costs.
Your conclusion means that you will end up subjecting your fellow UK residents to a lifetime of continued hypothyroidism thanks to being forced to live for conversion alone on levothyroxine as a sole treatment for hypothyroidism (See seven studies/articles at the bottom of this blog post). Your conclusion also seriously harms those who have the DIO1 or DIO2 mutation, which prevents these individuals from converting T4 to T3 adequately.
Get with it, NHS. Wise up. Stop this massive ongoing cruelty to thyroid patients.
UK THYROID PATIENTS: Share this blog post anywhere, everywhere. Let's send a firm message to the NHS. Copy and paste:

https://stopthethyroidmadness.com/2017/04/02/stupidity-award-nhs/
*****************************
Important notes: All the information on this website is copyrighted. STTM is an information-only site based on what many patients worldwide have reported in their treatment and wisdom over the years. This is not to be taken as personal medical advice, nor to replace a relationship with your doctor. By reading this information-only website, you take full responsibility for what you choose to do with this website's information or outcomes. See the Disclaimer and Terms of Use.