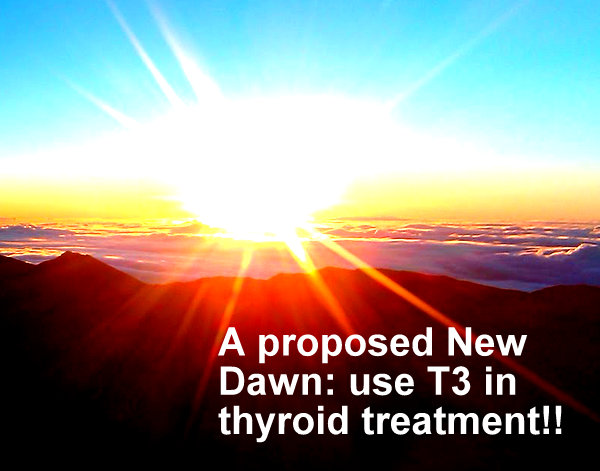 (This post was updated in 2015. Enjoy!)
In a recent article by thyroid patient Mary Shomon, there was mention of an interesting article by Dr. Wilmar Wiersinga that came out this year in the journal Nature Reviews Endocrinology titled "Paradigm shifts in thyroid hormone replacement therapies for hypothyroidism." And I find this article fascinating.
I'm going to break it down a bit and add more important observations that I've not seen expressed elsewhere and which are important, because the truth stands out about T4-only and decades of patient experiences.
In the abstract summary of his article, he states:
Evidence is mounting that levothyroxine monotherapy cannot assure a euthyroid state in all tissues simultaneously, and that normal serum TSH levels in patients receiving levothyroxine reflect pituitary euthyroidism alone.
Informed thyroid patients can only shout Hallelujah!!
But actually, the evidence has been there all along…and the medical profession has not been listening!
For over 50 years since T4-only was pushed upon thyroid patients in the early 1960's (not the 1970's mentioned in the actual article), we haven't done well on levothyroxine. But when we came into our doctors offices and complained of those pesky symptoms of continued hypothyroidism while on levothyroxine, the replies from our doctors have ranged from "You need to exercise more and eat less", to "it's just your age", to "It's part of being a busy mother" to "Here's a prescription for an anti-depressant/statin/BP med"….on and on.
My own mother was the classic example. She as put on Synthroid in the early 1960s in her forties. And from that time on until she died in her early eighties still on Synthroid, she paid continual and growing problems: chronic depression, rising cholesterol, heart problems, weight gain, body stiffness, inability to stand for long periods, poor stamina, dry hair and skin, and problems with her cognitive abilities. And today, informed patients know that all those symptoms are classic symptoms of continued hypothyroidism—all common in far too many patients on T4-only in their own degree and kind…sooner or later.
Stop the Thyroid Madness is the direct result of thyroid patients gathering in groups on the internet by the turn of the 21st century and proclaiming T4-only has only served to make them sicker!
Dr. Wiersinga also states in his abstract:
Levothyroxine plus liothyronine combination therapy is gaining in popularity; although the evidence suggests it is generally not superior to levothyroxine monotherapy, in some of the 14 published trials this combination was definitely preferred by patients and associated with improved metabolic profiles. Disappointing results with combination therapy could be related to use of inappropriate levothyroxine and liothyronine doses, resulting in abnormal serum free T4:free T3 ratios.
That is a bit confusing to say "evidence suggests it is generally not superior to levothyroxine monotherapy". What about the clinical presentation of patients shown every day in the offices of doctors over the past 50+ years? Why have so many thyroid patients on levothyroxine for example, been put on anti-depressants, statins, BP meds, pain meds and more?
The Medical Dictionary defines "clinical presentation" this way: The constellation of physical signs or symptoms associated with a particular morbid process, the interpretation of which leads to a specific diagnosis.
Why has there been such a gap between what a doctor learns in medical school /continuing education vs. the clear clinical presentation by millions that underscores how poorly T4-only really has been?
As far as those "disappointing results" which Dr. Wiersinga mentions, informed thyroid patients have the answer: low iron and cortisol issues–both issues which all-too-many levothyroxine patients acquire due to being a poor treatment, and which either T3 or natural desiccated thyroid will reveal. Or, the patient is held hostage to the TSH lab test, leaving them underdosed, and again, many acquire either low iron and/or a cortisol problem.
Dr. Wiersinga concludes in his abstract:
However, in selected patients, new guidelines suggest that experimental combination therapy might be considered.
We agree and bravo!!
But Informed thyroid patients have a strong reply: why limit a better treatment to only "selected patients"?? Why continue to put each and every thyroid patient on one of five thyroid hormones, which more than 50 years have revealed has been an abject failure in too many, sooner or later?
Why not put the majority of your thyroid patients, not a "selected few", on a medication which gives back the exact same hormones that one's thyroid would be making in the first place, aka Natural Desiccated Thyroid Hormones? "Selected patients" should only refer to those who may need T3-only since they could have a conversion problem.
The full article also describes three paradigm shifts, plus a proposed fourth one:
1) 1891, when the real gland (sheep at the time) was first used to treat hypothyroidism.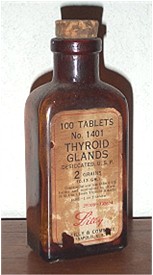 2) 1960 — 1988, when desiccated thyroid use declined and levothyroxine use increased
3) the 1990s, when it was reported that T3 was needed after thyroid removal (but wasn't pursued)
(See Chapters 1 and 2 in the revised STTM book for more excellent information)
And the 4th paradigm shift might occur, he explains, when those of us with poorly functioning thyroids could see regeneration from embryonic stem cells, as outlined in a 2012 study. Pretty exciting!
But I think a 4th paradigm shift has already occurred! A growing body of doctors have changed the way they treat hypothyroidism, and it's by prescribing natural desiccated thyroid. As a southerner would say "Bless their little souls!!"
Until the possibility of stem cell treatment of our hypothyroidism becomes a reality, which may not be soon enough, we all hope to see better understanding by our physicians about what treatment really hasn't worked well, and what treatment really does.
i.e. doctors need to return to the observation of "clinical presentation"
Adding T3 to our treatment, and especially with natural desiccated thyroid, has changed lives. And we can at least shout "Bravo" to Dr. Wiersinga for positively proposing that Endocrinologists consider the fact that perhaps, T4-only is NOT the way to go and adding T3 just might be for very good reasons. And by the way, thyroid patients also know that the TSH lab test is as much a failure as T4-only.
Seize the Wisdom!
Yours truly,
Janie A. Bowthorpe
Post Script: The full article can't be found in most places yet, but here is one place where the charge is less than others if you want to see it: http://www.readcube.com/articles/10.1038%2Fnrendo.2013.258
Important notes: All the information on this website is copyrighted. STTM is an information-only site based on what many patients worldwide have reported in their treatment and wisdom over the years. This is not to be taken as personal medical advice, nor to replace a relationship with your doctor. By reading this information-only website, you take full responsibility for what you choose to do with this website's information or outcomes. See the Disclaimer and Terms of Use.