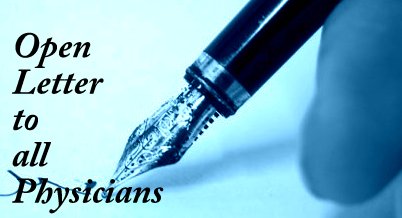 A Thyroid patient who is also an RN was shocked to see the contents of a letter that a patient's doctor had sent out to this patient. It was filled with terrible inaccuracies about thyroid treatment, she exclaimed, and she was horrified. No wonder so many thyroid patients are exasperated with their doctors!
So she compiled this excellent letter, refuting several comments made by this doctor, but directing it to ANY doctor who holds these false views.
Take the time to share this on your Facebook pages, your blogs, to your doctor, you name it. Spread the word as we work to Stop the Thyroid Treatment Madness!!
*******
An Open letter to physicians regarding the use of "Pig Thyroid Hormones"
I am writing this letter in response to any physician's stance against the use of any forms of Natural Desiccated Thyroid (NDT) hormones as replacement for inadequate thyroid hormone levels. I will attempt to include links to medical-journal/peer-reviewed/scientific-based information to help you catch up on the latest in thyroid treatment and information.
I know that you, as a physician, have very limited time when it comes to researching various information on treatment protocols. I acknowledge that you were given limited training on thyroid diagnosis and treatments during your medical school programs, as well as in internship and residency programs, and have likely had to rely on the information provided by Pharmaceutical sales reps.
As such, I believe that your views are unfairly skewed and not fully fleshed out towards the use of T4-only medications such as Synthroid, Levoxyl, and others.
1) Regarding your assertion that Synthroid/T4 only medications are "bio-identical" in structure and thus, are an "adequate replacement" for a thyroid that makes 5 hormones (T4, T3, T2, T1 and calcitonin)
Please review the following photos, showing the chemical structure of human thyroxine (T4) and the chemical structures of T4-only medications such as Tirosint and Synthroid: (source: Synthroid Manufacturer's Full prescribing information). As you can see below, there is a great difference between the molecular structure of Synthroid and human thyroxine.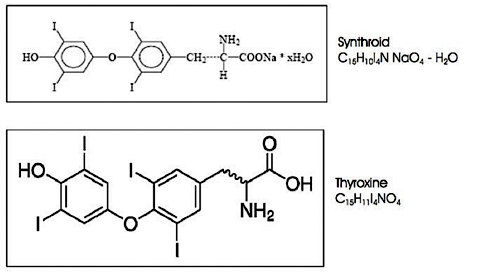 And below, in the top photo, is the human thyroxine (T4) molecule (Source: Chemical and Engineering news: https://pubs.acs.org/cen/coverstory/83/8325/8325thyroxine.html) Compared that to the T4 molecule found in Nature-throid, bottom photo, which is one of several commonly-prescribed forms of Natural Desiccated Thyroid (NDT) medication. (source: Nature-throid prescribing information http://www.nature-throid.com/images/Nature-Throid-PI-Rev041121-03.pdf)
As you can see, the molecules are identically formed, and therefore are the ones which are truly "bio-identical in structure".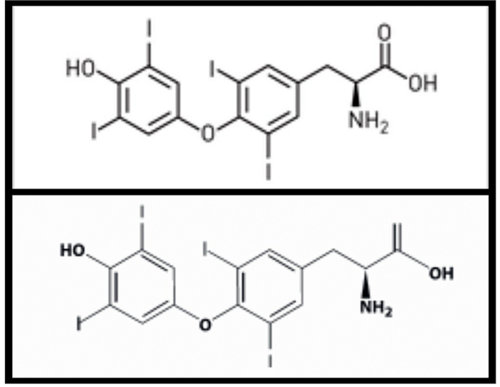 2) Regarding your assertion that the TSH is a stable and reliable test which should be looked at first, while T4 and T3 levels fluctuate frequently and are not stable enough to be considered.
Here are several medical journal articles which should make anyone rethink the use of the TSH lab test:
http://www.sciencedaily.com/releases/2010/03/100315230910.htm
http://jcem.endojournals.org/cgi/content/abstract/90/9/5483
http://www.thyroid-info.com/articles/david-derry.htm
http://thyroid.about.com/od/thyroiddrugstreatments/l/blderryb.htm
And not only the above, but there are a large body of thyroid patients who, for decades, have reported having a very "normal" TSH lab test while having very obvious symptoms of hypothyroidism, including a low temperature, fatigue, exercise intolerance, feeling cold, dry skin, depression, hair loss and more.
3) Regarding your idea as to what amount of T4 or T3 a human thyroid produces in a day (such as 100 mcg T4 and about 6 mcg T3 daily).
That information will vary. For example, another source states that a human thyroid makes on average between 3-5 grains of thyroid hormone per day: "Estimates of average normal secretion for euthyroid humans are 94-110 µg T4 and 10-22 µg T3 daily (300). If you need more, it can be due to exogenous desiccated thyroid (giving it to yourself) vs. the superior absorption of natural release of thyroid hormones."
Source: http://www.thyroidmanager.org/chapter/thyroid-hormone-synthesis-and-secretion/
Either way, it varies according to each individual as to what amount of NDT will remove all symptoms.
4) Regarding your assertion that very few thyroid patients have issues with conversion of T4 to T3:
As you may or may not know, many situations can cause problems with the conversion of T4 to T3 within the body, including a) mineral deficiencies (particularly low iron – a common issue in hypothyroid patients), b) gastrointestinal problems, c) liver problems, d) adrenal cortisol deficiencies (VERY common in T4 only-treated patients due to the inadequacy of being on nothing more than a storage hormone 5) the use of many commonly-prescribed medications including beta blockers or pharmacological doses of corticosteroids.
Source: http://www.naturalendocrinesolutions.com/articles/do-you-have-a-t4-to-t3-conversion-problem/
See Also:
http://press.endocrine.org/doi/abs/10.1210/jc.2008-1301
http://press.endocrine.org/doi/full/10.1210/jcem.84.2.5534
In addition to all the above, there are many thyroid patients who report that their FT3 "looked right" on T4-only, yet they continued to have symptoms of hypothyroidism while on thyroxine.
5) Regarding your assertion that there is no good way to dose Armour and other Natural Desiccated Thyroid Products
The growing body of thyroid patients around the world have frankly not had any issues with dosing NDT. Most dose it twice a day, such as first thing in the morning, and then the early afternoon. And it's worked well.
Additionally, there are a variety of different strengths to choose from by the manufacturers of Natural Desiccated Thyroid meds such as Armour, NatureThroid, WP Thyroid, NP Thyroid, Erfa etc. For example….http://www.nature-throid.com/available_strengths.php
http://www.nature-throid.com/images/Nature-Throid-PI-Rev041121-03.pdf
6) Regarding the idea that a supposed "high dose of T3" has a stimulant effect…or is like a large dose of caffeine…or makes you feel good…or is addictive…or doesn't make much sense physiologically…or may actually be dangerous, especially for the heart.
I would hope that any doctor who proclaims to be a hormone-balancing "expert" would have a basic working knowledge of the need for T3 hormone in adequate levels for optimal cardiac functioning. Here are some helpful links which demonstrate the need for adequate T3 in order for cardiac functioning to be considered "optimal."
The Journal of Clinical Endocrinology & Metabolism has reported that long-term levothyroxine replacement therapy in young adults is associated with cardiovascular abnormalities. http://jcem.endojournals.org/cgi/content/abstract/93/7/2486
And from this article: http://www.ncbi.nlm.nih.gov/pubmed/18221125 "Clinical studies have shown that mild forms of thyroid dysfunction, both primary (subclinical hypothyroidism and subclinical hyperthyroidism) and secondary (low T(3) syndrome) have negative prognostic impact in patients with heart failure. In these patients, the administration of synthetic triiodothyronine (T(3)) was well tolerated and induced significant improvement in cardiac function without increased heart rate and metabolic demand "
From this article: http://jcem.endojournals.org/content/93/4/1351.full.pdf "Altogether, our data indicate that short-term administration of substitutive doses of synthetic L-T3 state reduces activation of the neuroendocrine system and improves LV SV in patients with ventricular dysfunction and low-T3 syndrome"
And this study: http://www.hindawi.com/journals/jtr/2011/958626/abs/ "The potential of TH (thyroid hormones) to regenerate a diseased heart has now been tested in patients with acute myocardial infarction in a phase II, randomized, double blind, placebo-controlled study (the THiRST study)"
And this statement, from this American Heart Association-sponsored study states: http://circ.ahajournals.org/content/107/5/708.long "…low T3 concentrations are a strong independent predictive marker of poor prognosis in cardiac patients and might represent a determinant factor directly implicated in the evolution and prognosis of these patients. "
To the contrary, hypothyroid patients are not seeking "high doses of T3". Instead, they seek an amount of NDT that removes their symptoms of hypothyroidism, improves their temperature and metabolism, results in a strong heart and good blood pressure. When we achieve all the latter, we've noticed our free T3 in the upper quarter of the range, and the Free T4 around mid-range…and we have no symptoms of excess (if iron and cortisol is also corrected). It's all the result of adequate, physiologic doses for replacement, not high doses of NDT with its inherent direct T3.
We are NOT stimulant addicts or drug-seekers, and find that offensive. We are only seeking to replace what our thyroids are not giving us, and to regain a non-hypothyroid state as a result.
We are seeking human decency, wisdom and open-mindedness from our physicians. You would not deny a diabetic patient replacement with the hormone insulin, so why would you deny a person without adequate thyroid function all the right hormones, including the T3 hormone which is critical for every cell in the body to function properly? This seems cruel and unusual treatment in my book, and does NOT correlate with the "first, do no harm" portion of the Hippocratic oath!
7) Regarding the idea that patients are full of "bitter, angry, contentious discourse."
Do try to understand how it feels to live in a body with a damaged or under-functioning thyroid and to have a doctor replace your missing thyroid hormones with nothing more than a storage hormone. We do not see healthy thyroids only producing a storage hormone. Living life without adequate thyroid hormones (particularly direct T3- the "active" thyroid hormone which every living cell in your body needs to function properly) leaves patients frustrated.
Additionally, put yourself in our shoes when you proclaim us "normal" based on a pituitary hormone, in spite of the fact that we continue to have hypothyroid symptoms. The latter test has repeatedly failed to correspond with how patients feel and function on a daily basis.
Imagine being held to a medication such as Synthroid, which then leaves you with inadequate thyroid hormones to obtain functional levels of daily living, optimal heart function and optimal hormonal balance. Imagine living your life in pain, depression, and with high blood pressure and cholesterol, with inadequate adrenal function, and all your sex hormones thrown off balance simply because your doctor is not open-minded or educated enough to grant you the use of natural desiccated thyroid which can make those symptoms disappear (in the presence of good iron and cortisol). Imagine being unable to get out of bed in the morning due to severe unrelenting fatigue and being unable to think properly due to brain fog caused by lack of thyroid hormones. Imagine missing out on the joys of life, and family, and being a functional member of society, simply because your doctor would not allow you to try a better form of medication. Would you not be upset with your physician if you knew there was a simple solution, yet you were repeatedly brushed off, symptoms ignored, and told to go on with living your half-life and to just "deal with it?"
8) Regarding the idea that Natural Desiccated Thyroid has not worked for some patients
Janie Bowthorpe has compiled several reasons why NDT doesn't seem to works based on over a decade of reported patient experiences: https://stopthethyroidmadness.com/ndt-doesnt-work-for-me Can that many patients and their important experiences be unworthy of your open-mindedness and investigation?
In conclusion, I hope that you will read all the above with a more open-mind and rethink your stance on the use of Natural Desiccated Thyroid hormone. It is a proven safe and effective form of treatment for over 122 years and counting. Your patients are counting on YOU to do what is right!
Sincerely,
A Hashimoto's and Graves patient for over 28 years, Post Total Thryoidectomy 2012. Happily out of heart failure and OFF BP and Cholesterol meds, OFF Cholesterol meds since June 2013- when my thyroid doctor put me on Natural Desiccated Thyroid.
Important notes: All the information on this website is copyrighted. STTM is an information-only site based on what many patients worldwide have reported in their treatment and wisdom over the years. This is not to be taken as personal medical advice, nor to replace a relationship with your doctor. By reading this information-only website, you take full responsibility for what you choose to do with this website's information or outcomes. See the Disclaimer and Terms of Use.