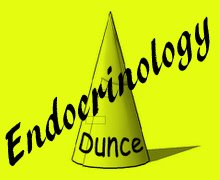 Ah me.
Ever heard of Clinical Thyroidology?
It's a physician-targeted publication by the American Thyroid Association (ATA). The ATA states they are the "leading organization devoted to thyroid biology and to the prevention and treatment of thyroid disease through excellence in research, clinical care, education, and public health."
And a Letter to the Editor in the December 2013 publication of Clinical Thyroidology only underscores why so many thyroid patients report that they…
Avoid Endocrinologists like the plague for the treatment of their hypothyroidism.
Can hardly contain their disgust about Endocrinologists they have seen!
The letter is based on the March 2013 study I have mentioned before, titled "Desiccated thyroid extract compared with levothyroxine in the treatment of hypothyroidism: a randomized, double-blind, crossover study." It was done by the Department of Endocrinology at Walter Reed Military Medical Center and headed by Thanh D. Hoang, DO and associates.
The objective of the study was to investigate the effectiveness of DTE (acronym for Desiccated Thyroid Extract, which is more popularly termed Natural Desiccated Thyroid for thyroid patients) compared with L-Tâ'" (more popularly known as T4-only for thyroid patients).
At the conclusion of the 16-week study, they found that…
"34 patients (48.6%) preferred DTE therapy, whereas 13 (18.6%) preferred levothyroxine; 23 (32.9%) did not specify a preference, he said. Further analysis confirmed those who preferred DTE lost even more weight over a 4-month period." i.e. the patients who preferred it "lost 4 lb during the DTE treatment, and their subjective symptoms were significantly better while taking DTE as measured by the general health questionnaire-12 and thyroid symptom questionnaire (P < .001 for both)."
Yet the study concludes: "DTE therapy did not result in a significant improvement in quality of life".
And why did the study conclude there was no significant quality of life improvement? Is it possible that this study was flawed in ways they don't understand…
Two easy answers:
Patients canNOT be held hostage to the TSH lab test (which the study did for those participants) if we want to find that "significant" quality of life improvement! When thyroid patients are at their very best with desiccated thyroid, they end up finding their TSH is below the so-called "normal" range, and without one iota of "hyper-like symptoms, i.e. no bone loss or heart issues". (Hyper symptoms will only occur if there is an undiscovered or untreated cortisol or iron issue. See #4 below).
We have to have optimal cortisol and iron levels with desiccated thyroid to achieve that "significant" quality of life improvement!
Back to the Letter to the Editor….
Doctors David S. Rosenthal, MD and Kenneth H. Hupart, MD proceed to present misinformed criticism and obtuse conclusions. The last part of their letter states the following…and I have bolded what I'm going to respond to:
…..Such nonphysiologic changes in serum T3 [serum T3 rose 23% and 36% in the participants] after DTE administration and resultant risks have long been known (2) and are the subject of concern (3).

Exploring a role for DTE in the treatment of hypothyroidism with a well-designed, blinded, randomized clinical trial is laudable. However, when evaluating a therapy for a condition that affects millions of patients and for which an effective treatment already exists (4), this clinical trial should be powered and designed to detect adverse consequences. When the goal is physiologic replacement, care also needs to be exercised that normal physiology is restored. The study of Hoang and colleagues is provocative, but it does not achieve the minimum standard required to alter current clinical practice.
And my response to what I bolded:
A better way to look at the Walter Reed study
Nearly 49% preferred desiccated thyroid! That is nothing to sneeze about! It means something. It sends the beginning of the right message. And yes, it would have been a far greater percentage if those in the Endocrinology department had understood why it's important NOT to go by the TSH, and why the participants needed to first be properly screened for their iron and cortisol levels, then property treated! And by the way, lab results have NOTHING to do with just "falling in the normal range".
To all thyroid patients and friends worldwide:
Sadly, we all know that the majority of Endocrinologists we have seen wear Dunce hats. Of course, there are some exceptions in the Endocrinology field! We applaud those few courageous Endocrinologists who have dared to listen to our experiences and positive clinical outcomes.
But too many remain in a stubborn, dark world of their own, represented by the comments above—a mindset which only keeps us sick.
Your solution? Give your money elsewhere!!! Give your money to medical professionals who live in a lighter world and have an understanding of the efficacy of Natural Desiccated Thyroid (NDT), or even T3-only use, and who will let you teach them about the problems of cortisol and low iron, how to treat both, and how to read labwork (as the book will also help you do). P.S. Spanish in on sale for a limited time.
Seize the wisdom,

Important notes: All the information on this website is copyrighted. STTM is an information-only site based on what many patients worldwide have reported in their treatment and wisdom over the years. This is not to be taken as personal medical advice, nor to replace a relationship with your doctor. By reading this information-only website, you take full responsibility for what you choose to do with this website's information or outcomes. See the Disclaimer and Terms of Use.