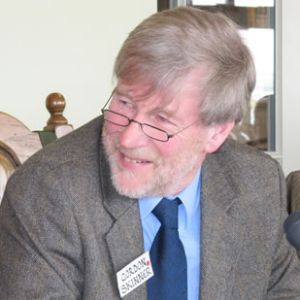 Stop the Thyroid Madness is saddened to report of the passing of Dr. Gordon P. Skinner of the UK on Tuesday, November 26th due to a stroke. Skinner was a champion of thyroid patients, plus a medical practitioner who was beloved for his willingness to look outside the box in the diagnosis and treatment of hypothyroidism.
Dr. Skinner was a man of high education and esteem. He "graduated in Medicine at the University of Glasgow in 1965 and following house jobs in Glasgow and Midlands of England specialized in Obstetrics and Gynaecology and later in Virology and in 1976 became Senior Lecturer in Medical Microbiology at the University of Birmingham with Consultant status at the Queen Elizabeth Hospital in Birmingham. Dr Skinner's research portfolio for which he was awarded the prestigious Doctorate of Science by the University of Birmingham can be found in his CV".
Dr. Skinner was brilliant about the connection between ME/CFS and hypothyroidism. Years ago, he was one who saw the association between the condition of Myalgic Encephalopathy (which is also a term for Chronic Fatigue Syndrome) and hypothyroidism, in spite of so-called normal ranges. This was huge information and the same association was also seen by some thyroid patients around the turn of the century when they were moving over to natural desiccated thyroid (NDT) and doing so much better than they did on T4-only like Synthroid. Read about Chronic Fatigue Syndrome right on STTM.
Dr. Skinner was sadly challenged by the GMC. In June of 2005, Dr. Gordon Skinner, who was a private practitioner in the UK, was called before the General Medical Council to ascertain his "fitness to practice". And why was he called before the board? Because of alleged "inappropriate clinical practice including maintaining medication for patients at dangerous levels and failures of communication with other medical practitioners." I mentioned this in October 2006. i.e. Dr. Skinner dared to listen to thyroid patient symptoms over what is deemed "normal" labwork via the TSH. He also dared to use natural desiccated thyroid, aka porcine thyroid extract, to treat his patients until they saw the removal of symptoms. He began to receive restrictions in his ability to practice.
Dr. Skinner was now prohibited from seeing new patients unless they had been referred by a General Practitioner, and his decisions were to be reviewed by the GMC every six months for the next three years.
In 2007, I heard from Lyn Mynott, chair of Thyroid UK about Dr. Skinner being brought before the General Medical Council (GMC) because he dared to treat his patients with thyroid hormone when they have so-called "normal" blood lab test results. The GMC attempts to dictate what is "a good standard of practice and care" for patients and the "proper standards in medicine". I spoke about this folly in the July 2007 blog post. His restrictions continued.
Dr. Skinner was appalled by the belief that a TSH up to 10 was normal. The Royal College of Physicians and the Royal College of General Practitioners had implied by 2010 that patients should not received a diagnosis of hypothyroidism if their TSH was less than 10, and Skinner found it senseless. They had also stated that the thyroid extract called Armour was a bad medication (in spite of the fact that millions of us worldwide have had our lives change thanks to NDT).
Dr. Skinner was free to practice fully again in November 2011. i.e. his restrictions were lifted and his Fitness to Practice was restored. But in May 2012, he was forced to appear before the GMC once again, where conditions were imposed on him, including being supervised by a particular Endocrinologist
Dr. Skinner was the creator of the World Thyroid Register. This was created to "address the parlous situation of patients who are hypothyroid and have yet not been diagnosed and indeed patients who are being managed with an unacceptably low level of thyroid replacement."
Dr. Skinner wrote the book "Diagnosis and Management of Hypothyroidism" about the symptoms of hypothyroidism and issues with getting diagnosed.
Thyroid UK summed it up well: "He will be sadly missed by his family, friends and thousands of thyroid patients whom he has helped to regain their lives through his diagnosis and treatment of hypothyroidism. Many patients became firm friends with Dr Skinner, enjoying his quirky sense of humour and it is so sad that we will never be able to hear his lovely Scottish lilt again."

You will be missed, Dr. Skinner, and remembered by Thyroid Patients worldwide with admiration! We send our condolences to your family and closest friends, as well as to all your patients who will miss you greatly. Rest in Peace!
**Photo on top from the TPA UK site; below from Thyroid UK
***Want to receive an email notification of these blog posts? Look to the left and sign up here: //www.stopthethyroidmadness.com/blog
***Want to comment on this blog post? Look below for the comment section. (If you are already reading this via email, you'll need to click on the title of this blog post, which will take you directly to the blog post, and you can comment below it)
Important notes: All the information on this website is copyrighted. STTM is an information-only site based on what many patients worldwide have reported in their treatment and wisdom over the years. This is not to be taken as personal medical advice, nor to replace a relationship with your doctor. By reading this information-only website, you take full responsibility for what you choose to do with this website's information or outcomes. See the Disclaimer and Terms of Use.